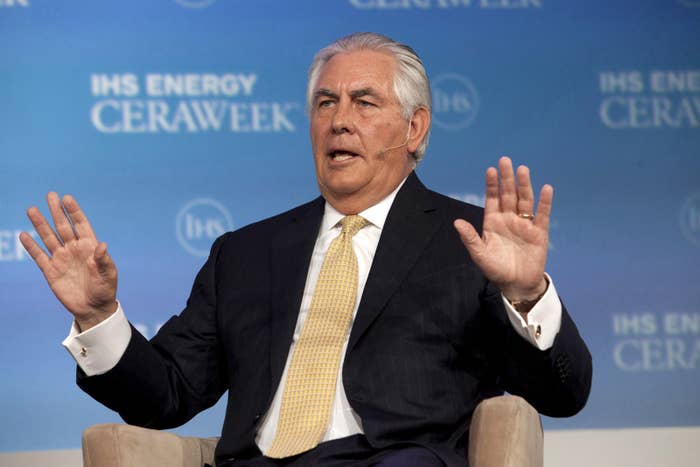 Rex Tillerson, the chief executive of Exxon Mobil who was picked by Donald Trump to become his secretary of state, could face a clash of cultures if confirmed by the Senate, shifting from leading one of the most secretive multinational corporations in the world to a government agency that is accountable to the general public.
Tillerson, who has spent the past four decades at Exxon and cultivated ties with governments from Russia to Chad, rose to the top in a company that runs its own foreign policy and prizes discretion at all costs, according to former employees and industry analysts. His nomination by President-elect Donald Trump has transparency advocates concerned he will lock down the State Department.
"It's going to be a change," said Fadel Gheit, a veteran oil industry analyst who has known Tillerson for 12 years and is a former employee of Mobil Oil, which merged with Exxon in 1999. "He's been doing the same thing for 41 years, working for one company. He is not exposed to any other form of public debate or things like that. … He's a very private person."
Exxon's aversion to media attention predates Tillerson's stint as CEO, but was exacerbated after the company became the target of a public outcry following the 1989 Exxon Valdez oil spill in Prince William Sound, Alaska.
Exxon Mobil, the world's largest publicly owned oil and gas company, has often been the target of public scorn and sometimes struggled with its image. The company became the butt of late-night comedy jokes in 2008 when gas prices soared and it reaped huge profits, even as American consumers paid more at the pump. On the campaign trail, then-Senator Barack Obama called out the company's record profits to paint Republicans as too sympathetic to Big Oil.
Exxon Mobil also donated money to conservative groups that put out studies undermining the scientific basis of climate change for years, and though it has ceased doing that in large part since Tillerson became CEO in 2006, the ire for the company from environmental groups never quite dissipated. Greenpeace even put together a website called Exxonsecrets.com that documented the company's donations to such groups.
Jacqueline Weaver, a professor of law at the University of Houston and a former Exxon employee, noted that John D. Rockefeller, the oil tycoon who founded Exxon Mobil's predecessor Standard Oil, famously loathed the press.
"I did notice, with Rex Tillerson becoming CEO, that Exxon Mobil people started participating as speakers in conferences on international petroleum contracts, energy markets, arbitration issues, etc.," she wrote in an email to BuzzFeed News. "The top at Exxon Mobil develops a message and a focus that is pushed down through the organization very effectively, so the whole company stays on message."
"When the message is offshore safety or stopping oil spills, that is a very good thing," Weaver added. "When the message is more generally anti-all regulation, that is not so good."
In the 2012 book Private Empire: ExxonMobil and American Power, Steve Coll, the dean of Columbia University's journalism school, wrote that the company possessed a "system of secrecy, nondisclosure agreements and internal security that matched some of the most compartmented black boxes of the world's intelligence agencies."
"Exxon's executives deflected press coverage; they withheld cooperation from congressional investigators, if the letter of the law allowed; and they typically spoke in public by reading out sanitized, carefully edited speeches or powerpoint slides," Coll wrote. "Their strategy worked: Exxon made a fetish of rules, but it rarely had to justify or explain publicly how it operated when the rules were gray."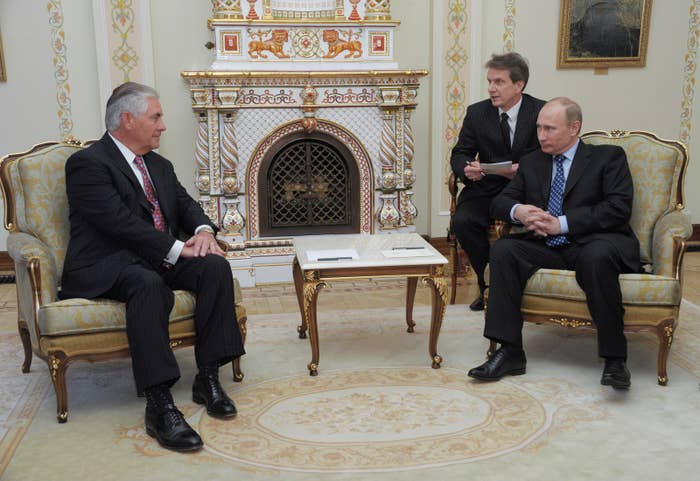 Talking points for Exxon Mobil's public affairs positions were crafted by a high-level committee and kept completely consistent throughout the world — whether a PowerPoint presentation was being given to legislative aides in Washington or government officials abroad, the book reported. According to Coll, a running joke within the company was that their media strategy was just to say "no comment" in 50 different languages.
Tillerson has given no indication of how he would handle public disclosures or spoken about how much his State Department would prioritize American business interests, of which he is widely seen as a champion. Unlike Trump, Tillerson has been a vocal advocate for free trade and a critic of using economic sanctions, like those imposed against Russia that have blocked a proposed $500 billion Arctic drilling deal between Exxon and the state-owned Rosneft oil company.
Trump has repeatedly signaled his contempt for the press, calling media outlets "disgusting" and encouraging his supporters to boo individual journalists at campaign rallies.
Alex Howard, a senior analyst at the Sunlight Foundation, a non-profit that advocates for government transparency, told BuzzFeed News he was concerned that Exxon's culture of secrecy could become the norm at the State Department.
"A private sector executive who has never served in government, even one who has had to face corporate governance and compliance constraints, will face a new set of rules and regulations in office that will be resistant to change," he said.
Gheit praised Tillerson's discipline and global business acumen as shaped by Exxon's company culture, but he also pointed out that change might be a tall order for someone who has spent his whole career at a single company.
"You have to be Exxon-born, raised and trained to advance in the Exxon hierarchy … they are not very readily open to discussing things in public — they don't believe in that," Gheit said. "They are not in show business… their obligation is to their shareholders and not to the public at large."
Disclosure: The correspondent worked as a researcher for Steve Coll's book in 2009 and 2010.