President Trump and North Korean leader Kim Jong Un shook hands Tuesday in a historic meeting on Singapore's Sentosa island that marked the first time a sitting US president has met with a leader from the isolated country.

In front of television cameras broadcasting images live around the world, the two leaders walked toward each other with hands outstretched for the momentous handshake. President Trump also reached out to touch Kim's shoulder. According to reporters on the scene, Kim or an interpreter nearby could be heard saying, "Nice to meet you, Mr. President."
After a 13-second handshake, the two turned toward cameras and stood side by side.
"We're going to have a great discussion and, I think, tremendous success," Trump said moments later as the two began a private meeting to resolve the standoff over North Korea's nuclear program. "It will be tremendously successful. And it's my honor. And we will have a terrific relationship, I have no doubt."
Kim Jong Un spoke through an interpreter.
"Well, it was not easy to get here," he said. "The past worked as fetters on our limbs, and the old prejudices and practices worked as obstacles on our way forward. But we overcame all of them, and we are here today."

According to reporters at the summit, the two leaders may have displayed small signs of good faith before their meeting.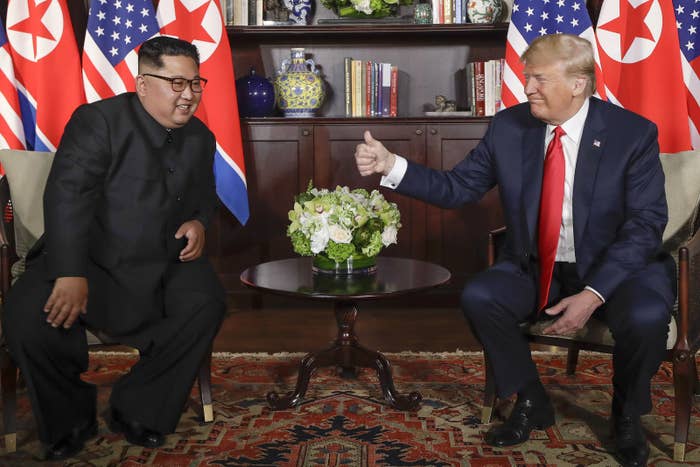 Kim, according to reports, arrived at the resort about seven minutes earlier than Trump, a cultural sign of respect from a younger person to an elder.
After a brief meeting behind closed doors, with only the two leaders and their interpreters, Trump and Kim strolled on a balcony in front of cameras. Trump told reporters the meeting was, "very, very good," adding, "Excellent relationship."
Kim was asked three times if he would give up his nuclear weapons but did not answer.

The road to the talks, in which the US is seeking a complete, irreversible, and verifiable end to Pyongyang's nuclear weapons program, has been a diplomatic roller coaster ride.

As recently as January, the two leaders were threatening each other with nuclear war. But a thaw that began when a North Korean delegation attended the Winter Olympics in South Korea has led to the summit between Trump and Kim.
The two leaders are beginning the discussions Tuesday morning with only their interpreters present, kicked off with a handshake of historic significance. Teams of diplomats from both countries had worked feverishly to finalize plans for the summit on Monday, making up for time lost when Trump temporarily canceled plans for the meeting in May.
Trump has recently sought to tamp down expectations about the summit, saying it's possible it wouldn't "work out" or that more meetings could be needed. But as he arrived in Singapore he tweeted that he sensed "excitement in the air."
In a nod to Pyongyang's likely fears about the prospect of denuclearization, US Secretary of State Mike Pompeo told reporters on Monday that the US was prepared to reassure North Korea about its security.

"We are prepared to make security assurances [to North Korea] that are different and unique than America has been willing to provide previously," he said. "We think this is necessary and appropriate."
Kim has been in power since 2011, taking command after the death of his father, Kim Jong Il. The younger Kim is part of the third generation of the Kim family to rule North Korea. The threat North Korea has posed to the US has only grown since then as international sanctions have failed to stop it from continuing to develop nuclear weapons and methods of delivery.
Andray Abrahamian, a Seoul-based researcher focused on North Korea, said he worries "about Trump over-promising on sanctions, then coming home and finding that Congress and civil society stakeholders won't go along. Then the US looks unreliable and Kim can turn to China and South Korea and say, 'Look, we're doing our part. This guy just can't be worked with,' with a pretty high degree of credibility."
Lu Chao, one of China's most outspoken experts on North Korea, wrote in the state-run Global Times newspaper: "But the peace treaty should in no way be signed without China's participation, and will not marginalize China on the peninsula issue … Besides, as the peninsula crisis also influences China's security, Beijing will certainly not evade negotiations that concern its core interests. China might still need to be vigilant about possible subterfuge of South Korea and the US."