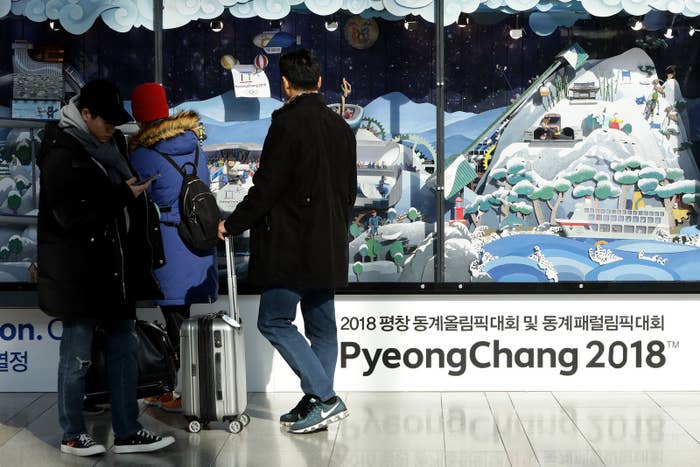 North Korean athletes will attend next month's Winter Olympics in Pyeongchang, South Korea, officials said on Tuesday, a small breakthrough after months of rising tensions between the two countries over Pyongyang's nuclear program.

The decision, announced on Tuesday, goes beyond the two North Korean figure skaters that have qualified to compete in the games. It is a tentative signal of lowering tensions after months of nuclear and ballistic missile tests that have provoked sanctions and condemnation from the international community. And North Korean cheerleaders, as well as government officials and others, will travel to the South along with the Olympic athletes.
During the discussions, which took place at the first high-level meeting between the countries in two years, both countries also agreed to hold military talks to defuse border tension and to reinstate a military hotline, according to the South Korean government.
But there was no indication that the two sides discussed Pyongyang's nuclear weapons program. While South Korea brought up the issue of North Korea dismantling the program, Pyongyang did not acknowledge it, South Korean officials said.
South Korea suggested talks between the two countries' militaries as well as a return to reuniting families separated by the Korean War, South Korea's Vice–Unification Minister Chun Hae-sung told reporters.
It's not clear whether the two countries will make many other significant agreements during negotiations this week. North Korea has goals of its own, like convincing South Korea to stop conducting joint military exercises with the US, which it sees as a threat to its homeland.
South Korean President Moon Jae-in favors engagement with North Korea, but that stands in contrast to the approach voiced by the Trump administration, which has so far prioritized sanctions and sent mixed messages on whether it is considering a military strike. Administration officials have said in recent weeks that President Trump is considering a "bloody nose" attack on North Korea, according to media reports.
The meetings this week are an opportunity for South Korean negotiators to figure out whether Pyongyang might be open to talks with the US.
CORRECTION
The 2018 Winter Olympic Games are in Pyeongchang. An earlier version of this story misstated the name of the city.