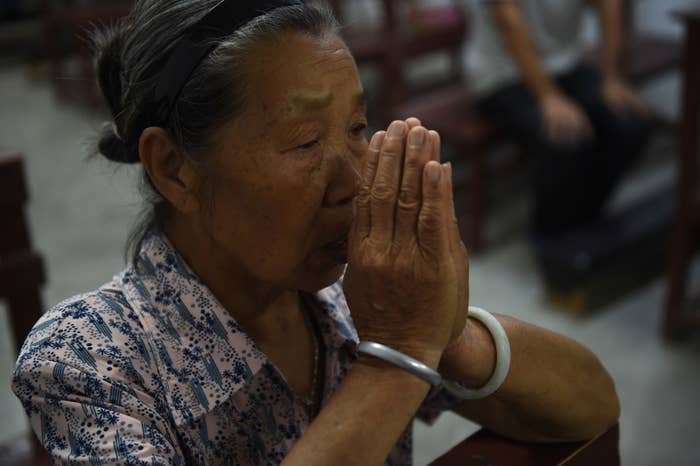 BANGKOK — China is set to implement a broadly worded revision of its law governing religion, putting more weight on national security, toughening controls on religious education and increasing scrutiny of religious speech online.
The draft law, which has been circulated for public comment and could be implemented as early as Friday, has religious groups and human rights lawyers worried. They fear it is the latest step in a years-long crackdown on freedom of expression and religious practices by the administration of President Xi Jinping.
"It's going to have a terrible impact on people of faith," Zhang Peihong, a well-known lawyer from China's southwestern Yunnan province, told BuzzFeed News. "It represents a new kind of repression."
Zhang was one of the signatories of an open letter signed by two dozen Chinese lawyers, academics and religious leaders that argues the law leaves too much leeway for police and courts to determine what counts as "normal" or "legal" religious activities — an ambiguity that could lead to abuses. Both police and courts in China are controlled by the ruling Communist Party.
An official explanation of the draft law places heavy emphasis on religion as a possible threat to state security. The law will impose harsher punishments for members of religious organizations who endanger security or use religion to propagate extremism.
But what exactly constitutes a threat to state security in China is ambiguous and often political. In China's security-driven political system, everything from environmental data to stories about top leaders' childhoods can be considered a state secret, and information is often classified retroactively.
Critics say this means it would be easy for the government to implement the law in a discriminatory way.
"I think it's going to be very significant," said Brynne Lawrence of China Aid, a Texas-based Christian group that advocates for religious freedom in China. "It's from the top down and it's going to affect the entire nation."
At the core of China's philosophy on governing religion is a belief that religious practices often run counter to the country's national security interests, said Thomas Dubois, a scholar who focuses on religion in China at Australian National University.
"If you want to sum up the law in one sentence, it's 'we accept religion as long as it's not prejudicial to national security,'" Dubois said by phone. "That's really, really vague as far as promises go."
Dubois added that references in the draft law to regulating schools could refer to religious schools as well as the small communities that live near Tibetan monasteries, which have sometimes been referred to as "schools" in official parlance. (The draft law also explicitly bans religion in public schools.)
Dozens of human rights lawyers have been jailed since Xi took power in 2013, and the government has also levied harsh penalties for critical speech online, toughened controls on the media and put heavy pressure on domestic and foreign civil society groups.
China's Communist Party tightly restricts religious practices. Churches, mosques and other places of worship must generally be sanctioned by the state, though the country is home to many unofficial home churches.
Mosques in the far-west region of Xinjiang, which is home to the Muslim-majority Uighur ethnic group, have come under increasing constraints in recent years. Uighurs there have reportedly been forbidden from wearing religious dress and fasting during the Ramadan holiday.
Zhang, the Chinese lawyer, said it is anyone's guess how tough authorities will be in implementing the law.
"We've told the authorities that it isn't reasonable," he said. "If they want to hear it, they will. If not I'm sure they will ignore it."