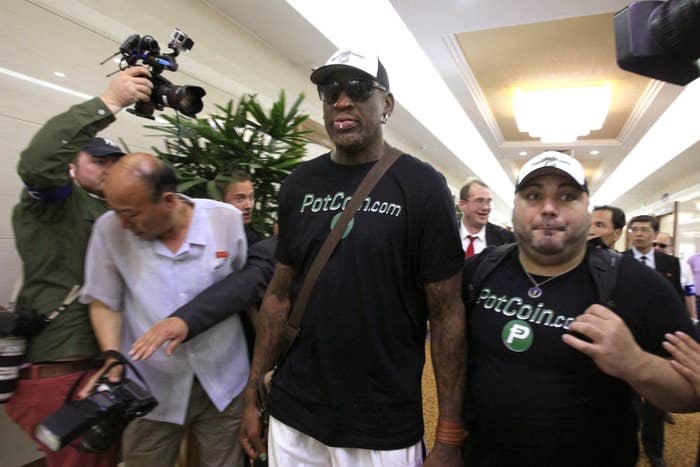 A weed-focused cryptocurrency that says it backed Dennis Rodman's surprise trip to North Korea has told BuzzFeed News the former basketball star deserves "total credit" for the release of an American prisoner there.

Otto Warmbier, a college student at the University of Virginia who was sentenced to 15 years of hard labor for attempting to take a propaganda poster from a Pyongyang hotel, was medically evacuated this week just as Rodman began his trip, sparking speculation over whether Rodman's visit was related to Warmbier's release.
"I'm not saying this was the purpose of the trip," said Shawn Perez, a spokesperson for PotCoin, in a phone interview with BuzzFeed News. "But the fact that he [Rodman] released this US citizen when he was in North Korea says a lot about Dennis Rodman, who has done something no other politician has done."
In the past, US citizens jailed and sentenced to labor under North Korea's draconian laws have been released during visits by high-profile former US officials, including former presidents Bill Clinton and Jimmy Carter.

In a statement this week, Secretary of State Rex Tillerson said his department had secured Warmbier's release at President Donald Trump's request. The statement did not mention Rodman. A spokesperson for the State Department said on Tuesday that "Dennis Rodman had nothing to do with the release."
Whether Rodman actually sought Warmbier's release or not, this trip stands in contrast to a 2014 CNN interview in which Rodman ranted about another US citizen, Kenneth Bae, then serving a prison sentence in North Korea. (Bae later said he was grateful that Rodman's rant brought attention to his case.)

Rodman's camp couldn't immediately be reached for comment, but the former basketball star tweeted his gratitude to PotCoin on Tuesday.
"I want to thank the folks at PotCoin" Rodman said in a PotCoin statement. "They realized the importance of this trip and made it all possible for me."

You might not have heard of PotCoin, but it's hoping to become a big name in those states where weed has been legalized. Marijuana is still illegal under federal law, considered a Schedule 1 substance, and banking services are not available to many cannabis businesses. That's where PotCoin wants to come in — to take away the tricky cash transactions when buying pot products at retail shops. Taylor West, deputy director of the National Cannabis Industry Association, said PotCoin was not a member of the group. She also did not know of anyone, among the pot shop owners or pot growers involved with the NCIA, who works with PotCoin.
"I have been talking to people for the entire time I've been working for NCIA who have sworn up and down that one cryptocurrency or another is the answer to the banking problem," West said. "And I have yet to see that it is. The reality is that most businesses need to be able to operate within the normal financial system, you know? Landlords don't typically take Bitcoin."
Perez said that PotCoin, like Bitcoin, is decentralized, and that financial backing for Rodman's trip actually came from "thousands" of PotCoin supporters who chipped in cash. BuzzFeed News could not independently verify this claim.

The trip got started because some PotCoin users knew Rodman's agent and managers, Perez said.
"Thousands of people chipped in to make this happen, it's not like one person or one company or one entity," he added.

Many forms of commerce with North Korea are banned under stringent United Nations sanctions targeting Pyongyang's banned nuclear program.
Andray Abrahamian, a North Korea researcher at Macquarie University in Sydney who has experience working in North Korea, said staying on the right side of regulators could be a concern for PotCoin.
"PotCoin is a weird sponsor — bringing underground payment systems, mostly-illegal drugs and North Korea together," he said. "It's like they're asking for trouble with this move. I suspect they haven't thought it through."
Perez said he wasn't concerned about sanctions.

"We're not trying to do business with North Korea, we're trying to promote peace," he said.
When asked if she knew of any other members of the cannabis industry working toward diplomatic efforts, West said she did not.
"I don't really see how it would be relevant to most folks who are trying to work within the cannabis industry here in the US," West said.
Rodman's supporters say the former basketball player will reveal the motives for his trip in his characteristic dramatic style after he leaves North Korea — but it remains to be seen whether this new strain of weed-backed diplomacy is a puff of brilliance, or better confined to the basement at 3 a.m.