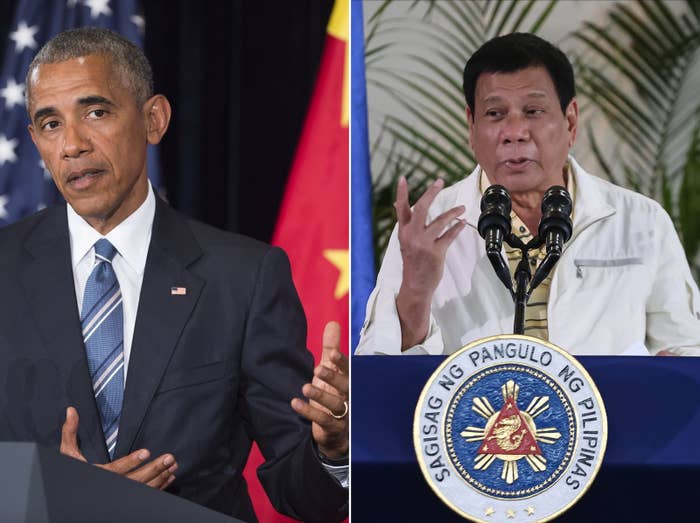 Human rights groups and NGOs are calling on the Obama administration to retool or even eliminate millions of dollars in counter-narcotics aid programs to the Philippines as the country's new president intensifies a brutal campaign against suspected drug users that left more than 2,000 people dead this summer.
Top US officials have repeatedly called on President Rodrigo Duterte to stop police and roving squads of vigilantes from killing hundreds of suspected drug users across the southeast Asian nation. The issue came to a head this week when Duterte called President Barack Obama a "son of a bitch" for continuing to bring up human rights. Obama scrapped a planned meeting with Duterte in response, though the two still shared an informal pre-dinner chat during a multinational summit in Laos this week.
But human rights groups say this tough rhetoric from the US may be undermined by a long-standing partnership between the two countries involving millions of dollars in annual counter-narcotics aid benefiting the Philippine National Police – the very law enforcement agency that has taken credit for hundreds of the killings.
"The US has skin in this game," said Phelim Kine, who works in the Asia division of Human Rights Watch. "They need to speak out... the US government should say we are turning off the tap on this one."
The US should not cut development programs that help the poor, he said, but military and police aid that could benefit those implicated in the killings should be cut off.
Neither the State Department nor the Department of Defense, which administer the majority of US anti-drug programs in the country, disclose precisely which police units they train or provide equipment to, so it is difficult for outside observers to determine whether any have been involved in the extrajudicial killings. A State Department official told BuzzFeed News in an email that security personnel and units involved in extrajudicial killings would not be eligible for U.S. assistance and that State has "rigorously vetted" units and people benefiting from its aid programs.
The State Department requested $9 million in aid for its Philippines counter-narcotics and law enforcement programs for 2017. Much of that money would go towards training police officers, technical assistance, and building forensic analysis capabilities, according to a state department report. US-funded programs train police to provide basic security "in a manner respecting human rights," the State Department official said.
For its part, the Department of Defense spent $3.16 million on its own counter-narcotics program in the Philippines in 2014, the most recent year for which numbers are available, according to a breakdown of aid by country kept by the US Agency for International Development.

The Philippines is a top beneficiary of US aid in southeast Asia. A longtime US ally, the country is key to the success of the Obama administration's pivot strategy in the region, particularly as China becomes more assertive in its claims over islands and their surrounding waters in the South China Sea. But human rights watchers say those security priorities should not trump Washington's obligation to take action against serious human rights abuses.
Duterte swept to power in a landslide election earlier this summer, vowing to kill drug traffickers and suspected criminals with or without judicial processes. He's since made good on that promise, and more than 2,000 drug offenders, many of them apparent small-time users, have been killed in the bloody campaign so far by police and vigilantes.
Secretary of State John Kerry inadvertently threw a spotlight onto US aid to the Philippines National Police when he pledged a $32 million in aid to law enforcement during a visit to Manila in July. The State Department says he was referring to funds that had already been set aside rather than a new grant.
But human rights groups say if nothing else, the remarks presented an image that the US was supportive of Duterte's campaign.
"It sends the wrong message at the very least," said Michael Collins, deputy director of the Drug Policy Alliance. "Any money going to law enforcement in the Philippines looks bad, and the State Department hasn't done a good job of explaining that relationship."
Funds given to the Philippine National Police could violate a statute called the Leahy Law if it's determined that US money had aided police units implicated in the killings. That law specifically forbids the US from giving aid to units of foreign militaries or police forces involved in human rights atrocities.
"If the South China Sea is the elephant in the room, the Leahy Law is the tiger in the closet," said Kine, from Human Rights Watch. "It is a clear and present danger to foreign governments when there is compelling evidence that their security forces are implicated in human rights atrocities."
The State Department official said the U.S. is "deeply concerned" by the reports about the killings, and that department officials had urged the Philippines to make sure its law enforcement efforts complied with human rights obligations.
"Our assistance programs have aimed to strengthen rule of law and improve the capacity of the Filipino criminal justice system to investigate crimes," the official said.
Drug policy groups say the US should encourage Philippines authorities to seek alternatives to incarceration in its anti-narcotics campaign, like treatment and education. Jasmine Tyler, senior policy advisor for drug policy and global health at the Open Society Foundations, said the State Department should immediately re-vet officers benefiting from U.S. training and other assistance to make sure they aren't involved in Duterte's campaign.

"I do think it's important for the government to understand taxpayers are concerned about where their money is sent," she said. "Supporting the destruction of communities in another country is not something that most taxpayers would support."