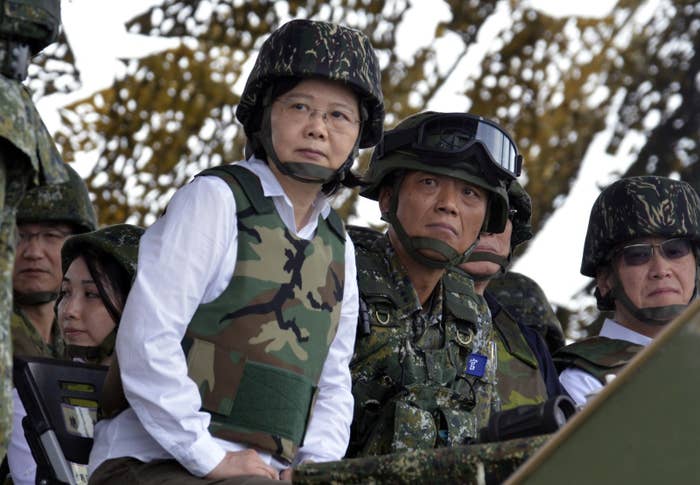 TAIPEI, Taiwan — Ties between the US and Taiwan, the self-governed island that China sees as part of its territory, are getting warmer. But many Taiwanese politicians and scholars are worried that it could become a pawn in the great power game between an increasingly erratic Trump administration and China.
While the strengthening of US support for Taiwan has been welcomed by President Tsai Ing-wen, others are urging caution, including members of Tsai's own party.
On March 16, President Donald Trump signed a bill that encourages high-level official visits between the US and Taiwan — a prospect that sounds routine, but would be a major development in relations. Only a handful of US cabinet-level officials have visited Taiwan over the last 50 years.
There are signs that the Trump Administration might follow through: On Friday Trump appointed John Bolton — who has advocated for boosting arms sales to Taiwan and stationing military assets there — as his National Security Advisor.
"The Taiwan Travel Act is one of the tools that the US wants to use to deal with China, and it is also a bargaining chip for the US to contain China's growth," wrote Liu Shing-ren, a professor focusing on mainland Chinese studies at Chinese Culture University in Taiwan, in an op-ed this week.
China's President Xi Jinping said on Tuesday that any attempt at secession by Taiwan "will be condemned by the Chinese people and punished by history." The Global Times, a nationalistic state-owned tabloid known for its belligerent opinion section, took a harder line, saying Beijing should get ready to launch a military strike.
The paper is not known for being a reliable indicator of Chinese foreign policy. But it underlined to Taipei that Taiwan is likely to bear most of the risk for decisions made about its status by the US.
"China can't retaliate against the US, but it can retaliate against us," Edward Chen, a professor at TamKang University in Taipei, told BuzzFeed News. "Most [US] senators are willing to extend assistance to Taiwan when we need it, but I think that when Trump is trying to play the Taiwan card, I don't think Taiwan can benefit from such move."
Chen noted that China has recently dispatched the Liaoning, its only operational aircraft carrier, into the Taiwan Strait as "a warning" to Taiwan. Taiwanese military vessels and aircraft shadowed the carrier group.
The US is bound to aid Taiwan in defending itself by the 1979 Taiwan Relations Act, but there's debate over exactly what the US is obligated to do in the event of a conflict.
Taiwanese government officials visit the US, but they generally keep a low profile — not because they are required to by law, but as a matter of custom. Taiwanese presidents are usually only permitted to make brief, unofficial stopovers. Trump angered China when he took a congratulatory phone call from Tsai after he was elected president, though the decision was applauded by Taiwan's supporters in the US.
Last week, the mayor of Taiwan's second largest city, Kaohsiung, met the top US diplomat for East Asia, Susan Thornton. Washington has also dispatched Ian Steff, a senior official at the Department of Commerce, to Taipei, following the visit of Deputy Assistant Secretary of State Alex Wong last week.
At a banquet hosted by the American Chamber of Commerce in Taipei on Wednesday, Wong told Tsai that the US is committed to countering aggression from Beijing. "Taiwan can no longer be excluded unjustly from international fora," he added, in remarks that angered China.
Tsai favors greater independence from mainland China. But some officials from her party have said that Taipei should proceed with caution.
At a seminar organized by a Taipei-based think tank on Wednesday, the former chairman of Tsai's Democratic Progressive Party Hsu Hsin-liang said the Tsai administration should avoid becoming too reliant on the US, arguing that Taiwan can't risk choosing sides between the two superpowers.
"We cannot give up either one of them, we have to gain our best interests from both China and the US," he said.
Additional reporting by William Yang in Taipei