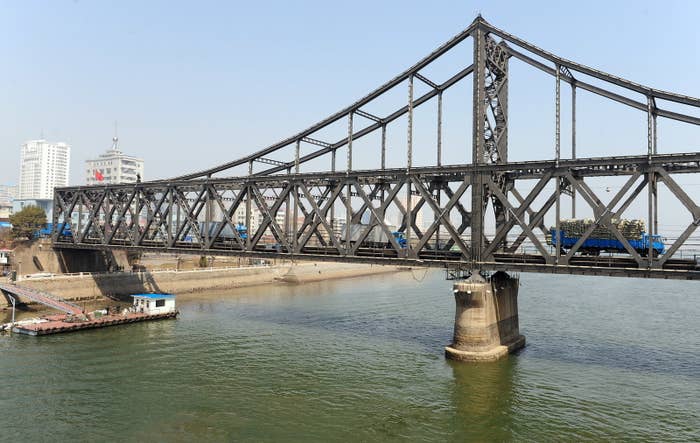 DANDONG, China — It was the kind of car that the UN Security Council had hoped to get off the road four years ago — a jet-black Lexus SUV with a trunk full of flatscreen television boxes and a Pyongyang license plate.
But in a busy customs inspection parking lot in the northeastern Chinese city of Dandong, the driver of the Lexus LX470 was undeterred by international sanctions that ban the selling and export of expensive cars and other luxury goods to North Korea — a move meant to punish the country's elite for Pyongyang's nuclear program. Instead the car was waved on by Chinese inspectors and rolled smoothly past the gates and, presumably, on across the border to North Korea.
Sanctions have become the centerpiece of the international community's response to North Korea's nuclear and ballistic missile programs, and wave after wave of US and UN-led curbs have targeted everything from yachts to banks to cargo ships. Still, North Korea has carried out missile tests regularly, and after last week's test of an intercontinental ballistic missile, a major technological step forward, administration officials and lawmakers in the US have been pushing for a new and tougher round of international sanctions, and mulling fresh curbs on Chinese companies and bank accounts.
But the road to effective enforcement of sanctions runs through China, and because there is little transparency about how strictly Beijing implements them, it's hard for international observers to tell if sanctions really work. The active trade in luxury goods at the Dandong border is perhaps the most visible indication of China's mixed efforts at enforcing the curbs it has agreed to that target North Korea.
In theory, sanctions on luxury goods, first enacted by the UNSC in 2006 after North Korea's first nuclear test, should be among the easiest for Chinese customs inspectors to enforce. It takes far less training for a border official to spot a $30,000 Audi, for instance, than an obscure chemical or piece of equipment that could have military applications. But anecdotal reports from visitors to Pyongyang and interviews with Chinese merchants on the border suggest enforcement of even this set of rules has been lax at best.
"Believe it or not, almost all of our foreign customers are from North Korea," said a sales representative at an Audi dealership in Jijian, a suburb of Dandong. "It's very convenient for them to take a trip over the border and come here, or they may be working in Dandong long-term."
The salesman, who asked to be known by his surname Bai because he is not authorized to speak to journalists, said he had never heard of any rules saying North Koreans couldn't take Audis back to their home country.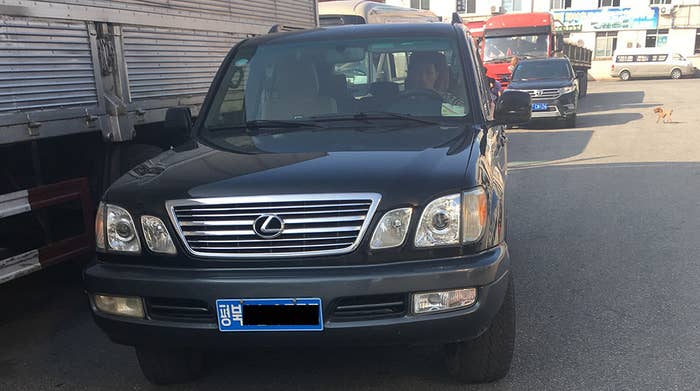 During a visit by BuzzFeed News this week, the customs inspection parking lot in Dandong was full of Audis and other expensive cars, some of them with North Korean license plates, and others without plates at all. Many of the cars were loaded up with shopping bags and cardboard boxes full of home goods and electronics.
In a statement to BuzzFeed News, Audi said its dealerships were "basically independent entrepreneurs," but added that the China-based joint venture that contracts with those dealerships strongly requests that they comply with local laws. Lexus said there is no distribution of its cars in North Korea. Asked whether North Koreans could have bought the cars in China, a Lexus spokesman did not immediately respond to a request for comment.

China's Foreign Ministry says the country is conscientious about enforcing all UN sanctions on North Korea. Beijing has also issued signals that it is cracking down on trade with North Korea, including halting imports of North Korean coal in February and releasing lists of banned goods that could be used by the military. In raising the missile for the launch last week, North Korea used a Chinese-made truck that had once transported timber, according to Reuters.
But those statements have many skeptics, including President Donald Trump, who criticized China on Twitter last week, saying trade between Beijing and Pyongyang had risen nearly 40% in the first three months of the year compared to a year earlier. China, which is North Korea's most important trading partner and last significant diplomatic ally, says all of its trade with North Korea is legitimate, meaning it trades ordinary goods that aren't banned under sanctions.
Despite Beijing's moratorium on coal imports, trade between China and North Korea grew more than 10% in the first half of this year compared to the same period last year, Reuters reported this week, citing customs data.

Business people in Dandong said North Korean elites rarely seem to have trouble bringing back goods they purchase.
"We see lots of North Koreans here," said Wang Bing, a saleswoman at a posh mall about a 10-minute walk from the Yalu River, which runs between China and North Korea. "North Korea is a poor country, but I think those people must be government officials."
The mall Wang works at houses brands from Max Mara to Gucci, selling handbags and dresses worth thousands of dollars — several times more than the country's per capita GDP.
"You can find pretty much everything in Pyongyang — definitely expensive cars and handbags, although it's hard to tell if they're fake," said a Western business consultant who regularly travels to Pyongyang and spoke on condition of anonymity because he didn't want to get on the wrong side of his partners inside the country. "The elites have ways to get whatever they want to get."
In 2013, the UN banned North Korea from obtaining several categories of luxury goods including pricy cars, yachts, and jewelry. China's customs department has not released a list of goods banned for export to North Korea beyond those believed to have military applications. The country's Ministry of Commerce has released lengthy lists of these kinds of goods, including laser-welding equipment, high-strength metals, and obscure chemicals that could be used in building chemical weapons.
Early in the year, Trump had expressed confidence in China as a reliable partner in putting pressure on North Korea. But after meeting with Chinese President Xi Jinping for the first time in in April, he told the Wall Street Journal he had come to the realization that it wasn't "so easy" for China to put pressure on North Korea.
"I felt pretty strongly that they had a tremendous power" over North Korea, he said in an interview with the paper. "But it's not what you would think."
Trump later described the talks as making "tremendous progress."
But analysts point out that China's incentives are different from the US. Chinese academics have frequently said that the country holds less leverage over North Korea than Trump and other American officials believe, and that China primarily wants to ensure its isolated neighbor remains stable.
"China is already being extremely strict in enforcing the UNSC resolutions on North Korea," Lu Chao, director of the Border Study Institute at the Liaoning Academy of Social Sciences, a government think tank, told BuzzFeed News earlier this month. "The US should not simply put all the responsibility of solving the problem onto China. We cannot do that."
North Korean leader Kim Jong Un likely relies on access to luxury goods to help keep the loyalty of the country's elites, said Michael Kovrig, the senior Northeast Asia adviser at the International Crisis Group. It's also unclear what role local Chinese officials play in allowing banned goods to slip through.
"The question is," he said, "has the Chinese government made a decision not to enforce, or is there is a failure to enforce further down the chain because there are officials at a lower level who are susceptible to graft?"