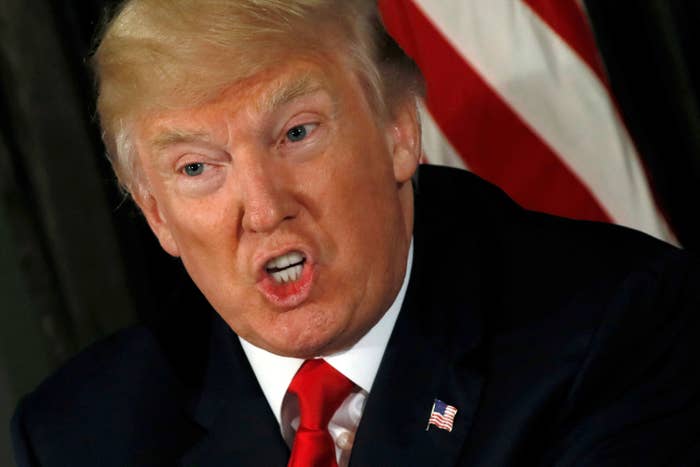 Talk of fire and fury is nothing new for South Korea — that is, from its belligerent neighbor to the north. Pyongyang's state media promises to envelop Seoul in a sea of fire on a regular basis.

But it's different when that style of rhetoric comes from a US president.
"They're used to this from North Korea. They're not used to it from the Americans," said Melissa Hanham, a senior research associate at the Middlebury Institute of International Studies at Monterey who focuses on North Korea and nonproliferation issues. "These off-the-cuff remarks are very unusual and counter to the mission of [US] diplomats and military who support South Korea."
Americans have already begun joking about the possibility of nuclear war with Pyongyang — but in east Asia, where massive cities are within striking range of North Korean missiles, Trump's threats are no laughing matter. Of course, the US is not threatening South Korean cities, unlike Pyongyang — but any conflict with North Korea would be devastating for South Korea and Japan, which are within striking range of North Korea's medium-range missiles.
South Korea would also be in danger of being hit by conventional North Korean weapons in the event of a conflict, including thousands of artillery cannons and rocket launchers that are placed near the border between the two countries.
After President Donald Trump vowed to unleash his fury on North Korea — and Pyongyang's military subsequently threatened to strike the US territory of Guam — administration officials began trying to smooth things over. Secretary of State Rex Tillerson said the American people had nothing to worry about and "should sleep well at night."
No one was sending that message to China, Japan, or South Korea, who may not have been the target of Trump's message but heard it loud and clear.

"Now that President Trump has also used the intense analogy 'fire and fury,' the train of the North Korean nuclear issue is heading into an even darker place within the same tunnel," China's state-run Global Times said in a commentary.
Even though officials in east Asia have gotten used to Trump's flamboyant style, they're intensely sensitive to any indication the White House is prepared to resort to force.
It's vitally important for the US to make sure South Korea knows it's a committed ally, Hanham said. That imperative hasn't been helped by the fact that Trump still hasn't appointed an ambassador to South Korea who could have communicated the administration's message to the government there.
Because of its vulnerability, the last thing South Korea wants is a conflict, and the same is true of Japan, where memories of the atom bomb strikes on Hiroshima and Nagasaki have instilled a deep public antipathy toward any use of nuclear weapons. (The anniversary of the bombing of Nagasaki was Wednesday, and Hiroshima's was on August 6.)
"Disarmament advocates hope that Nagasaki would be the last city to experience a nuclear attack, but when you hear Trump implying there's a possibility to use nuclear weapons, it's beyond offensive," said Masako Toki, a nonproliferation researcher at Middlebury. "It's an unacceptable statement for the people in Hiroshima and Nagasaki."
People close to Trump told BuzzFeed News they have "no idea" how Trump came up with the "fire and fury" phrase Tuesday when asked about North Korea. That language was not discussed among his top aides or outside advisers, they said, who were caught off guard by the president's use of the strong language. The New York Times reported on Wednesday that Trump spoke spontaneously, citing several people with direct knowledge of the situation.
"I cannot imagine any national security professional providing the 'fire and fury' talking point to the president," said David Maxwell, associate director for the Center for Security Studies at Georgetown University and a US army veteran who has served several tours in South Korea and Japan. "It could have come from somewhere else or have been a shot from the hip."
Maxwell said Trump's words could also have a positive effect — spooking China into getting tougher on North Korea if it fears the US is prepared to carry out a strike. Trump has repeatedly said he believes China's cooperation with the US approach — especially enforcing the international sanctions it has signed up for — is the best way to pressure North Korea into giving up its nuclear program.
This week, the Chinese Foreign Ministry said little about Trump's approach, simply renewing a call for "calm and restraint" from all sides, a well-worn talking point that has allowed them to present themselves as the adults in the room.
For its part, North Korea seemed to hear Trump loud and clear and ignored the attempts by other officials to reduce tensions. In a statement early Thursday morning there, a top military commander said "only absolute force," not talks, would work with Trump.
Additional reporting by Tarini Parti in Washington.
CORRECTION
The 72nd anniversary of the bombing of Nagasaki, Japan, was on Wednesday. A previous version of this story misstated the date.