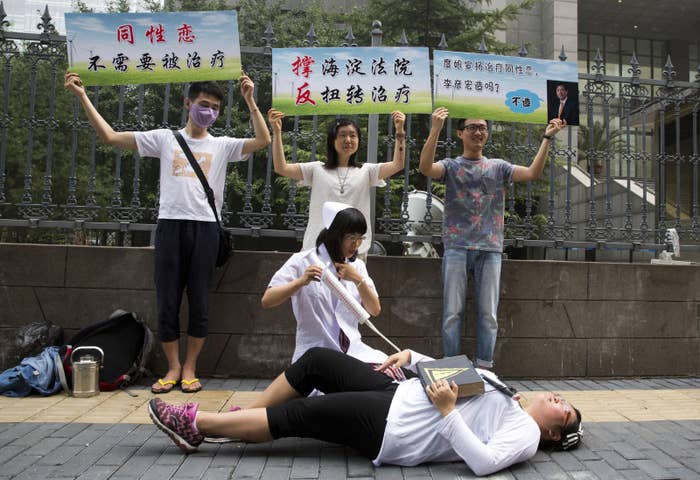 China's government is failing to crack down on conversion therapy, a dangerous and abusive practice that aims to forcibly turn gay people straight, Human Rights Watch said in a report released this week.
Seventeen people interviewed by Human Rights Watch said they had been subjected to electroshocks, been confined against their will, and had medication forced on them. Most of those people endured the treatment at hospitals overseen by China's National Health and Family Planning Commission, the top health care regulator in the country.
"I was getting really close to the unguarded door, but before I could get to the door, the two security guys caught up and got me," one former patient, named Luo Qing, told Human Rights Watch, according to the report. "The next thing I know is that I was on the floor."
The findings are particularly troubling given the tentative progress LGBT activists have made in the country on the issue of conversion therapy in recent years. This summer a gay man won a lawsuit against a psychiatric hospital that forcibly admitted him and subjected him to conversion therapy, making international headlines. A city court ordered the hospital to print an apology in local newspapers and awarded him 5,000 RMB ($753).
In a 2014, Yanzi Peng, a gay rights activist, sued a conversion therapy clinic that had subjected him to electroshock treatment. In its decision siding with Peng, the court stated homosexuality should not be considered a mental disorder.
"The assertion that homosexuality is not a disease, to my mind it's a major victory," Peng told BuzzFeed News in an interview about his case last year.
But Peng also noted that he wasn't sure if the clinic that treated him had even been shut down. Authorities in China have failed in monitoring medical facilities to ensure conversion therapy is not taking place and in issuing explicit prohibitions of the practice, Human Rights Watch found. The court rulings, the organization said, have not deterred the practice of conversion therapy.
Five of the former patients interviewed for the report were shown images or given descriptions of gay sexual acts and then shocked at the same time in an effort to try to get them to associate being gay with pain.
China decriminalized being gay in 2001, and conversion therapy is illegal in the country based on its mental health law, though there is no statute that bans discrimination against LGBT people.
But being gay is still a major taboo in the country, where many families remain deeply conservative. Young LGBT people can face intense pressure and scrutiny from their families, and many of those interviewed in the report said they were pushed into conversion therapy by their own parents.