If a roomful of Chinese investors in a ritzy hotel in southern China hoped to glean insight into the connection between White House adviser Jared Kushner's family real estate firm and the Trump administration on Saturday, they likely left more confused than ever.
A presentation by partners of Kushner Companies in the wealthy city of Shenzhen was scrubbed clean of nearly all references to President Donald Trump after a flurry of criticism from the press and US lawmakers this week suggesting the company was using Kushner's links to the president to attract rich Chinese investors. Nicole Kushner Meyer, Jared Kushner's sister, appeared at earlier events in Beijing and Shanghai to promote the New Jersey development project, giving a presentation that featured a photo of Trump and mentioning her relationship with her family.
Meyer later offered an apology for mentioning her brother, saying it had not been an effort to lure investors. A spokesman for the company said earlier this week that Meyer would not attend similar events this weekend, the Washington Post reported. On Saturday, an event organizer blamed her cancelation on the press.
"From its debut, all aspects of this project were met with heated discussion both within China and abroad," Yu Li, the moderator of the event, told the crowd. "So because of the influence of foreign media, the developer regrettably canceled the trip today."
The Shenzhen event is one of a series of panels organized this month across China, which Kushner Companies and its partners are using to attract investment in a planned luxury development project in Jersey City, through a visa program called EB-5, which allows wealthy foreign investors a possible pathway to a US visa — provided they put at least $500,000 toward job-creating projects.
Critics of the EB-5 program say it has been used by property developers to finance upscale developments in the wealthiest corners of the US instead of developing and providing jobs in low-income areas. But despite proposals to raise the minimum investment and toughen scrutiny of applicants, Congress decided last week to extend the program until September, a decision that the president has signed off on. It's unclear which, if any, changes will eventually be adopted.

Presenters on Saturday urged investors to put their money in as soon as possible before the rules tighten, saying changes were "inevitable."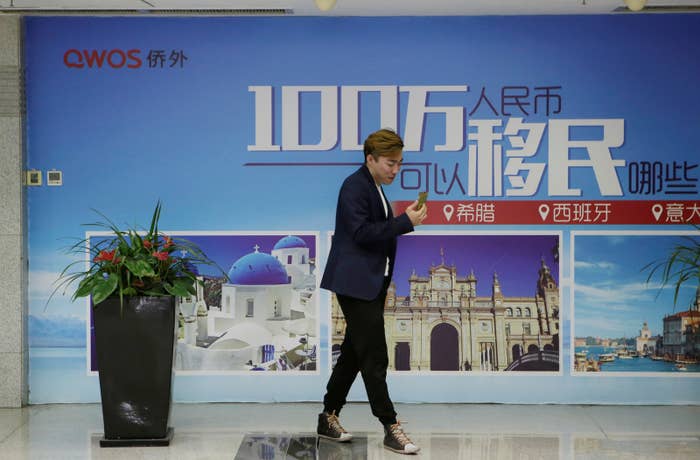 Zhao Haiting, head of the Shenzhen branch of Qiaowai Group, the immigration agency that is working with Kushner Companies, declined to comment when asked whether the Kushner company had told them the program would be extended before the decision became public. Qiaowai has also stopped publicizing its schedule for investor events amid media scrutiny over conflicts of interest.
According to news reports from the Washington Post and Reuters, slides in the original presentation identified Trump as a "key decision maker" in the visa EB-5 program and noted that Ding Ying, head of Qiaowai, had attended Trump's inauguration. But potential investors who spoke to BuzzFeed News at the presentation said the media attention this week had left them confused over whether Kushner's relationship to Trump really helped their chances of getting an American visa.

"Honestly it's a major risk," said a young woman at the event surnamed Li when asked whether she and her husband would like to invest. "I became interested in this because the family is close to Trump – but now it seems that may not make a difference."
Chinese business culture emphasizes personal relationships, especially family connections, and there are few hard and fast rules about nepotism in government and business. But potential Chinese investors told BuzzFeed News they were unsure what norms existed in the US.

"There's a rumor going around that people invested through the program and then never got their visas, or they had to wait a long time," said a real estate entrepreneur who gave her surname as Liu. "Of course everyone thinks they have a connection to Trump. But who knows how close they actually are."

The only mention of Trump came from Nneka Ukpai, a Washington-based lawyer who gave a presentation on likely changes to the EB-5 program, urging investors to move quickly before the rules get tougher. In a description of the American lawmaking process, she explained the presidential veto power to the Chinese audience.

"Once both houses vote on the bill, the final step is for the president to sign the bill into law," Ukpai said. "The president also has an option to veto the bill, but presidential vetoes have been very rarely used in the last few years."
"However, with this president," she added, to nervous laughter from the audience, "anything's possible."