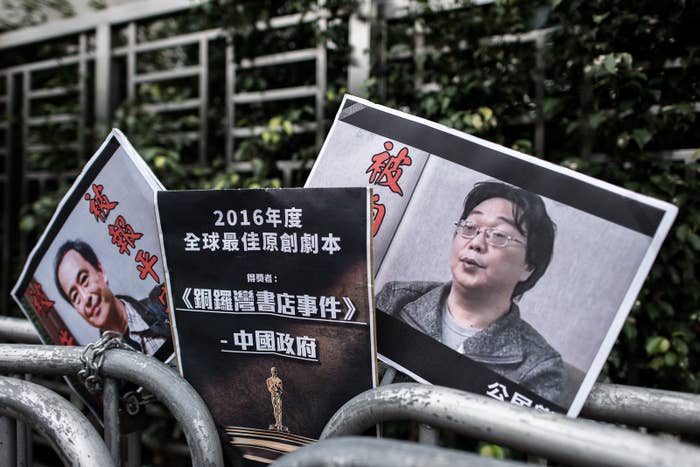 China told Sweden that it had released a book publisher who was imprisoned for two years after he published books about Chinese President Xi Jinping and other top leaders, Swedish officials said on Tuesday.
But soon after the statement by Swedish authorities, Gui Minhai's daughter, Angela Gui, said she had not heard from her father since his supposed release on October 17. Neither had his other friends and family, she said in a statement.
The Chinese-born Swedish publisher was kidnapped by Chinese agents while he was on holiday in Thailand in 2015, and he was set to be released this month. He was one of a group of five booksellers and publishers in Hong Kong who disappeared that year and were later found to have been abducted by Chinese agents in Hong Kong and elsewhere.

Angela Gui added that someone claiming to be Gui Minhai had phoned the Swedish Consulate General in Shanghai, speaking Swedish, saying he was going to spend time with his ailing mother. Angela noted her grandmother is not sick and had not heard from her son either.
Margot Wallström, the Swedish foreign minister, said she was "seeking further clarification" about Gui Minhai.
The questions about Gui Minhai's whereabouts are highly unusual, even by the standards of China, which regularly jails political dissidents and cuts them off from contact with the outside world. The disappearances of the booksellers attracted widespread international condemnation in 2015 because many were abducted while outside mainland China, suggesting that Chinese agents felt free to go after dissidents in Hong Kong and Thailand.

Months after his disappearance, Gui Minhai appeared on state broadcaster China Central Television saying he had turned himself in of his own accord over a traffic violation that supposedly took place more than a decade ago. He was never formally charged or prosecuted.
"This week I have slept with my phone on my pillow waiting for my father to call," Angela Gui wrote in her statement. "I will continue to do so until he does."