China's ruling Communist Party has moved to amend the country's constitution to get rid of term limits for its president, which would enable President Xi Jinping to remain in power, possibly indefinitely.
On Sunday, China's National People Congress overwhelmingly approved a ballot measure to amend the country's constitution to remove presidential term limits. Of nearly 3,000 delegates who voted on Sunday, only two cast their ballots against the amendment.
For close observers of China's opaque politics, the move — while hugely significant — does not come as a shock. Xi, who took office in 2013, has spent the past few years consolidating his power and influence. His tenure has featured initiatives including a sprawling anti-corruption campaign and a vast program of international loans and infrastructure development projects called "One Belt One Road."

A presidential term in China is five years, and this means 64-year-old Xi will likely be able to hang on to power longer than his two predecessors, Hu Jintao and Jiang Zemin. It's particularly significant because the term limit was first imposed by former Chinese leader Deng Xiaoping as a kind of protection against future leaders hanging on to power indefinitely in the manner of Mao Zedong, who established a cult of personality.

The anti-corruption campaign, which Xi began soon after he took power, was one of the first signals of his ability to consolidate strength in a party whose secretive inner workings are dominated by shifting factions and alliances. The drive felled thousands of corrupt officials at many ranks of government as well as Xi's political rivals, including the once-powerful domestic security czar Zhou Yongkang.
Xi has centralized control over the military and the foreign policy bureaucracy during his time in office. His administration has also imposed a crackdown on human rights and freedom of expression.
News of the Party's proposal to amend the constitution was widely shared on Chinese social media, and many people expressed approval. But there was also plenty of snark. On WeChat, a popular Chinese messaging app, a meme featuring Winnie the Pooh hugging a pot of honey — a stand-in for Xi embracing power — went viral.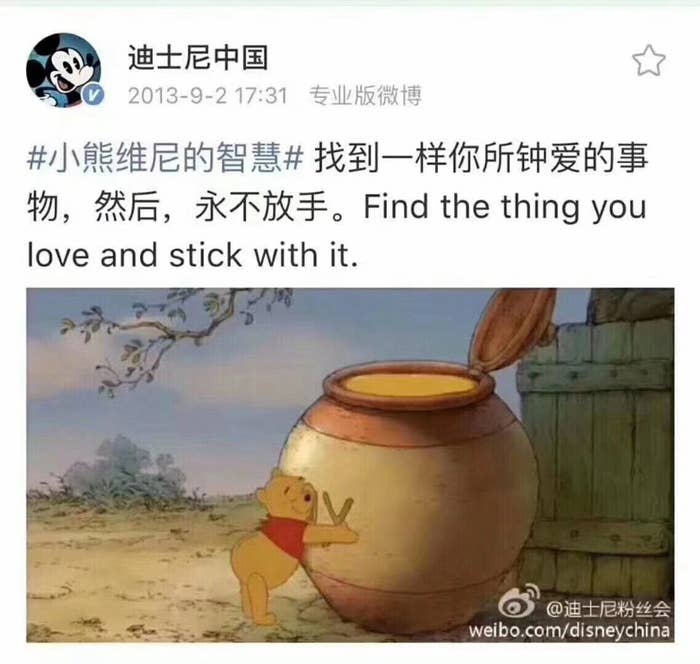 Pooh has represented Xi to Chinese netizens since another meme compared the pudgy bear and his lanky friend Tigger to Xi and then-president Barack Obama in 2013. Chinese censors reportedly banned Pooh last summer, but the honeypot meme has circulated widely nonetheless.