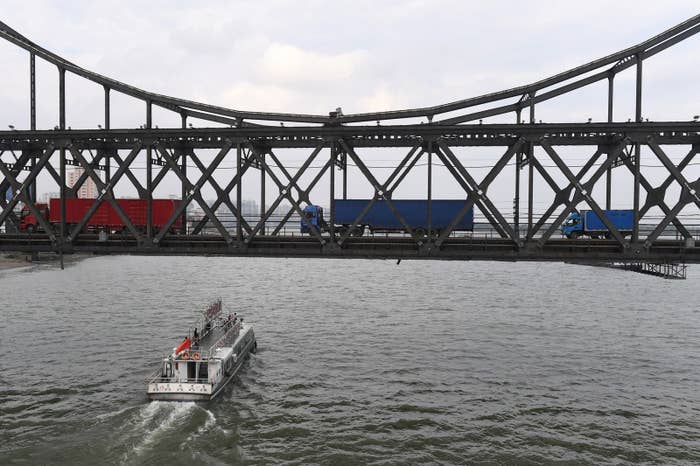 Chinese regulators said on Thursday that North Korean companies in China, including those that have joint ventures with Chinese firms, must shut down within less than four months, a signal of growing tensions between the two countries over Pyongyang's nuclear and ballistic missiles programs.
The move comes amid heavy pressure from the Trump administration, which has made the North Korean nuclear issue the cornerstone of its policy in Asia. President Trump and members of his administration have repeatedly signaled that the US depends on China to enforce international sanctions on North Korea in an effort to curb Pyongyang's nuclear ambitions.
China's Ministry of Commerce and the State Administration for Industry and Commerce said in an online statement that as part of implementing UN sanctions, North Korean entities and individuals that have set up businesses in China — from joint ventures to directly funded enterprises — must shut down within 120 days of the latest United Nations Security Council sanctions passed on Sept. 11. Sanctions this year have targeted North Korean industries from textiles to coal.
Chinese joint ventures with North Korean individuals or entities abroad must also shut down, the statement said. The rules will be enforced by authorities at the provincial level.
But the statement adds that the rules don't apply to nonprofits or noncommercial infrastructure projects. Businesses can also apply to regulators for exemptions on an individual basis.
Many North Korean businesses operate under the radar in China, using shell companies based in other countries to hide their origins. Others work through middlemen or operate on a cash basis to avoid the eyes of Chinese regulators.
Chinese academics have long said that China is reluctant to risk causing instability on North Korea, its neighbor and historical ally, and Beijing has worked at the UN to reduce the severity of sanctions on Pyongyang. But China has also criticized North Korea this year for continuing to carry out missile tests, and over its fifth nuclear test earlier this month.
China has come under fire by Trump and past administrations, who say it has failed to do enough to implement sanctions. The new rules will likely be heralded by the Trump administration as evidence Beijing is getting serious about putting pressure on Pyongyang.