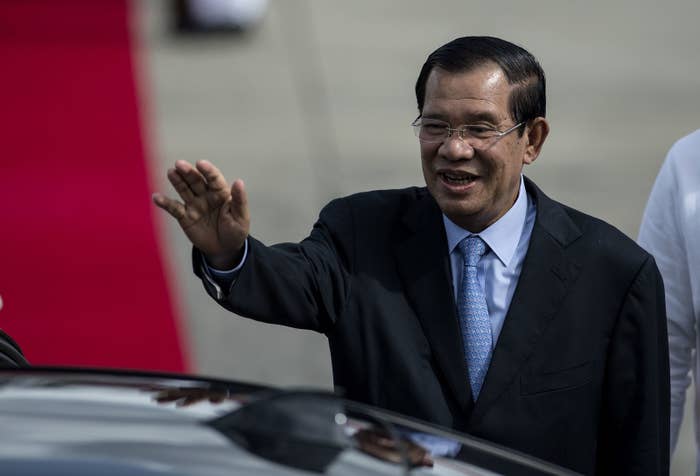 Cambodian Prime Minister Hun Sen has a plan for dealing with protesters who burn effigies of him during an upcoming visit to Australia — he's going to follow them home and fight them.

"I will follow you all the way to your doorstep and beat you right there," he said, according to Radio Free Asia. He noted that he recognized people's right to protest, just not to burn his effigy.
"You can enjoy your right to burn my effigy, I can enjoy my right to assault you," he added. "There is nothing wrong about that. You use violence on the effigy of Hun Sen. I can use violence against you."
(There is no right to assault people in Australia, whether or not they burn your effigy.)
Hun Sen made the remarks to a group of factory workers in Phnom Penh. He has come under fire from the international community and rights advocates in his country over the past few months after he shut down major news outlets, cracked down on NGOs, and dissolved the main opposition party after jailing its leader. Many opposition officials are in hiding abroad, including in Australia.
Hun Sen is set to visit Sydney in mid-March for a summit of the Association of Southeast Asian Nations leaders that's being hosted by Australia. The event is likely to attract hundreds of protesters from the Cambodian community in the country.
Hun Sen's government has gone after Cambodian internet users who have been critical of the prime minister.
Va Malina, a Cambodian-Australian woman who lives in Melbourne, told the Phnom Penh Post that she initially hadn't thought of burning an effigy of Hun Sen during the protests next month. But, since he raised the issue, she said, now protesters would.
"We didn't plan to burn Hun Sen's effigy, but he is the one who reminded us yesterday," she told the paper.