Bob Dole's Law Firm Was Paid $20,000 A Month To Lobby For Taiwan
Dole said on Monday his firm helped broker a controversial phone call between President-elect Donald Trump and Taiwanese President Tsai Ing-wen.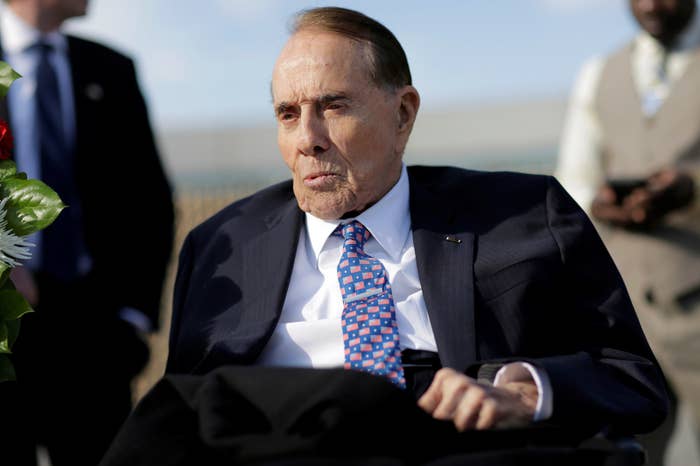 The Taiwanese representative office in Washington paid the law firm of former Sen. Bob Dole $20,000 a month to advance its interests in Washington, public filings show. Dole said on Monday his firm helped broker a controversial phone call between President-elect Donald Trump and Taiwanese President Tsai Ing-wen.

Dole told the Wall Street Journal on Monday that his law firm "may have had some influence" on the phone call, which broke decades of diplomatic precedent, but has been widely praised by China hawks for the tough signal it sends to Beijing. An unnamed Trump transition team official told the paper that Dole had arranged the call.
No US president has phoned a Taiwanese leader since 1979, when the US decided to recognize Beijing instead of Taipei. The phone call has incensed China, which claims self-ruled Taiwan as part of its territory. China lodged a diplomatic protest with the US in response. In Taiwan, independence advocates celebrated.
Dole, like many Republicans, has long been a vocal advocate of closer ties between the US and Taiwan. But documents made public under the Foreign Agents Registration Act examined by BuzzFeed News show that the Taiwanese government has also paid his law firm, Alston & Bird LLP, tens of thousands of dollars to lobby on behalf of Taiwan's interests over the past few years. Dole, a former presidential candidate, is listed as special counsel on the firm's website.
"This year, we agree that our activities will continue to focus specially [sic] on assisting you with [your] agenda as it relates to the U.S. Administration and Congress," a March 17 letter from Dole to Lyu-shun Shen, formerly Taiwan's top representative in Washington, says. Shen, who departed his post earlier this year, signed off on the agreement.
Alston & Bird LLP's client is the Taipei Economic and Cultural Representative Office (TECRO) in the U.S. — the stand-in for an official Taiwanese embassy following the severance of diplomatic relations. In the letter, Dole and Shen agreed that TECRO would pay Alston & Bird $20,000 a month as a retainer in 2016, as well as an unspecified hourly rate for lawyers assisting with additional services.
Dole's firm would also help TECRO schedule meetings with Republican Party officials and candidates for the 2016 Republican presidential nomination, the letter adds, as well as facilitating involvement in the Republican National Convention, and "advancing your agenda on other party-related issues." Dole endorsed Trump in May.
None of the documents examined by BuzzFeed News suggest that TECRO specifically asked Dole to broker the call with Trump, and neither Dole nor Trump's transition team immediately responded to requests for comment on the matter. Taiwan's Foreign Ministry did not answer calls for comment after business hours on Tuesday.
Since November last year, Dole advocated on behalf of the Taiwanese government to officials including former Secretary of State Colin Powell, former Department of Homeland Security secretaries Tom Ridge and Michael Chertoff, and former Director of National Intelligence John Negroponte, filings show.
In the letter, Dole says his firm would also help Taiwan join the US-led Trans-Pacific Partnership (TPP) trade deal, advance the island's military goals, set up meetings with US lawmakers from both parties, and provide analysis of political developments in the US. Trump, who made opposition to international trade deals a cornerstone of his campaign, has vowed to end US participation in the TPP on his first day in office.
"Through close coordination with your staff, we are also prepared to undertake other special assignments on your behalf, provided that they are mutually agreed to by both parties," the letter adds.