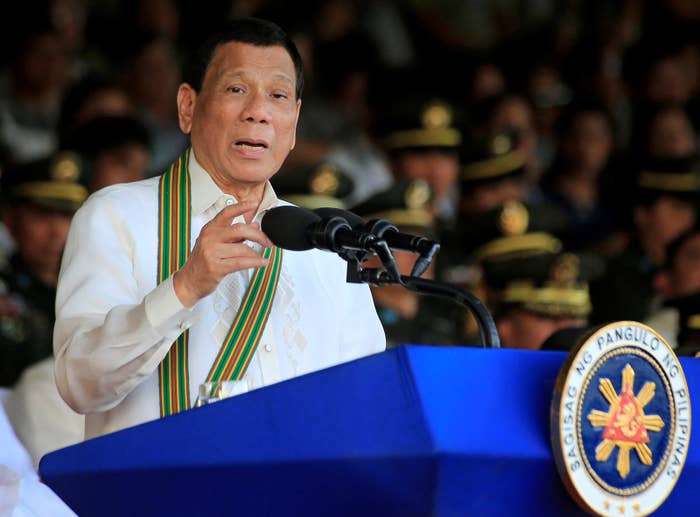 Drug policy groups and rights advocates are calling on Netflix to cancel a controversial new show, Amo, that they say normalizes Philippines President Rodrigo Duterte's brutal war on drugs.

Since 2016, at least 4,000 people suspected of using drugs have been killed by police in the Philippines, and human rights researchers say thousands more have been killed by armed vigilantes. Police claim all of the people they have killed violently resisted arrest.
Duterte's campaign has come under heavy criticism both within the Philippines and internationally for its brutality, and the fact that it has targeted impoverished Filipinos, many of whom are suspected drug users rather than dealers. But Duterte's overall approval rating in the Philippines remains high, and there is broad popular support there for the drug war.

Amo, the first production from the Philippines to stream globally as a Netflix Original, follows the story of a high school student named Joseph who sells crystal meth and ends up becoming ensnared by the criminal underworld, set against the backdrop of Duterte's crackdown. During the 13-episode series, which was posted online on April 9, Joseph encounters corrupt cops and officials as well as drug kingpins.

Rights groups say that the series only serves to normalize or even glorify the brutality of the war on drugs.
"It whitewashes the terror that is being inflicted on lives of people in the Philippines, and mainly people living in poverty," said Judy Chang, executive director of the International Network of People who Use Drugs, which has issued an open letter expressing opposition to the series.
Brillante Mendoza, one of the best-known directors in the Philippines, has said his show demonstrates "the two sides of the coin."
"The message is that we should all understand that there is a [drugs] situation in the Philippines … and now the government has really got very tough about it," he told Britain's Daily Telegraph in a recent interview.
Mendoza has previously described the war on drugs as "necessary," and has worked with Duterte on his state-of-the-nation addresses.
Luzviminda Siapo, an overseas worker from the Philippines who is now in Kuwait, started a change.org petition urging Netflix to cancel the show. Nearly 7,000 people signed it in the course of four days.
Siapo's 19-year-old son was gunned down by vigilantes on motorcycles, she said in the petition.
Sanho Tree, a fellow at the Institute for Policy Studies who works on drug policy, said that the stakes for Amo are higher because Duterte's campaign isn't over yet.
"Amo isn't a historical dramatization like Narcos or The Wire. It is about an ongoing, 'eliminationist' slaughter of people who have been marginalized, dehumanized, and deemed unworthy of life," he said. "In that sense, Netflix is guilty of normalizing mass murder in real time."

Asked about the criticism, Netflix said viewers could choose what to watch and not watch.

"Netflix offers a diverse choice for consumers to decide on what, where and when they want to watch," a spokesperson for the company said in an email. "We understand that viewers may have opposing opinions but leave it to them to decide."