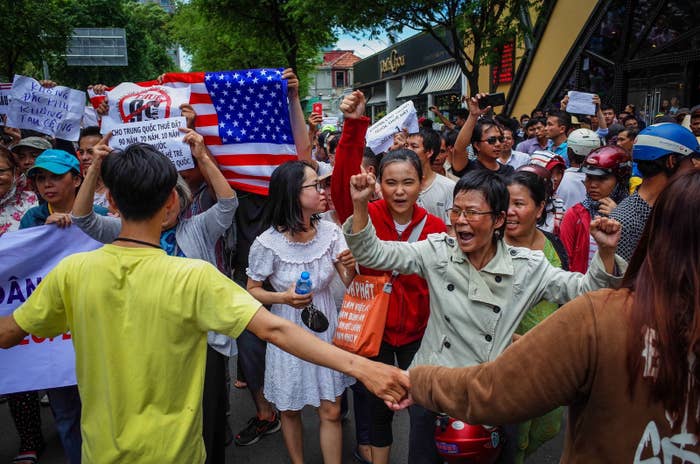 An American grad student was badly beaten, dragged down the street and jailed in Vietnam after he joined a large demonstration in Ho Chi Minh City last week, his family says.
Vietnamese police have not formally charged 32-year-old William Nguyen from Houston with any crime, but they have accused him of "disturbing the social order," according to state news reports. He is set to receive a master's degree in public policy in Singapore in July, and was visiting Ho Chi Minh City on a pregraduation trip.
Nguyen is among dozens of demonstrators detained nationwide on June 10 after protesting a proposed law that would allow foreign investors to lease land for 99 years, which many in the country fear would unfairly favor Chinese companies.

"Will was present in these demonstrations not for any particular political agenda, but in order to support the Vietnamese people and their freedom of assembly," his family said in a statement. "Will reportedly sustained head injuries at the hands of the police during their efforts to detain him. He has received no medical attention and has no access to legal aid."
Images of the protest show Nguyen with blood streaming across his face, being dragged by several men. A private Facebook post from an acquaintance of Nguyen's, posted soon after the demonstration, stated that Nguyen had his "head split open," according to a screenshot shared with BuzzFeed News.

Nguyen was live-tweeting the demonstration before he was taken away.
The case has attracted interest from a group of US lawmakers — including Sen. Richard Blumenthal and Congressmen Jimmy Gomez, Alan Lowenthal, and Lou Correa — who have called for Nguyen's release.

Viet Thanh Nguyen, the Pulitzer Prize–winning author of The Sympathizer, also called on the government to release William Nguyen. (Despite sharing a last name, the two are not related.)
Mary-Alice Daniel, a close friend of Nguyen's from their college days at Yale University, told BuzzFeed News that she had chatted with him on Facebook Messenger just before he went to the protest.

"He told me he was in Vietnam to look for an apartment — he was considering moving back there after his graduation in July," Daniel said. "Before I went to sleep he did mention it — he said I'm going to this pro-democracy protest and I'm really excited about it."
Nguyen, a Vietnamese American, is fluent in Vietnamese and cares deeply about the politics and economy of the country, Daniel said.

Nguyen's family is concerned about his physical condition and believes he has not received medical treatment for a head injury, based on a briefing from US consular officials, who were able to visit him over the weekend. The State Department has said in a statement, "His safety and the safety of all U.S. citizens is of the utmost concern to the United States."

Daniel said that she and Nguyen's sister, Victoria, are still in shock.

"I'm confused and overwhelmed by the situation," she said. The two women have been working out of Daniel's home in suburban Maryland to bring more attention to Nguyen's case. In the past few days, they have been bombarded by mysterious troll accounts over email and social media that attack them or spreading false information about Nguyen's status. Nguyen's mother also had her Facebook account hacked, Daniel added.
"The Vietnamese state-run media is making it seem like he was an agitator. His relationship to Vietnam is being misrepresented," she said. "He was going there to observe and witness what he thought was a historic event. ... He was interested in the direction and future of Vietnamese people."