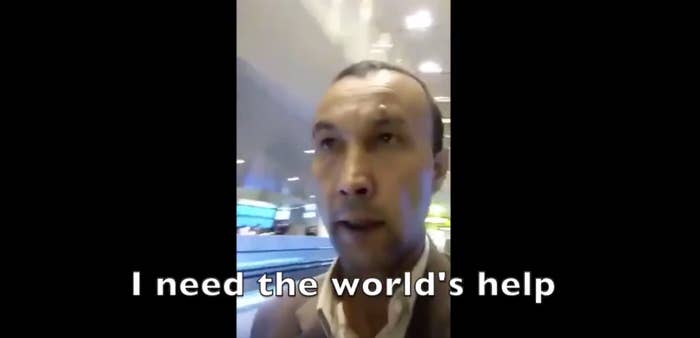 A Muslim man who had been stuck at an airport in Qatar awaiting deportation to China is now en route to the United States, a spokesperson for the State Department told BuzzFeed News.
Activists scrambled to prevent Ablikim Yusuf's deportation after he posted a viral cellphone video online last week. His video was reshared by Uighur rights activists on Twitter and Facebook, generating thousands of retweets over the weekend.

Yusuf, 53, was originally set to be put on a Qatar Airways flight to Beijing — an outcome that would have put him at risk of detention or internment in China, where upward of a million Muslim minorities have been sent to internment camps in the far west region of Xinjiang, according to estimates.
By Tuesday, news came that he had left Doha's Hamad International Airport and was "on his way to freedom." Yusuf is set to arrive at Washington Dulles International Airport on Tuesday at about 3 p.m local time.
A State Department spokesperson told BuzzFeed News, "The United States is alarmed by China's highly repressive campaign against Uighurs, ethnic Kazakhs, Kyrgyz, and other Muslims in Xinjiang."
The spokesperson added, "We will continue to call on China to reverse its counterproductive policies that conflate terrorism with peaceful religious and political expression, to immediately release all those arbitrarily detained, and to cease efforts to coerce members of its Muslim minority groups residing abroad to return to China to face an uncertain fate."
Questions about Yusuf's asylum status were referred by the State Department to the Department of Homeland Security.
Yusuf had previously lived in Pakistan. Uighur Muslims who have lived abroad, especially in Muslim-majority countries, are at particular risk of being dispatched to the mysterious camps, which the Chinese government says are for professional training and eradicating extremist thought.
Yusuf was traveling not on a passport, but a travel document that would have only allowed him to return to China. China frequently issues these kinds of documents in lieu of a passport to its Uighur citizens living overseas in an effort to force them to return home, where they may face detention.