Plans For SeaWorld Float In Macy's Thanksgiving Day Parade Spark Protests
PETA and other animal-rights activists are outraged that a float celebrating SeaWorld's 50th anniversary is scheduled to appear in the Thanksgiving parade.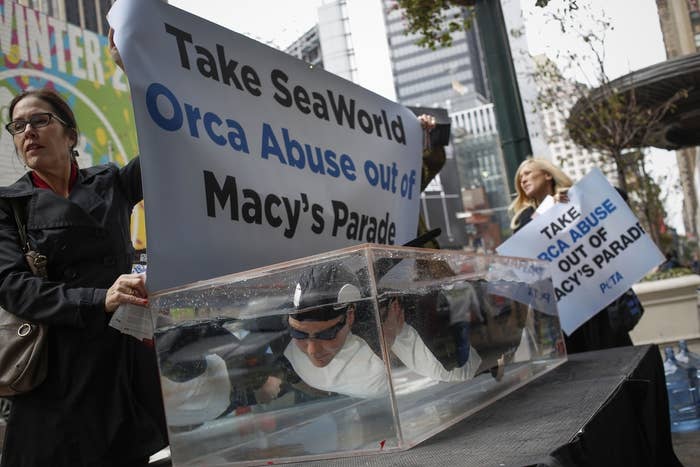 This year, a SeaWorld-themed float will make its debut in Macy's 87th annual Thanksgiving Day Parade.
The "Sea of Surprises" float will commemorate SeaWorld's 50th anniversary in March 2014, and will feature sculptures of sea turtles, sharks, penguins, and a 27-foot breaching Shamu orca. While this is the SeaWorld float's first time in the parade, a baby Shamu the whale balloon was featured in the parade in 1986.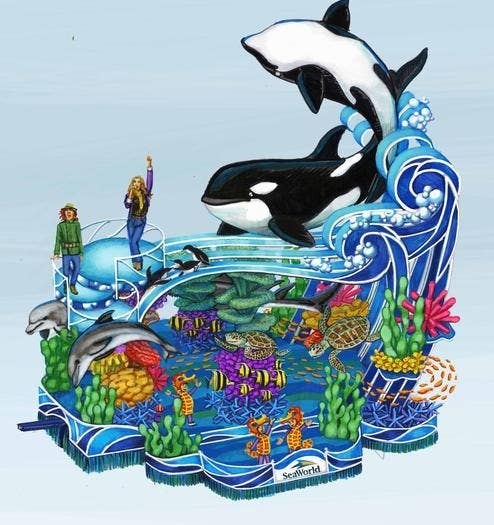 Animal activists, specifically People for the Ethical Treatment of Animals, aren't thrilled about the float's inclusion in the parade though.
On Oct. 23, a group of PETA supporters protested outside Macy's Herald Square in New York City, handing out leaflets and setting up a "whale inside a tank" (see above photo) demonstrating the terrible conditions in which it says SeaWorld keeps its animals.
Ashley Byrne, a campaign specialist who has been with PETA for six years and participated in the Macy's protest, said that PETA's demonstration alarmed many people, including Macy's employees: "We had a couple of Macy's employees who came out on their lunch break and were so upset when they found out the company they worked for was promoting SeaWorld, that they said they were going to go back inside and complain to their manager."
In recent months, treatment of orcas in captivity has been a particularly hot-button issue both in and out of animal activist circles with the release of the controversial documentary Blackfish, which explores SeaWorld's treatment of its animals after a whale killed a veteran trainer at SeaWorld Orlando in 2010.
Byrne said that the SeaWorld float presents a picture of its parks and the life of its whales that "couldn't be further from the truth."
"It shows orcas swimming in a majestic sea alongside their families, and this couldn't be further from the truth," Byrne said. "SeaWorld deprives them of all these things. They confine them to concrete tanks and take them away from their families. The picture that this float presents is absurdly false."
PETA is circulating a link asking supporters to urge Macy's to remove SeaWorld's float from the parade.
"SeaWorld and other marine parks are not educational," PETA wrote. "Instead, they teach people that it is acceptable to imprison animals, deprive them of their freedom of movement, forbid them the chance to establish a natural territory and explore, breed and separate them as we please, and watch them go insane from boredom and loneliness."
As a result of this email campaign, Macy's has already received 78,000 messages as of Friday, Nov. 15, the New York Times reports.
Members of the organization also handed out leaflets attacking Macy's inclusion of the SeaWorld float in front of Macy's CEO Terry Lundgren's apartment building in New York City last month.
In a statement released to BuzzFeed, Macy's spokesman Orlando Veras said that the Macy's parade has never participated in social or political commentary or advocacy, and that its core mission is entertainment.
Macy's Thanksgiving Day Parade stands as a unique American event solely devoted to entertainment. The Parade has never taken on, promoted or otherwise engaged in social commentary, political debate, or other forms of advocacy, no matter how worthy. Its mission has always been about entertaining millions of families and spectators. While it is understandable that such a widely embraced event can sometimes feature elements or performances that some people may find disagreeable, Macy's intention is to provide a range of entertaining elements without judgement, endorsement or agenda. While we cannot control external forces that wish to impose their own perceptions on the Parade, we will remain steadfast in following the guiding core of a decades old mission, celebration and entertainment for all.
Veras refused to comment any further on the matter.
Fred Jacobs, vice president of communications at SeaWorld Entertainment, also responded to PETA's campaign against the float, saying that he was "disappointed" in the organization's actions:
Our float celebrates the 50th anniversary of the SeaWorld marine parks. Since we first opened our gates in March 1964, hundreds of millions of people have experienced marine animals in SeaWorld parks in ways that are enriching and educational. It's disappointing to see a small group engage in this kind of activity, but we believe that most people recognize the important work SeaWorld has done throughout our history, not only in education, but also in animal rescue and the conservation of killer whales and other marine animals.
Macy's has no plans to remove the SeaWorld float from the Thanksgiving parade. In continuation of the celebration of the marine park's 50th anniversary, SeaWorld's float will also be featured in the 125th Rose Parade on Jan. 1, 2014, in Pasadena, Calif.
The SeaWorld uproar isn't Macy's only parade-related controversy. Singer Joan Jett was moved to another float in the parade after she was originally scheduled to appear on one promoting tourism in South Dakota. Some of the state's ranchers said Jett, who is vegetarian and a supporter of PETA, is critical of their work and treatment of livestock.