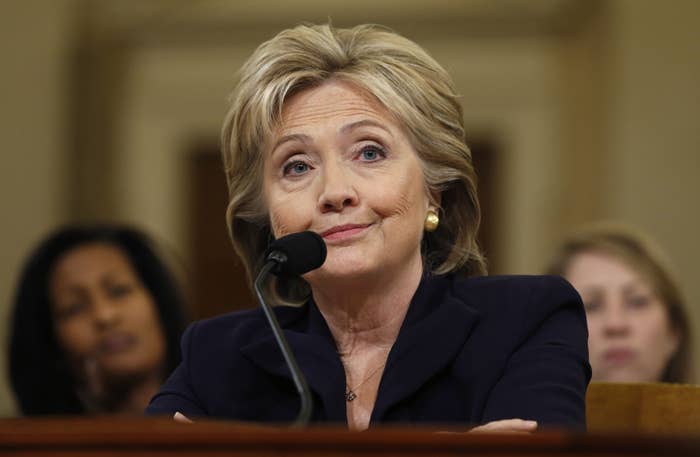 Republican Rep. Lynn Westmoreland, a member of the House Select Committee On Benghazi, said former Secretary of State Hillary Clinton laid "a trap" for the committee by making her Oct. 22 appearance go "as long as possible."
Last month, Clinton testified before the GOP-led committee investigating the 2012 attack on the U.S. consulate in Benghazi, Libya. The hearing stretched 11 hours and was widely seen as a bust for Republicans.
"As you know, some of you may have watched the marathon Hillary Clinton fiasco, and I say that because Trey Gowdy, the chairman of the committee, wanted to interview her in private, and she said, 'No, I want to do this in public,'" Westmoreland said in a recent speech uploaded to YouTube.
"Now to me, that was us stepping in a trap because we should have known that she was going to go on and just stall, debate, filibuster, on these answers to make it go as long as possible, so we would look cruel," he continued.
Westmoreland went on to question those who said Clinton came out of the hearing unscathed.
"You know, a lot of people have said, 'she did great, you know, no harm, she did really good, she handled the committee.' I don't know where in the world you can be proven a liar on national TV and think you had a good week, but they think that is having a good week, that she was caught in a lie," Westmoreland said.
Westmoreland said the committee will be traveling to Germany and Italy to continue researching Benghazi.
"Next week we'll be going to Germany and to Italy to do some more research, on the Benghazi," he said. "So this thing is not over, and I promise you one thing: We are going to tell you what really happened, and all the consequences that went with it, and to let you know if we are prepared for another situation that can possibly come up in the Middle East, or anywhere else in the world where we have our men and women working for this country."