With Eyes On Rubio, Signs That Sandoval Is In The Veepstakes
Senior Republicans are floating the Latino governor of Nevada as a potential running mate. Like Rubio, but without the baggage.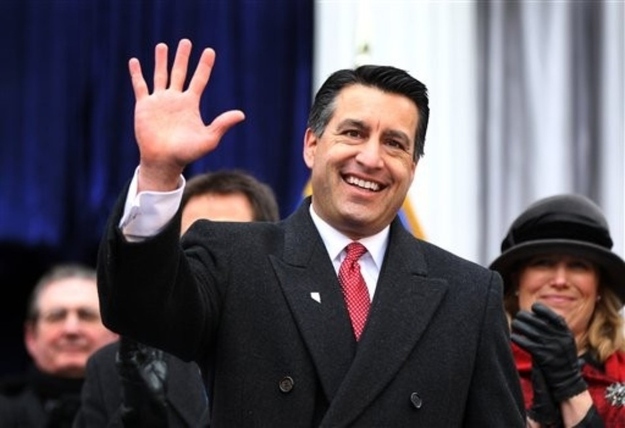 As the political class buzzes about Florida Sen. Marco Rubio's endorsement of Mitt Romney, another Latino Republican could present an alternative for a Republican Party that is — in the wake of Sarah Palin's turbulent run — obsessed with vetting.
One senior Republican stung by the Palin episode suggested to BuzzFeed this week that the best choice may be Nevada Gov. Brian Sandoval, a former federal judge.
A choice between Rubio and Sandoval could determine the direction of the Romney campaign. Rubio is a conservative stalwart who would rev up the base; Sandoval a popular moderate who has raised taxes to compromise with a Democratic legislature.
But Rubio comes with an inherent element of risk to the ticket. While the Senator has scrambled in recent months to get his full story out on his own terms, some Republican remain nervous about what they see as a complicated personal history. In the last year, it has emerged that, contrary to a widely accepted story, his parents weren't Cuban exiles, but emigres, and that he grew up in the Mormon church.
By contrast, Sandoval, whom President Bush appointed as a federal judge in 2004, has already undergone the thorough FBI vetting that comes with that post — apparently without any disqualifying skeletons emerging. He's a popular governor, with recent polls showing his approval rating in the low 60's. And with Mexican ancestry, he may have wider appeal to Hispanic voters than Rubio, a Cuban-American.
Reached for comment, Sandoval's press secretary Mary-Sarah Kinner did little to tamp down the speculation, saying only, "Governor Sandoval has made it very clear he's running for re-election in 2014."
Dale Erquiaga, Sandoval's senior political adviser, echoed the sentiment: "We've heard his name in news reports. Each time it has been mentioned, he has restated his position that he intends to seek re-election, loves the job he has now, and intends to keep it."
Meanwhile, the quiet chatter about Sandoval on the ticket may help explain a recent uptick in conservative hostility toward him. At a meeting of influential conservatives earlier this month, high-profile anti-tax crusader Grover Norquist took aim at the governor for extending 2009 tax increases despite a campaign promise that he would eliminate them. According to a source present, Norquist called Sandoval "a rat," and dismissed the notion that he would be tapped as the vice presidential nominee.
The fact that Sandoval is pro-choice would also infuriate the party's pro-life base, to whom Romney has pledged he will pick a running mate who shares their views on abortion.
Sandoval's role in the 2012 campaign has been, so far, inauspicious. He originally endorsed Rick Perry. But at a CNN debate in January, Romney mentioned Sandoval's name — along with Rubio's — as someone he would consider for his cabinet, or "other positions as well."