With Bluegrass And Haystacks, Romney Appeals To Small-Town America
Praises little league and PTAs in a bid to raise enthusiasm in the rural areas he lost in the primaries.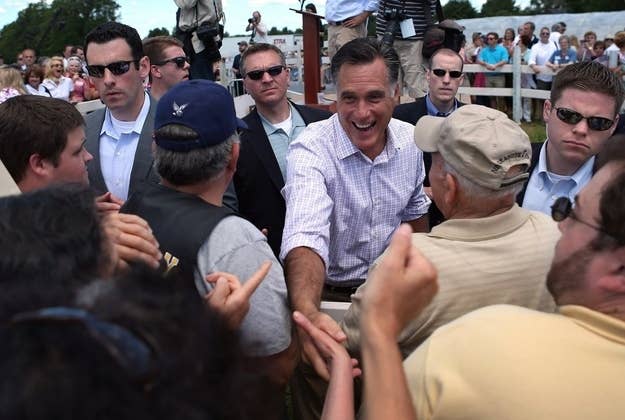 STRATHAM, N.H. — On the first stop in six-state bus tour that began Friday, Mitt Romney made the mission of the next week clear: He is waging a campaign for rural, small-town America.
The strategy was painted all over the idyllic country setting he chose to launch the tour — the same, 300-acre Straham farm where he kicked off his campaign — filled with hay stacks, rolling hills, and a farmhouse with a massive banner pinned to its roof carrying the event's slogan: "Every town counts." To further drive the point home, organizers hired a bluegrass band to provide live music.
But the motif was most glaring in the rhetoric of Romney's speech, where he tried to strike a delicate political balance — cheerleading the small-town voters who failed to win over in the primaries without alienating the urban and suburban areas that have been his electoral bread and butter.
In the culture war battle between urban sophisticates and small-town folks, Romney wants to play the ambassador — not pick a side. But he also knows that if election-day turnout in these swing-state small towns is high, it could be enough to tip the scales in his favor. So, for the next five days, he'll be doing some Main Street cheerleading, which an aide said will include lots of "traditional retail campaigning," and no fundraisers.
"The world knows the names of great cities like PIttsburgh, Detroit, Chicago, and Cleveland," Romney said. "These are the arsenals of democracy, the forges of freeodm, the melting pots of America."
Then, in the next breath, he added, "But we should never forget that some of America's biggest dreams were also born in our smallest communities. Our small towns have given us great writers, great thinkers, and great leaders."
He went on to heap praise on the nation's little leagues and PTAs. Among the rural rally's attendees, Romney's wink in their direction was received loud and clear.
"Every one of those small business people in small towns are the vertebrae in the backbone that he was talking about," said Nancy Fisk, a 65-year-old dog kennel owner from Bellingham, MA who said she grew up in a small town. "I think big cities are extremely important, but the small towns truly are America. They truly are America."
Jonathan Randall, 38, a longtime New Hampshirite who works at the nearby Naval Shipyard, said he was worried Romney's attendance at the event here would be weak. He was pleasantly surprised by the turnout of about 400, but predicted he'd have more success later in the day at an ice cream social scheduled in Milford.
"I think there will be more people this afternoon because he'll be closer to metropolitan areas, like Nashua and Manchester," he said.
Randall supported Santorum in the primaries because he was attracted to his family values message, and thought "Obama's people were scared of him." He's a dutiful Romneyite now, and he's happy to see the Republican nominee making an effort to win over the people like him who live nowhere near "all those big cities."
And while he said Romney's polished businessman image wasn't a perfect match for the occupants of rural New Hampshire, he thinks the message will appeal to small-town conservatives.
"There's all these people in small towns, and maybe there's only one factory there, and maybe there's not that many businesses there," Randall said. "But then they look at, maybe, the low-rent side of town, and they see all these people who aren't doing anything, they're just holding their hand out to get money from the government. That's what Obama stands for."