Why Everyone Wants To Fight With Marco Rubio
From the establishment guys who want his poll numbers, to Ted Cruz who wants to define the Florida senator as moderate, everyone thinks they have something to gain from attacking Rubio.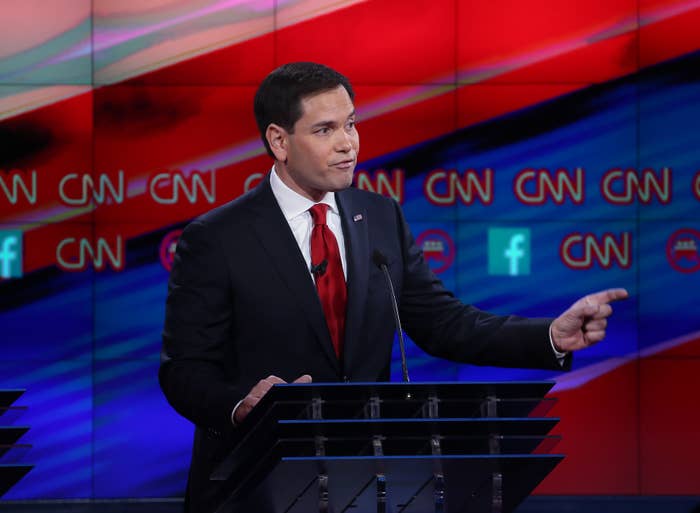 LAS VEGAS — For more than two hours Tuesday night, Marco Rubio stood patiently onstage at the Republican presidential debate while his opponents took turns whacking him.
Ted Cruz ripped him for supporting a "massive amnesty plan," cited a commentator who compared Rubio to an "arsonist," and accused his backers of deploying "Alinsky-style attacks" in recent TV ads.
Rand Paul tore in to Rubio's position on the NSA surveillance program, and repeatedly invoked his moderate immigration record to cast him as weak on national security.
"He thinks he wants to be this, 'Oh, I'm great and strong on national defense.' But he's the weakest of all the candidates on immigration," Paul said. "He is the one for an open border that is leaving us defenseless. If we want to defend the country, we have to defend against who's coming in, and Marco ... has more of an allegiance to Chuck Schumer and to the liberals than he does to conservative policy."
Rubio wasn't a passive recipient of his opponents' attacks, pushing back hard against some of the criticism, and at one point thanking Paul for the extra time in the spotlight that his digs were giving him.
But after months of successfully pursuing an "under-the-radar" strategy that has allowed him to make his pitch to voters without taking much enemy fire from his rivals, Rubio is now fending off attacks on multiple fronts — and his campaign expects the dynamic of Tuesday's debate to continue into next year's primary race.
"I think a lot of people look at their pathway to the nomination and they see Marco in the way," said Rubio's spokesman Alex Conant after the debate, citing the fact that he is actively competing in all four of the early primary states. "Obviously they came after him tonight, but I think he acquitted himself exceptionally well."
While Rubio may be a top-tier candidate, his third-place standing in the race has remained mostly static in recent weeks. He currently sits at around 12% in national polls and his numbers haven't moved much over the past month.
What's more, the establishment-friendly candidates who stand to gain most from Rubio's decline — Jeb Bush, Chris Christie, John Kasich — weren't the ones battling him onstage Tuesday. Instead, Rubio spent the debate tussling with two of his young, outsider Senate colleagues, each of whom has his own reasons to pick fights with him.
In Paul's case, Rubio represents the embodiment of the hawkish, neoconservative foreign policy establishment that the libertarian's base loves to see him take on. Though Paul had once sought to court that influential segment of the GOP as part of a broader effort to build a sprawling, diverse primary coalition, he has since retreated to his libertarian niche, and is always on the lookout for chances to rally the true believers.
This was evident in Paul's opening statement in the debate, during which he used Rubio as an ideological foil while discussing how to keep the country safe from terrorism.
"Rubio says we should collect all Americans' records all of the time," Paul said. "The Constitution says otherwise."
Cruz is in more direct competition with Rubio, but he too seems to gain the most from the rivalry by using it to enhance his own status as the one true conservative in the race. While both men were elected to the Senate as insurgent outsiders crusading against the establishment, Rubio has pursued mainstream appeal while Cruz has continued to cater exclusively to the right.
The Texas tea partier has eagerly highlighted Rubio's Senate record — particularly his work on the 2013 bipartisan immigration bill — as a way of touting his own die-hard loyalty to the conservative movement.
"You know, there was a time for choosing as Reagan put it, where there was a battle over amnesty and some chose, like Sen. Rubio, to stand with Barack Obama and Chuck Schumer and support a massive amnesty plan," Cruz said. "Others chose to stand with Jeff Sessions and Steve King and the American people and secure the border."
The ensuing exchange over immigration — which was one of several moments when the issue came up for Rubio Tuesday night — delighted the Cruz camp (even if their own candidate struggled to articulate his position). In the spin room after the debate, Cruz spokesman Rick Tyler was practically giddy.
"Finally, finally, finally, finally he was asked about Gang of Eight in a debate. Wow!" Tyler said.
Tyler said he had gotten an early peak at Frank Luntz's focus group dials during the debate, which showed Rubio's favorability among conservative voters dropping every time he talked about immigration.
"He was losing conservatives and doing well with the establishment," Tyler said of the focus group. "And you would expect that because he's an establishment candidate."