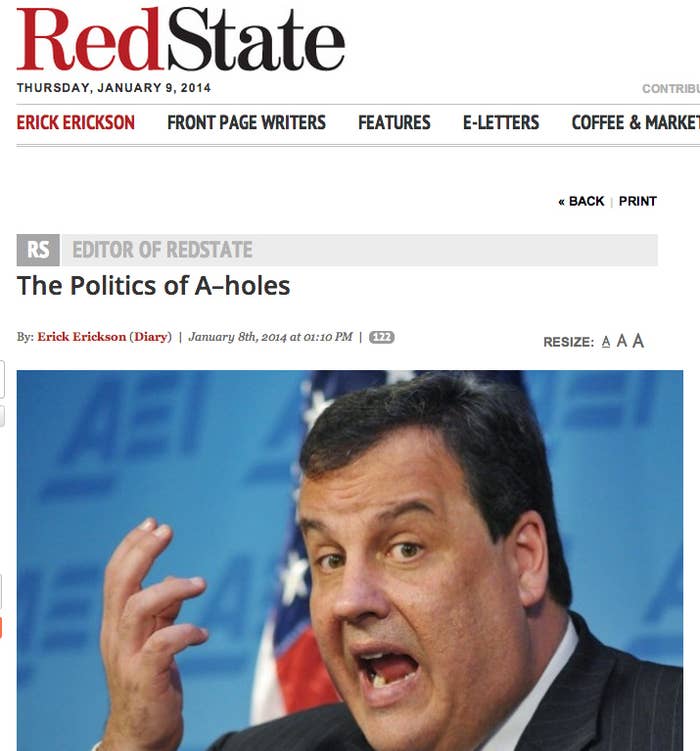 Democrats aren't the only ones indulging in schadenfreude as Chris Christie faces down the biggest political scandal of his career this week: Conservatives are taking delight in the controversy as well.
Christie has been at odds with his party's right wing ever since the final days of the 2012 campaign, when many on the right believe he abandoned his efforts to elect Mitt Romney in pursuit of his own image as a champion of bipartisanship — embracing President Obama, often literally, in a series of widely publicized photos and interviews in the aftermath of Superstorm Sandy. He went on to stake out decidedly centrist positions on a number of issues during his reelection campaign, and when he won in a landslide, he lectured the rest of the GOP about why they should follow his lead.
The result has been that any goodwill that once existed between the prospective 2016 candidate and the tea party has evaporated — leading conservative activists and the right-wing blogosphere to sit back and watch gleefully as Christie's bridge scandal unfolds.
Typically, when high-profile Republicans find themselves at the center of national controversies, members of the online right see it as their duty to push back against the agenda-driven hype of the mainstream media. And indeed, conservative writers and tweeters have spent plenty of time scoffing at pundits' hasty rush to write off Christie 2016. Many also used Christie's press conference Thursday — in which he announced that he had fired his deputy chief of staff over the scandal, and took questions for two hours — to draw a contrast with how Obama attempts to float above the fray whenever controversy strikes. Echoing many of his peers, Breitbart reporter Matt Boyle tweeted, "Kinda do like how Christie fired everybody. Wouldn't it be nice if Obama fired staff responsible for scandal?"
But just because conservatives are relishing the opportunity to accuse Democrats and reporters of hypocrisy doesn't mean they're rushing to Christie's defense. Instead, many conservatives seem willing to leave the Republican to twist in the wind, as they chant "I told you so" to the GOP's more moderate Christie fans.
RedState editor Erick Erickson wrote about the bridge scandal Wednesday in a post he headlined, "The Politics of A-Holes":
I'm ambivalent on his run for the Presidency. But I don't see him getting that far for the very reasons underlying this issue — he and his staff operate as divas.

I have had Congressmen, Governors, and the staffers of Congressmen and Governors tell me horror stories about dealing with Christie's people. All of them seem to dread it...

This was always going to be Christie's problem. People want a winner. And they want an a**hole. But they want the person to be their a**hole, not an a**hole who tries to make everyone else his whipping boy.

At The Federalist, conservative writer Sean Davis constructed a list of "8 Reasons Why Chris Christie's Traffic Scandal Could Cause Big Trouble in 2016," which includes the assertion, "The only thing worse than traffic is the idiot who causes it for no good reason."
Davis goes on:
Nobody likes a tyrant. Especially Republican primary voters. Especially in the wake of the Obama administration's IRS scandal and its selective enforcement of Obamacare. Most Americans still believe in the quaint notion that we are all equal under the law, and that ours is a country of laws, not men. Republican primary voters may expect this kind of abuse of power from Democrats, but they won't tolerate it within their own ranks.
Christie has never planned to be the tea party's favorite candidate if he decides to run for president, and any electoral strategy that's been developed to land him the GOP nomination likely does not include the endorsement of Breitbart News. But even the most moderate, establishmentarian RINOs in the party have traditionally been afforded the benefit of the doubt from the conservative blogosphere. That Christie has so far received relatively little cover from that crowd is a sign of just how badly he scorched the bridge between himself and his party's conservative base.