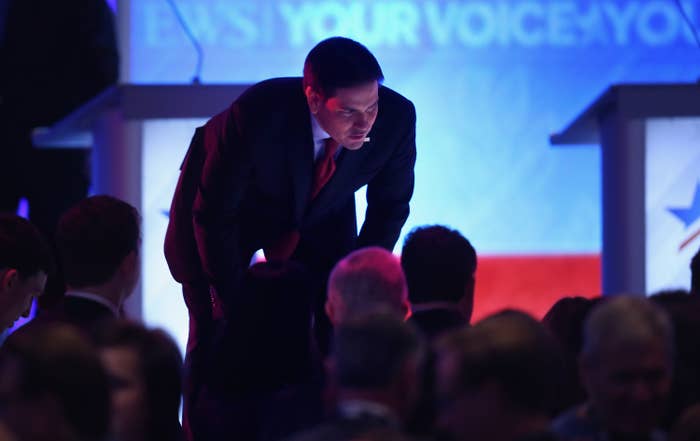 MANCHESTER, N.H. — In a high-profile stumble three days out from the New Hampshire primary, a rattled-looking Marco Rubio retreated from an aggressive grilling during Saturday's debate in a strange way: by reciting the same line at least four times.
Rubio, who entered the debate with momentum following a strong third-place showing in Iowa, was asked by a moderator to identify the accomplishments in his record that have prepared him for the presidency.
After listing his work on issues like eminent domain and dysfunction at the Veterans Affairs department, Rubio concluded his answer by returning to one of the prominent themes of his campaign message.
"Let's dispel once and for all with this fiction that Barack Obama doesn't know what he's doing," the candidate said. "He knows exactly what he's doing. Barack Obama is undertaking a systematic effort to change this country, to make America more like the rest of the world. ... When I'm president of the United States, we are going to re-embrace all the things that made America the greatest nation in the world, and we are going to leave our children with what they deserve, the single greatest nation in the history of the world."
Lines like this one — a sharp indictment of the Democratic incumbent combined with an unabashed expression of American exceptionalism — have earned Rubio a reputation as a gifted orator. Ever since he first launched his long-shot bid for the Senate in Florida, he has been making conservative audiences swoon with his optimistic speeches and inspiring life story.
But on the debate stage Saturday night, Rubio's years-long reliance on soaring rhetoric abruptly turned against him.
It began when Chris Christie, who has spent recent days fighting to blunt Rubio's momentum in the polls by casting him as inexperienced, turned to face his opponent.
"You have not been involved in a consequential decision where you had to be held accountable," Christie said to Rubio. "You just simply haven't."
Rubio replied by saying New Jersey's credit rating had been downgraded nine times during Christie's governorship. And then, jarringly, Rubio slipped back into the same rhetoric, verbatim, he had used just minutes earlier.
"But I would add this," he said. "Let's dispel with this fiction that Barack Obama doesn't know what he's doing. He knows exactly what he's doing. He is trying to change this country. He wants America to become more like the rest of the world..."
Reclaiming the floor as soon as Rubio concluded, Christie looked straight into the camera.
"You see, everybody, I want the people at home to think about this," he told the debate viewers. "This is what Washington, D.C., does. The drive-by shot at the beginning with incorrect and incomplete information, and then the memorized 25-second speech that is exactly what his advisers gave him. See, Marco, the thing is this: When you're president of the United States, when you are a governor of a state, the memorized 30-second speech where you talk about how great America is doesn't solve one problem for one person. They expect you to plow the snow. They expect you to get the schools open. And when the worst natural disaster in your state's history hits you, they expect you to rebuild their state, which is what I've done. None of that stuff happens on the floor of the United State Senate."
Rubio replied by arguing that when a blizzard descended on New Jersey last month, "you didn't even want to go back." But the jab was met with boos from the audience.
Rubio, by now visibly flustered and frustrated, returned once again to the same line, as though trying to find his rhetorical footing.
"Here's the bottom line. This notion that Barack Obama doesn't know what he's doing is just not—"
"There it is!" Christie interjected. "There it is. The memorized 25-second speech. There it is, everybody."
"That's the reason why this campaign is so important," Rubio protested. "Because I think this notion — I think this is an important point. We have to understand what we're going through here. We are not facing a president that doesn't know what he's doing. He knows what he is doing."
By the time the exchange concluded, Rubio had been reduced to repeating over and over again that Christie "didn't want to go back" to his home state for the snowstorm — a petty dispute that made the typically above-the-fray Rubio look uncharacteristically peevish.
Finally, Christie joked, "Oh, so — wait a second. One of the skills you get as United States senator is ESP also?"
Yet, Rubio returned once more to the same point later in the debate.

"I think anyone who believes that Barack Obama isn't doing what he's doing on purpose doesn't understand what we're dealing with here, OK?" Rubio said, interjecting after Christie referenced his work on the Gang of Eight immigration bill. "This is a president — this is a president who is trying to change this country. When he talked about change, he wasn't talking about dealing with our problems."
In the post-debate spin room, rival campaigns rushed to pronounce brutal judgements of Rubio's shaky performance.
"If he performs like that against Hillary Clinton, we will get crushed," said senior Christie adviser Mike Duhaime, adding, "Now, he's got a long time to practice. But he practiced for tonight's debate and he did terrible."
Surrogates for both Christie and Jeb Bush, speaking on condition of anonymity, suggested Saturday night they had already heard from Rubio donors now signaling an openness to shift their allegiances just days before the primary.
Rubio's campaign, meanwhile, did their best to spin their candidate's performance as proof that he was focusing his firepower on Obama's record, while his opponents just wanted to attack a fellow Republican.
"The other candidates made one thing clear: They were going to try and take out Marco tonight. They failed," wrote Rubio campaign manager Terry Sullivan in a fundraising email after the debate.
But inside the spin room, the media narrative was already taking hold. As a media scrum surrounded Donald Trump, someone in the back called out, "Mr. Trump! Is this the end of the Rubio campaign?"