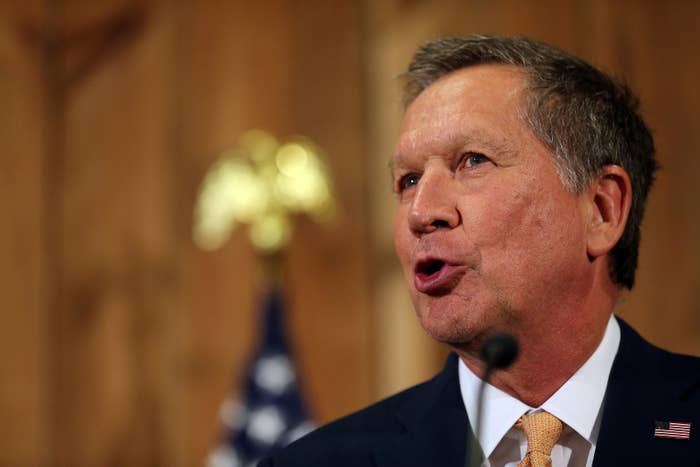 CLEVELAND, Ohio — The Trump campaign's sharp attacks against Gov. John Kasich this week may have imperiled a crucial behind-the-scenes effort to build out the Republican nominee's meager operation in the battleground state.
Despite months of public tension between the Trump and Kasich camps, the governor's loyalists in Ohio had been making plans for the state party to unify and coordinate with the Trump campaign, according to two sources with knowledge of the effort. One of the governor's key strategists had been tapped to coordinate get-out-the-vote efforts with Trump, and other Kasich allies were expected to follow suit.
But on Monday, Trump campaign chairman Paul Manafort took the unexpected, and unprecedented, step of blasting Kasich to reporters in his own home state, calling him "petulant" and "embarrassing" for his refusal to endorse Trump.
Since then, "all the top political talent in the state has been called to the sidelines," said one Republican close to Kasich.
Ohio Republican Party chairman Matt Borges confirmed to BuzzFeed News that top Kasich aide Tim Biggam, who had been slated to work with the Trump campaign, no longer wants the job. He also said veteran Ohio strategist John Roscoe was now waiting to see "how the dust settles" before deciding whether to sign on to help Trump.
"Paul Manafort got the week off to a bad start. He made a mistake, and mistakes have consequences," said Borges. "If there's a campaign running around calling [Kasich] an embarrassment...one of those consequences might be that some of the people who wanted to participate in the campaign don't want to anymore."
Borges stressed that it wasn't too late for the Trump campaign to make amends with the Kasich loyalists who populate the state party apparatus, and added, "Nobody intends to make personality issues bigger than the task at hand of making sure Hillary Clinton is not the person to name Supreme Court justices."
Some Kasich backers, meanwhile, disputed the characterization that he had been "helping" Trump behind the scenes. More accurately, they said, his Republican allies were offering to coordinate with Trump out of concern for down-ballot races.
But everyone in Kasich's orbit agreed that Team Trump's escalation of the feud this week would badly damage any chances of a detente — and could prove politically costly to the nominee.
"The core of Trump's strategy is to increase Republican turnout to overcome his demographic disadvantages. Attacking the sitting governor of Ohio who has an 80% favorability rating amongst republicans is as smart as plagiarizing an Obama speech at the RNC convention," said Matt David, a former strategist for the nonprofit backing Kasich's presidential bid.
Until the dynamic changes and Kasich gives his blessing, it may be difficult for Trump to hire top-flight GOP operatives in the state. According to three sources who work in Ohio Republican politics, some are swearing off working for Trump out of loyalty to Kasich; others are simply looking out for future business in the state. One speculated that the campaign's deprivation of political talent in Ohio could cost Trump five percentage points in the state come November.
As in other states, Trump has reportedly chosen to outsource much of the campaign mechanics in Ohio to the RNC and state party.