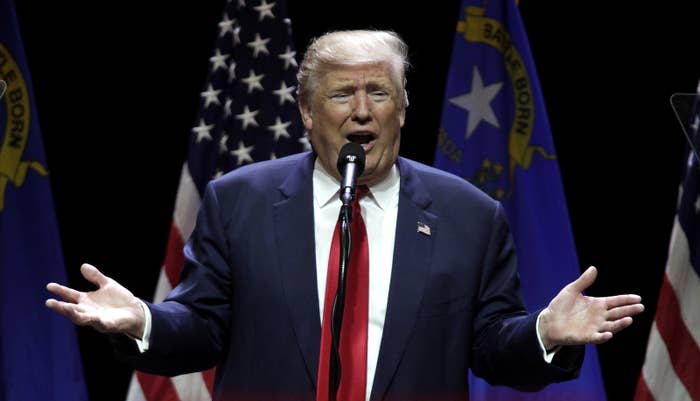 SALT LAKE CITY — When Mike Pence took the stage for a campaign rally last week in this most improbable of 2016 battleground states, he came with a request for the assembled Trump supporters: Pray.

"I know many of you in this room do what... I do from time to time — you bow the head, you bend the knee," Pence solemnly intoned to the crowd at the Infinity Event Center. "It'd be a good time to do it in the next 12 and a half days."
Indeed, Donald Trump could use some divine intervention in Utah. With less than a week to go until Election Day, his campaign has found itself scrambling to eke out a win in America's reddest state — lining up last-minute Mormon surrogates, privately pressuring GOP officials not to defect, and openly going to war with an insurgent third-party candidate.

Don Peay, Trump's Utah chairman, acknowledged in an interview with BuzzFeed News that the race is unprecedentedly close. "The state is more politically divided than it's ever been," he said.
Several recent state polls show Trump tangled up in a tight three-way race against Hillary Clinton and independent conservative Evan McMullin, a Utah native and ex-CIA officer who has drawn considerable support from his fellow Mormons. While it's unlikely the Beehive State will play a deciding role in the election's outcome, it remains a fact that almost any realistic path for Trump to 270 electoral votes will require a win there.
Trump appeared to acknowledge his growing risk of defeat in Utah — a state that every Republican presidential candidate has won since 1964 — during an interview with Fox News over the weekend. Speaking to Bret Baier, Trump lashed out at McMullin and accused him of being a "puppet" for Bill Kristol, the Weekly Standard editor who has been a leading voice in the #NeverTrump movement.
"The guy takes votes away from me," Trump complained of McMullin. "You know, we're going to win Utah. But he takes votes away from me, this man who I never heard of... Now, if for some reason we lose Utah, that could have a very devastating impact on the overall."
The interview marked first time Trump has publicly weighed in on McMullin — but behind the scenes, Trump's team has been working furiously for weeks to beat back the conservative challenger and lock down Utah, according to half a dozen sources with knowledge of the effort.
People close to Trump say his campaign first began worrying about Utah in March, after he suffered a resounding third-place defeat in the state's Republican caucuses. Once Trump became the nominee, he made a few token appeals to the state, but there were other battlegrounds that more urgently demanded their attention — and besides, his team was confident that conservative Mormons would eventually "come home" to their party.
Then, last month, the Access Hollywood tape leaked, and all hell broke loose. Prominent Republicans across Utah denounced the nominee and withdrew their endorsements in rapid succession. The state's Mormon newspaper called on him to drop out of the race. Trump plummeted in the polls, McMullin surged, and the Clinton campaign — apparently sensing an opportunity, or perhaps just rubbing it in — added several staffers to their Salt Lake City office.
"I think the state is up for grabs," said Utah-based Republican operative Reed Galen. "I'm not sure how [Trump] can lock it down easily at this point."
In recent weeks, Team Trump has undertaken an aggressive — and occasionally bumbling — effort to keep Utah red.
The most high-profile element of this project has been Pence's surprise swing through Salt Lake City last week. According to one knowledgeable source, there was some discussion of sending Trump instead, but the idea was ultimately discarded as advisers worried that the candidate's high "unfavorable" rating in Utah would make the visit counterproductive. Pence ended up using his time to deliver a boilerplate pitch for party unity. But the onstage presence of two former LDS church leaders — Julie B. Beck and Robert Oaks — caught the attention of the Mormon Twittersphere and so-called "bloggernacle," emboldening Trump's boosters in the intra-faith political debates taking place on social media.
The Trump camp has had some other tactical successes here as well. Last month, as their candidate faced a wave of denouncements and disavowals from Utah's top GOP officeholders, McMullin moved to pick off some of their endorsements. According to two knowledgeable sources, several leading political figures in the state considered signing on with the surging candidate, but Trump's allies quietly exerted their influence in Utah.
In at least one case, the arm-twisting may have worked even better than hoped: Utah Rep. Jason Chaffetz — the first member of Congress to retract his Trump endorsement in October — abruptly announced last week that he would vote for the nominee after all. The Washington Post declared this sudden change of heart "some kind of modern record for flip-floppery," and speculation has swirled as to what prompted it. Chaffetz did not respond to a request for comment from BuzzFeed News, but according to one Trump confidant, it was the campaign's lobbying that ultimately nudged him into voicing his support.

With national polls tightening in the final days of the race, some conservative voters in Utah may become wary of casting a protest vote — a development that would benefit Trump.
Still, his campaign faces significant hurdles. He remains deeply unpopular in the state, and his message has been widely rejected by Mormon voters here. He has no serious campaign infrastructure on the ground, and is forced to rely heavily on the Utah Republican Party — an organization that has at times struggled beneath an unexpected national spotlight this year. During a CNN interview last month, for example, the state party chairman floated a rumor about Bill Clinton fathering a child with a prostitute. Amid an ensuing onslaught of threatening phone calls, the chairman — worried for his safety and that of his staffers — decided to temporarily shut down the party's headquarters.
Meanwhile, Trump could face a backlash in Utah over his supporters' recent attempts to wage a sordid whisper campaign against McMullin. This week, a prominent white nationalist tried to smear the candidate with a robocall in Utah claiming, among other things, that McMullin is gay. (He's not.) The story garnered national headlines, but members of the Trump camp have been circulating rumors about McMullin for weeks. Last month during an interview with BuzzFeed News, Don Peay was interrupted by a Trump-supporting associate who came into the room and announced, "Evan McMullin's campaign is funded by the Clinton Foundation—" (it's not) "—so we need to get that out."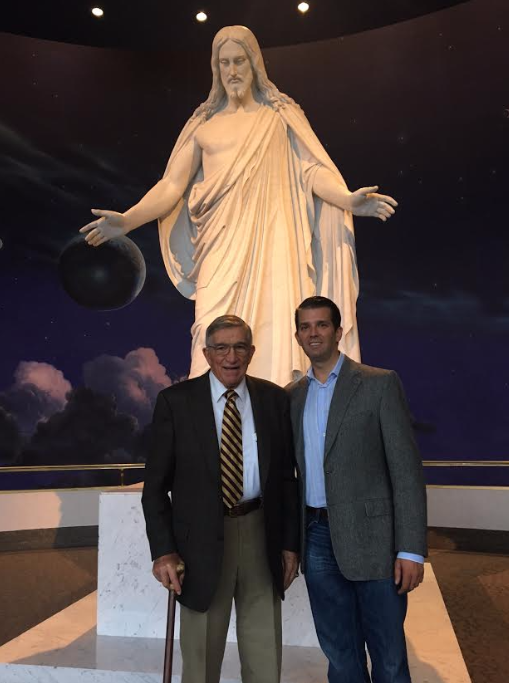 Some of Trump's Utah allies grumble that they spent months urging the Republican's Manhattan-based campaign not to take their state for granted this year, but their appeals fell on deaf ears. As evidence, they point to the candidate's tortured dance with the Deseret News, the influential Salt Lake City daily owned by the Church of Jesus Christ of Latter-Day Saints.
Trump's trouble with the paper began in August, when editors solicited op-eds from the major presidential candidates. Hillary Clinton immediately seized the opportunity and submitted a carefully crafted article pitching Mormon voters on her candidacy. Trump's campaign, by contrast, didn't even bother to return the editors' phone calls. When Trump did eventually submit an op-ed, it was widely panned in the state for its paint-by-numbers rhetoric.
When Pence visited Utah earlier this year, his staff was unable to find time for an editorial board meeting with the paper. And when Donald Trump Jr. met with the paper's editors during a visit to Salt Lake City in September, the discussion became contentious.
"I've never been in front of a more hostile environment," said Peay, who accompanied Donald Jr. to the interview. "They asked a whole bunch of stupid questions, they didn't ask anything about jobs, the economy, what's going on with Russia, and foreign policy. It was probably the most hostile, trivial thing I've ever been involved in."
Hal Boyd, the opinion editor for the Deseret News, said their questions for Donald Jr. focused on refugee relief and Trump's controversial record of philanthropy — two issues their Mormon readership care passionately about. "They certainly weren't easy questions, but we thought they were fair," said Boyd.
In any case, by the time the Access Hollywood tape came out in October, the Deseret News had apparently made up its mind about Trump. In a scathing — and largely unprecedented — editorial, the paper called on him to resign his candidacy: "Trump's banter belies a willingness to use and discard other human beings at will. That characteristic is the essence of a despot."
Peay called the editorial "the stupidest thing I've ever seen," and warned more broadly that his fellow Mormons could face lasting political consequences if they reject Trump.
"Mormons run the risk of being a people without a party," Peay said. "If Trump wins in spite of Mormon opposition, we've made ourselves irrelevant ... And if Trump were to lose Utah and it cost him the presidency, where is that gonna put the Mormon people amongst the Republican Party?"
"If you do cost him the election," he continued, "you're an exile for a generation."