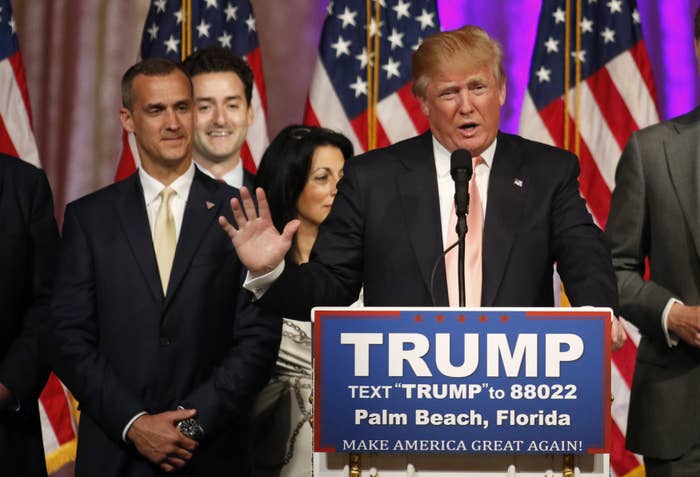 As Donald Trump faces questions about his campaign manager's physical altercation with a protester over the weekend, BuzzFeed News has learned new details about the hard-charging operative's behavior that raise questions about his judgment and the environment inside the Trump campaign.
In recent interviews with more than half a dozen sources who have worked with Trump's top aide, Corey Lewandowski, the strategist was accused of pushing a CNN reporter who tried to ask the candidate a question; physically confronting an aide for a rival campaign in a post-debate spin room; publicly shouting threats over the phone at a restaurant; making sexual comments about female journalists; and calling up women in the campaign press corps late at night to make unwanted romantic advances.
Asked Monday for comment on these allegations, Lewandowski emailed, "Your story is factually inaccurate." When BuzzFeed news asked him to clarify which portions of the story he was challenging, he wrote, "Be sure before you accuse me of something it's accurate. And, in these instances you are wrong."
In a statement sent after publication of this story, the campaign said that, "Corey is a loyal aide and trusted advisor to Mr. Trump, and is otherwise a private citizen who does not deserve anonymous, disparaging and false accusations and will fight back." (The campaign's full response is at the bottom of this story.)
These new details about Lewandowski's conduct come at a fraught moment for the Trump campaign, as the billionaire fights tooth and nail to clinch the nomination amid escalating violence at his rallies and increased press scrutiny of what appears to be a toxic inner circle.
Lewandowski has faced an onslaught of critical coverage in recent weeks, after he allegedly manhandled former Breitbart News reporter Michelle Fields at a Trump press conference in Florida. Not only did the incident result in Fields filing assault charges against Lewandowski, but the ensuing exodus from Breitbart — a conservative news site that seemed to side with the Trump campaign over their own reporter — generated days of headlines. Politico published an investigation last week that detailed other episodes in Lewandowski's recent professional history, including one scene in which he allegedly shouted down a co-worker at a meeting and called her a "cunt" in front of colleagues.
Trump has so far stuck firmly by his adviser. In an interview Sunday with ABC's This Week, Trump commended Lewandowski for his "spirit" after the aide was caught on camera grabbing a protester by the collar at a weekend rally in Arizona.
To a degree that is virtually unprecedented for a political operative in his position, Lewandowski frequently places himself in the middle of chaotic press scrums and volatile campaign crowds, and he has reacted with physical aggression at times.
At a press conference earlier this month in West Palm Beach, Florida, Lewandowski physically pushed CNN reporter Noah Gray away from Trump as he tried to ask the candidate a question, according to a source with close knowledge of the incident.
It was not the first time the campaign manager had gotten in Gray's face to prevent him from reporting. In November, when the reporter attempted to film protesters who were disrupting a Trump rally, Lewandowski threatened to pull his credentials unless he went back inside the pen the campaign uses to corral journalists. He was also heard warning the press secretary that if Gray didn't obey him he would be "fucking blacklisted." The CNN reporter's tweets about the incident riled Lewandowski and briefly inflamed tensions between the campaign and the traveling press corps, reporters told BuzzFeed News.
A spokesperson for CNN did not respond to a request for comment.
The campaign manager's aggression is not necessarily physical: In one instance, at a restaurant in New York last year, Lewandowski was seen throwing back multiple drinks and loudly threatening someone on the phone.
There is also talk among Trump's traveling press corps about his behavior toward women. Politico first reported that Lewandowski has made "sexually suggestive" comments to female journalists that one recipient described as "completely inappropriate in a professional setting."
In conversations with reporters, he has expressed frustration with female journalists covering the campaign while also voicing a wish to have sex with them. And sources told BuzzFeed News that more than once, Lewandowski has called female reporters late at night to come on to them, often not sounding entirely sober. Some in the press corps joke that if Lewandowski is calling after a certain hour, women are better off not answering.
Some critics say Lewandowski's aggression is most troubling for what it portends for a future Trump administration.
In the spin room after a February debate in South Carolina, Jeb Bush's puckish spokesman, Tim Miller, made a show of following Trump from interview to interview and needling the candidate. Whenever Trump would finish talking to a press gaggle, Miller slid into his spot and said things like, "Was he reiterating the fact that he loves [Vladimir] Putin and wanted to impeach George W. Bush?"
Eventually, Lewandowski spotted Miller hovering near Trump during an interview, and ordered the him to "back up," hip-checking the Bush aide to force him back. Miller, who didn't recognize the campaign manager at first, was taken aback and later said he assumed Lewandowski was a bodyguard or Secret Service agent.
Now a spokesman for a Republican anti-Trump super PAC, Miller told BuzzFeed News it was a minor incident but indicative of a larger, and more worrisome, pattern in the Trump campaign.
"While I was amused by Corey's love tap, the broader Trump culture of thugs who enforce his every whim is a very disturbing trend for people who want to have the powers of the federal government," he said.
For his part, Trump has shown little interest in distancing himself from Lewandowski. Days after the aide was accused of accosting Fields, Trump brought his campaign manager on stage with him when he declared victory in the Florida primary.
"Good job, Corey," Trump said.
Update (6:51 p.m.): The Trump campaign sent the following statement to BuzzFeed News following the publication of this story:
"Your story is false, which is no surprise coming from a reporter with an established track record of inaccurate posts about Mr. Trump, and has been repeatedly wrong on everything from claims that Mr. Trump would never run for President to this latest nonsense.

"After months upon months of repeated attempts to malign Mr. Trump, it has become clear some have turned their attention on Corey, a political professional who has worked tirelessly to Make America Great Again. Corey is a loyal aide and trusted advisor to Mr. Trump, and is otherwise a private citizen who does not deserve anonymous, disparaging and false accusations and will fight back will all available legal remedies peddled by a disgruntled blogger."