4 Things Jeb Still Needs To Fix
The beleaguered Bush campaign just wrapped up a relaunch tour dubbed "Jeb Can Fix It." But there's still lots of work to do if he wants a shot at a comeback.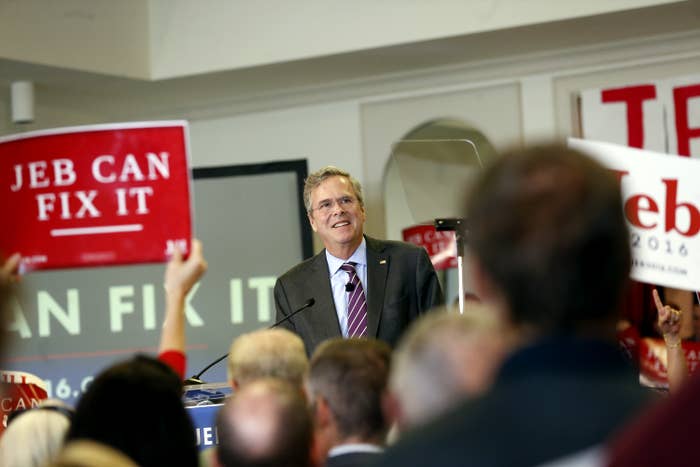 SOMERSWORTH, New Hampshire — Jeb may be able to fix it, but he hasn't yet.
That fact was plainly evident at the final stop of Jeb Bush's meta comeback tour this week, as the besieged Republican candidate strained to persuade a modest roomful of voters here that his new campaign rallying cry — "Jeb can fix it" — stood for something more than too-cute sloganeering.
"I've seen some really interesting machines," Bush told the audience after touring a medical device manufacturing facility. "I bet they break down once in a while. Oh my god, you've gotta fix it. You've gotta transform. You've gotta get new customers. You have to retool and use the great skills that you have to be able to provide the highest quality service, or they'll go elsewhere. It's a challenging time for sure and you have to adapt."
He intended for this riff to serve as a metaphor for his problem-solving gubernatorial record in Florida, but the 2016 symbolism was hard to miss. Bush's presidential campaign is the broken-down machine — and he is now scrambling with adapt-or-die urgency to win back his fleeing "customers" before it's too late.
Yet, even after a week of uncharacteristically shouty campaigning ("We're gonna win this damn thing!" he proclaimed in Florida; "We're Americans dammit!" he yelled in New Hampshire), and even after baring his soul at length ("I've learned to accept ... that I'm imperfect under God's watchful eye," he mused to a bus full of reporters), many of the same crucial defects that have plagued his candidacy remain.
To achieve the "comeback narrative" he's been urging reporters to write, Bush will need to find a way to fix these problems soon.
1.
The debate problem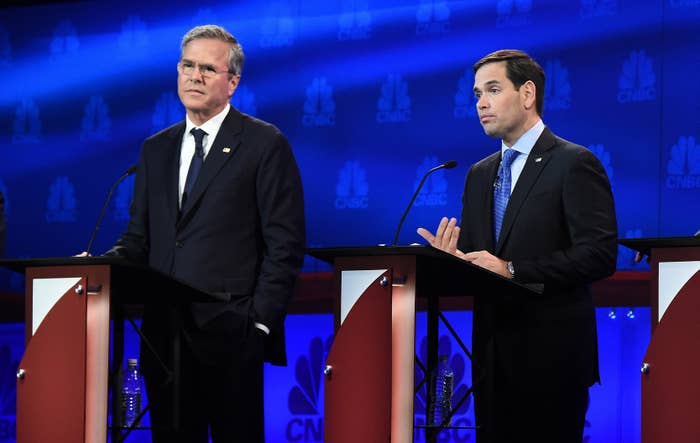 Though Bush was already struggling in the polls when he arrived onstage at the GOP debate in Colorado last month, his badly botched attack on Marco Rubio in front of 14 million viewers was arguably the moment that commenced the campaign "death watch" in the eyes of the national press. The post-debate prognoses were swift and almost universally grim.
"Bush seemed gutted, pallid—a ghost rising spectrally from a car crash, looking down on the wreckage below," John Heilemann wrote at Bloomberg Politics.
"Jeb Bush can eat carbs now," Matt Drudge pithily pronounced on Twitter.
But Bush's onstage flub wasn't an outlier. He has been listless and inartful at every one of this year's unusually high-profile debates. For a politician who's been popularly characterized (unfairly or not) as the "smart Bush" for the better part of two decades, these performances have seemed especially underwhelming.
Bush's campaign is aware of this, which is why they hired media coach Jon Kraushar — a veteran image-maker and contemporary of Fox News chief Roger Ailes — to hone the candidate's TV chops. According to New York Magazine, however, some in Bush's orbit question how coachable he will be when it comes to the sort of superficialities in which the consultant specializes. (One small example: Bush has steadfastly refused to swap out his glasses for contact lenses, despite repeated encouragement from some advisers.)
Bush's aides and allies know it's unlikely that such trivial matters will change the shape of the 2016 race on their own; and no one is banking on a single breakout debate to turn things around for Jeb. But to escape the hamster-wheel of grueling news cycles in which he is currently stuck, the candidate will probably need to exceed expectations at next week's Fox Business Network debate.
2.
The Donald Trump problem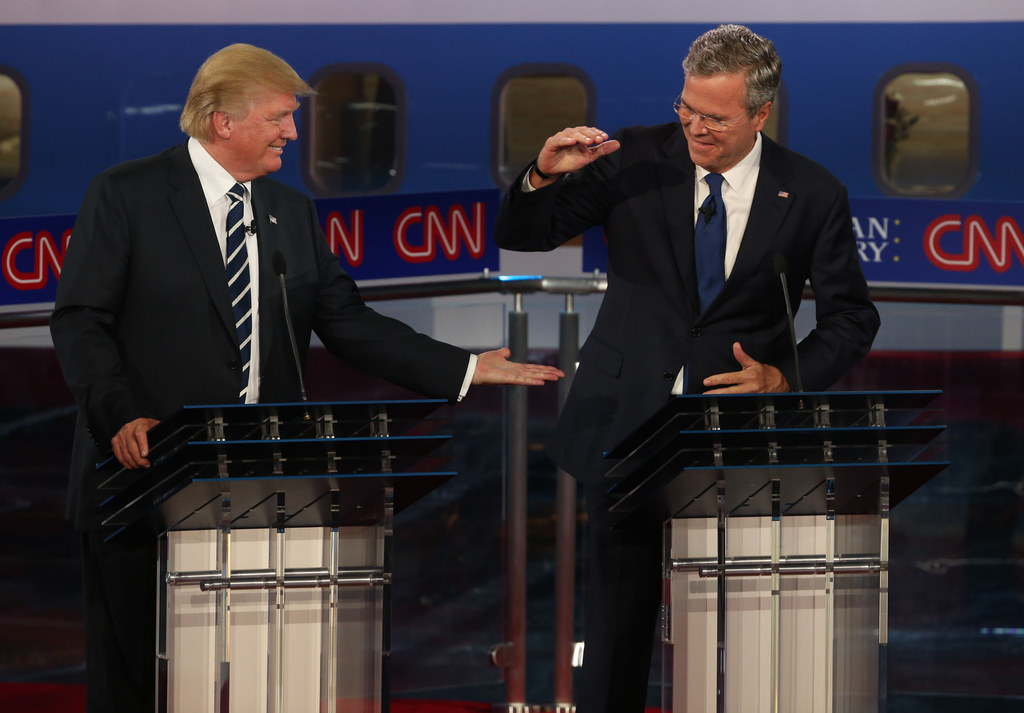 Of all the attacks Bush has fielded from opponents and critics this year, none has been more witheringly effective than Donald Trump's running insult comedy routine directed at "low-energy Jeb." For months, the madcap billionaire has delighted rally-goers and Twitter followers with mopey impressions of his mild-mannered rival, and jokes about the candidate's boring-ness.
In September, for instance, Trump posted a video on Instragram that took the form of a late-night commercial for prescription meds: "Having trouble sleeping at night? Too much energy? Need some low energy? Jeb, for all your sleeping needs." The gag might have benefitted from a bit of workshopping, but the punchline didn't need to be perfectly crafted to resonate: the video received over 18,000 likes.
"Trump is such a forceful communicator that he comes off as some sort of throwback alpha male, whereas Bush is such an earnest wonk, he looks and sounds like a sensitive dad from a contemporary sitcom," National Review editor Rich Lowry wrote earlier this year. "It's like watching a WWE wrestler get a stern talking-to from Ned Flanders."
Bush has taken strides recently to combat the Jebbie Downer caricature that Trump popularized. And it's unlikely that many of the voters who witnessed Bush's torqued-up stump routine this week were left yearning for a more caffeinated candidate.
But The Donald still presents a perception problem: for more than six months he has essentially been giving Bush political noogies — and he's faced virtually no resistance or retaliation from his target. In fact, the closest Bush came to fighting back was at a debate in September when he demanded that Trump apologize to his Mexico-born wife for dragging her into a campaign clash over immigration. Trump emphatically refused, Bush moved on, and later the two candidates exchanged a friendly (and lamentably GIF-able) high-five. Not Jeb's toughest moment.
"He's got to show that he's in this fight for real," said Rick Wilson, a Florida-based Republican strategist who likes Bush but is neutral in 2016. "You don't want to see Jeb angry, but you also don't want to see him laying on the ground. Donald Trump ate Jeb's lunch. Donald Trump drank Jeb's milkshake ... He's got to get right up in Donald Trump's grill."
This has been an increasingly common refrain among conservative pundits and GOP consultants, particularly those who are most exasperated by Trump's antics. When BuzzFeed News asked Republican strategists how they would advise Bush to handle Trump, many of their answers had a whiff of vicarious fantasy fulfillment.
Among the attack lines offered for Bush's use:
"You think I'm low-energy? Let's hit the gym. Let's give you some stairs, bitch."
"You know Donald, here's the problem with you: You have gone bankrupt ten times because your'e actually a shitty businessman."
"You're disgusting."
Wilson conceded that Bush was "temperamentally not suited" for such trash talk, but added, "Running for president means doing lots of things you're not temperamentally inclined to do."
Regardless of how, precisely, Bush might fashion an attack on Trump, strategists agreed that he and his campaign should stop training their firepower on Rubio. "You don't get any credit for beating up your little brother," said one operative. "You get credit by punching the bully down the street in the face."
3.
The blabbering donor problem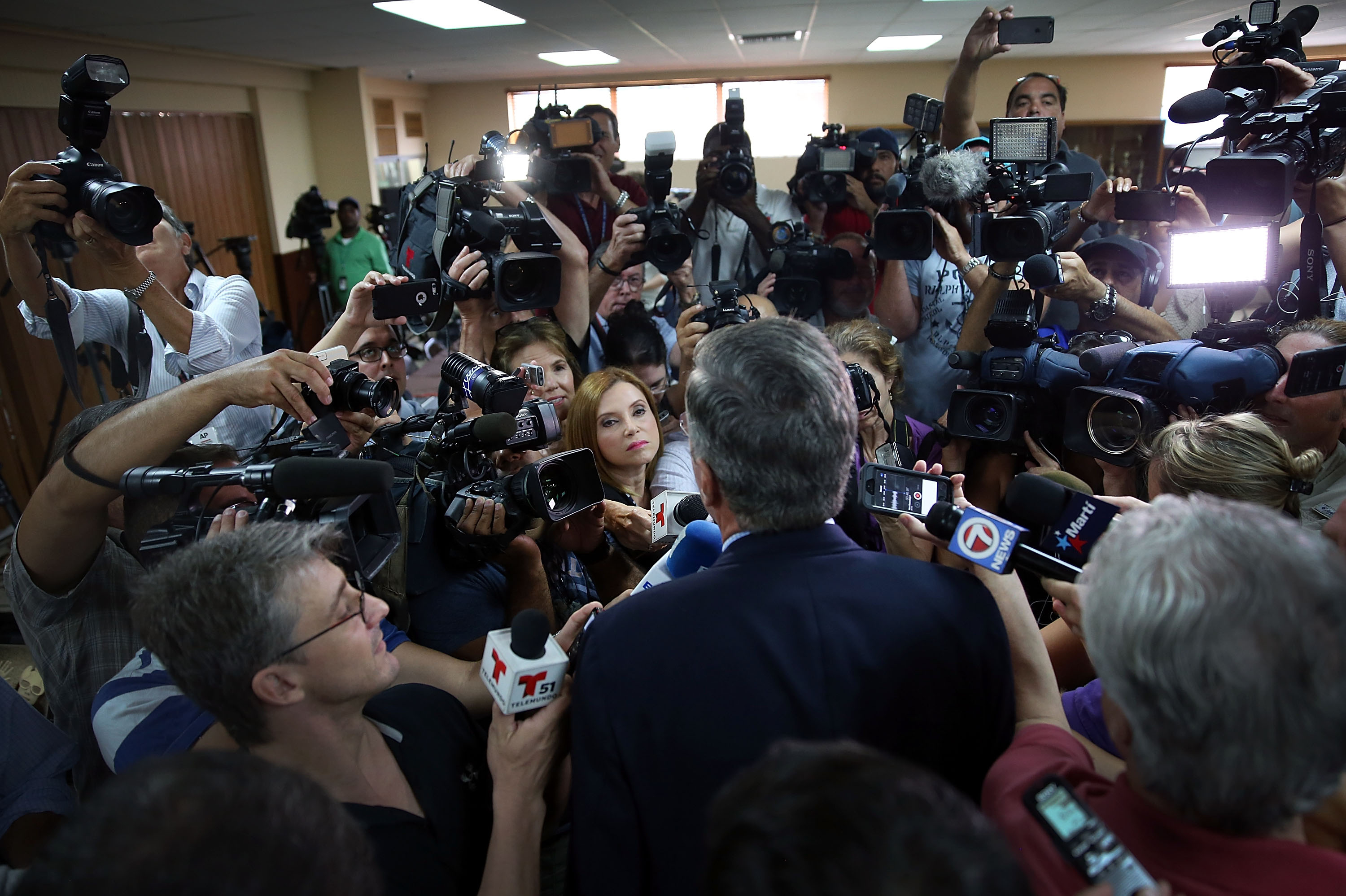 Bush's aides have grown increasingly frustrated this fall with the loose-lipped nature of their fundraisers and financial backers. Hardly a week passes anymore without a fresh round of news articles featuring apocalyptic quotes from anonymous "donors," and campaign strategy details leaked by unnamed "insiders."
This is not a problem unique to Jeb, of course. Rich people have always written big checks to presidential candidates in part for the privilege of having reporters dial them up and treat them like political Svengalis.
But Bush's blabbermouth donors are further complicating the campaign's already arduous task of raising money amid plunging poll numbers — and the dire quotes the contributors are feeding the press only serve to perpetuate the cycle of panic. When an unnamed Bush donor told the Washington Post last month that the campaign was in a "death spiral," the quote immediately ricocheted across the web and was stretched across TV screens in countless cable news segments.
"Donors are notoriously herd animals," said Wilson. "They move as a pack."
A spokesman for Bush did not respond to a request for comment on the record, but some in the campaign privately grumble that these betrayed confidences make it difficult for them to share any inside information with donors at all — one of the primary perks afforded to generous contributors and fundraisers.
The campaign appeared to fire a warning shot this week when a top Bush fundraiser announced he was abandoning the candidate and signaled his support for Rubio. In response to the development, a campaign staffer told Politico that they had decided to break ties with the fundraiser because he lacked discretion.
4.
The dynasty problem
Even when Jeb was leading the 2016 Republican field earlier this year, voters still overwhelmingly told pollsters that they would prefer not to have another Bush (or Clinton, for that matter) in the White House.
Bush's long-term problem on this front — and, indeed, the central challenge all losing candidates face — is that Republican primary voters don't seem to like him all that much. But while he tries to change that in the coming weeks, he will face a more immediate problem in the form of a buzzy new biography of his dad that's about to be released.
The book, Destiny and Power: The American Odyssey of George Herbert Walker Bush, is written by the Pulitzer Prize-winning historian Jon Meacham, and contains interviews with Bush family members (Jeb included) that span nearly a decade. Its official publication is still days away, but early excerpts have already managed to hijack a campaign news cycle this week when they revealed quotes from Bush 41 bluntly criticizing his son's presidential administration. The relevant stakeholders put out their statements, some minor sniping occurred, and Jeb found himself once again caught in the middle of a media-fueled family drama.
The candidate demonstrated earlier this year with his dithering over the Iraq War that he is not particularly adept at answering political questions about his family members — but he will have to get better at it soon.
The news of his father's comments to his biographer had just broken Thursday when the candidate completed the last stop of his "Jeb Can Fix It" tour. As he went to board his campaign bus, reporters swarmed, pestering him for a response. He stopped only briefly, turning to the scrum and offering a clipped, "I love my dad," before disappearing on to the charter.
CORRECTION
Jon Kraushar is the media consultant hired by Bush. A previous version of this article misstated his first name.