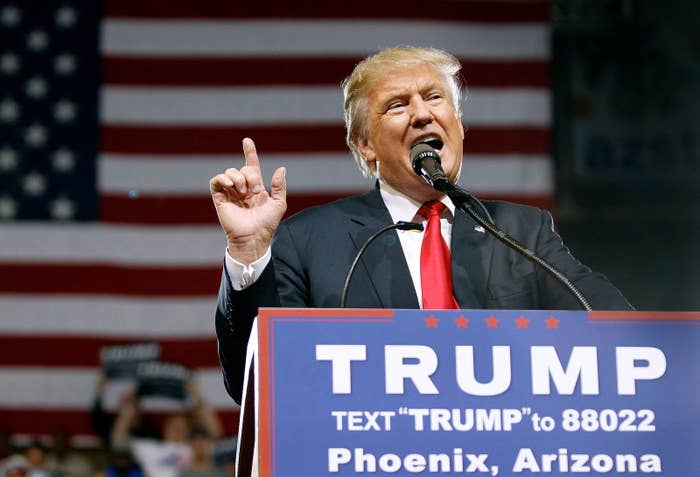 In a move that could signal a shift in Donald Trump's combative strategy in handling the political press, the campaign allowed formerly blacklisted outlets and journalists into the candidate's speech Wednesday morning.
Shortly before 10:30 a.m., security officials at the Trump Soho hotel in Manhattan stopped a group of journalists from outlets including BuzzFeed News, Gawker, Rolling Stone, Slate, the Boston Globe, and Snapchat, telling them they couldn't enter the event. In some cases, as with BuzzFeed News, the journalists had applied for a press credential for the event and been denied. Others had been approved, or planned to try to attend the event as non-media spectators.
As security tried to escort the journalists out of the building, some of them appealed to campaign press secretary Hope Hicks, who had stepped outside the event at a reporter's request. Hicks said she would try to find space for the reporters, and disappeared. Minutes later, security officials were told to let them in.
The Trump campaign's media "blacklist" gained renewed attention this month after the candidate said he would no longer give credentials to the Washington Post because of a headline in the paper he called unfair. But already, several outlets, including BuzzFeed News and Gawker, had been barred from gaining press credentials to Trump campaign events all year.
This marks the first time in 2016 that the Trump campaign has given BuzzFeed News official access to cover an event.
It comes two days after Trump's combative campaign manager Corey Lewandowski was fired, a move that has prompted some to speculate that the team is trying to professionalize. But it remains unclear whether the access granted to reporters Wednesday morning was a fluke, or a sign of a newly conciliatory press strategy.
Hicks did not immediately respond to a request for comment.