The Tea Party Doesn't Matter In Nevada Anymore
Mitt, Newt, Rick, and Ron will battle for a state that was once the core of Tea Party politics, and is now a microcosm of its fall. Now the Right is divided and distracted: "Conservatives in this state just can't figure out how to row in the same direction," says Muth.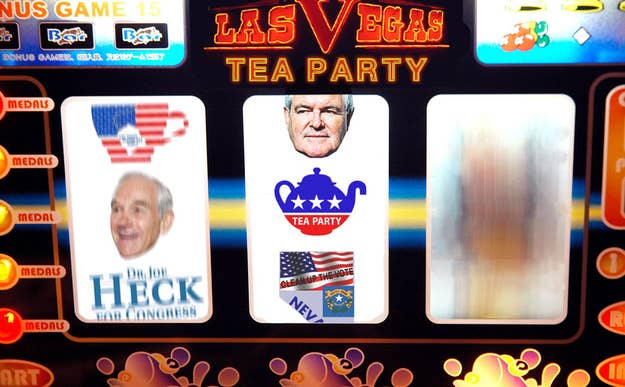 LAS VEGAS, Nevada – Two years after this state defined the influence – and peril – of Tea Party politics, Republican candidates are arriving to find a confusing, dysfunctional, and shattered conservative grassroots.
In 2010, Nevadans chose a raw insurgent ideologue, Sharron Angle, to take on Harry Reid, motivated by a deep backlash against President Obama, and at the urging of national figures like Sarah Palin. But Angle's inability to defeat the weakened incumbent sent the state's tea parties into a spiral of irrelevance and dysfunction, leaders here said--their influence diluted, and their organizations plagued by gossipy infighting, internal power-grabs, and allegations of opportunism.
In what has become a microcosm of the movement nationwide, the unifying populism of the midterms has given way here to a host of bickering factions with no common cause, no money to fund a resurgence, and no clear leaders.
"We constantly have people who come into town and announce, 'I'm the head of the such-and-such coalition,'" said Vicki Dooling, who runs communications for the Las Vegas Valley Tea Party. "And it's just like, well says who? Who are you?"
Sitting in a booth at the Bootlegger Bistro, an Italian eatery in a Vegas strip mall, Dooling repeatedly expressed a desire to put petty personal politics aside and "get stuff done" in the movement. But she admitted that distrust and weakened momentum have taken their toll on the local activists.
"People don't return phone calls anymore," she said. "How are you supposed to get anything done when no one will call you back? It's just very unprofessional."
This is, Republican veterans say, the default state of Nevada's historically disorganized conservative grassroots. But the tea party's current state of disarray is notable for how dramatically the movement has devolved since its height of effectiveness less than two years ago.
In 2010, the populist energy behind Angle's campaign made her a magnet for national Tea Party groups and would-be leaders. The Tea Party Express went out on a limb to endorse her in the primary. And while the move initially angered supporters of Angle's Republican rivals, tea partiers statewide eventually coalesced behind her candidacy — spurred by a common desire to topple Reid, as well as a small-government message that was uniting activists across the country.
None of that unity can be found in this year's presidential primary. With days to go before the caucuses here, Cathie Lynn Profant, president of Grassroots Tea Party of Nevada, reports that her members are as divided as ever on who they're supporting--and she's not bothering with consensus-building.
Instead, she said, "We have gotten really involved in local politics."
Similarly, Dooling said the Las Vegas Tea Party never managed to agree on one "not-Romney" candidate to support.
And rather than pressuring her members to rally behind Newt Gingrich or Rick Santorum, the organization has moved toward offering a loosey-goosey "menu of things that people can work on if they want to."
The ever-growing list of tea party-approved initiatives runs the gamut from aiding a voter fraud watchdog group, to supporting gun rights.
Dooling insists that the tea party is more active than ever in Nevada--and that may be true. But with the activists committed to so many different special-interest conservative causes, it's tough these days to distinguish between the tea party movement and, well, the Republican establishment. What's more, without a unifying cause drawing public attention, the money from well-funded national organizations has dried up.
"They don't even make an effort to coordinate with us anymore," said one local tea partier.
"Conservatives in this state just can't figure out how to row in the same direction," said Chuck Muth, a local operative who's working for the pro-Gingrich Super PAC.
Muth's candidate may bear some of the blame for the divided right. None of the conservative challengers to Mitt Romney has been able to lead a national campaign under the Tea Party banner, as a purer outsider – like Palin – might have.
But as Tea Partiers around the country struggle for relevance, the story of the movement's failure to establish itself as a broad national force in the 2012 primaries is in fact dozens of local stories of infighting and disarray. Here, the seeds division were sewn almost immediately after the movement's most unifying success: Angle's nomination.
Stephen Commander, a retired salesman, signed on to Angle's longshot primary bid early on, when she approached him at a small business meeting in Las Vegas and told him, "I need your help." He went to work building a makeshift call center for the campaign.
Dining on eight-dollar-a-plate Chinese food in an off-the-strip casino, Commander related his version of Angle's rise and fall.
"We started with two or three cell phones and a few volunteers," boasted Commander, with a heavy New York accent that betrays his roots. "We were a ragtag team, as the local newspaper called us."
Angle's ranks quickly swelled, though, as her anti-establishment message caught fire with grassroots conservatives. Commander admits to some growing pains in those early days, specifically recalling that they were unable to access a call list provided by Club for Growth because no one on staff could work the phone system. But overall, the idealistic activists running the campaign were willing to forgive each others' mistakes.
"We were all working together," Commander said. "There was a real team spirit."
But according to several people involved in the campaign, that all changed once Angle won the nomination. Her unlikely victory marked the first time the grassroots energy of the tea party had been translated into actual power in the state--and many people began to see the movement as a platform for self-promotion.
"The problem is that people were looking at the tea party and saying, 'How can this help me become someone?'" said on tea partier.
This is where the facts start to get fuzzy, with all the relevant stakeholders telling their own self-serving versions of how the movement lost its way.
Commander, for example, says that after Angle became the nominee, her most loyal volunteers were locked out of the campaign by a tyrannical consultant surrounded by yes men; and when a tea partier deigned to question her strategy during meetings, the consultant would refuse to let them speak, he complained.
"That is when things started to fall apart," he lamented.
But Commander has his own detractors. Following Angle's loss, Commander co-founded the Las Vegas Valley Tea Party, of which he became president. But he was ultimately forced to resign when he announced plans to self-publish a tell-all book about the Angle campaign.
Said one tea partier, "He's good at what he does, but he's very difficult to work with." Another GOP operative in the state called him "stubborn and a little bit nuts." The infighting that led to his ouster was brutal, according to several sources, and the battle scars still haven't faded.
Still, Commander and other Tea Partiers here relish the memory of their biggest event. In March of 2010, thousands of conservative activists from across the country converged in RVs and trucks, setting up lawn chairs and planting flags in a large dirt lot for what would become known as the "Showdown in Searchlight." The rally, held in Harry Reid's hometown, was led by Sarah Palin.
The message to Reid and his fellow Democrats: we're coming for you. But the Republican establishment also heard it, and shuddered a little at the power of this new force.
Not long after that day, Palin would endorse Angle. Her campaign — from her populist-propelled nomination to a series of bungles and misstatements that produced a spectacular collapse — turned Nevada into a case study in how much damage the grassroots could do to the party's shot at national power.
But local activists have, for the most part, stopped thinking nationally anyway.
"I think it seems like we're not as active because we're not holding big rallies like we used to," said Las Vegas's Dooling. "But I mean, ever since Searchlight, it's kind of like, 'OK, we've made our public statement, now it's time to do something else.' That event was just so outrageous, I don't think we could ever top it."