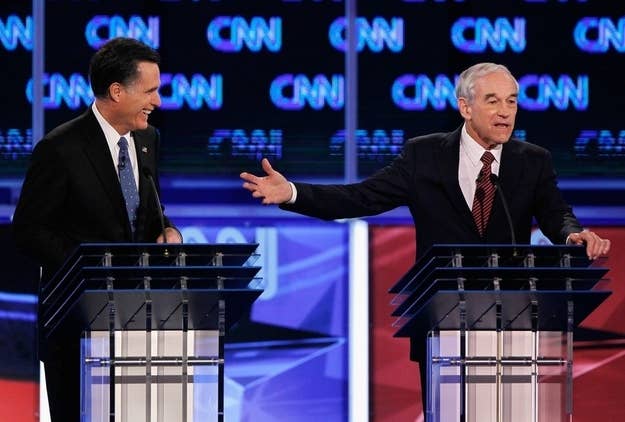 LAS VEGAS, Nevada -- Their ideologies may conflict, and their grassroots supporters have been known to clash, but the worst-kept secret of the Republican primary is that Mitt Romney and Ron Paul -- and their campaigns -- are getting along.
And according to one Romney aide in Nevada, that mutual respect has enabled the campaigns to work closely together to ensure that the first-in-the-west state gets its caucuses right this time.
"The Paul folks have been particularly welcoming to us working with them, and vice versa," said Ryan Erwin, a Las Vegas-based consultant working for Romney. "That kind of respect, if it didn't exist at the top, it's hard for it to exist at the campaign staff level."
The campaigns are cooperating on process, not politics, seeking to ensure the caucuses are more orderly than the sometimes-chaotic 2008 version. And so the two campaigns -- the only real organized efforts in the state -- have been meeting for months to work out the details of delegate allocation and caucus rules, and to make sure they share a common understanding of complex ground rules that could trip up latecomers.
The procedural cooperation in Nevada underscores the fact that throughout the primaries, the two candidates seem to get along. If there is a campaign truce of sorts, it may stem from the fact that they reside on opposite ends of the GOP's ideological spectrum, and generally don't campaign for the same voters. In Nevada, Romney is counting on Mormons and moderates; Paul on libertarians. (It's worth noting that Team Romney isn't alone in courting Paul, whose highly engaged supporters could come in handy in the general election.)
"Let's face it, last cycle [the caucus] wasn't terribly organized," Erwin said. "The eyes of the nation are on Nevada now, and the circus has come to town... the pressure is on."
Local conservative operative Chuck Muth agreed with the sentiment, but described the stakes in slightly more dire terms: "If Nevada blows it on Saturday, we will be at serious risk of losing our early primary status."