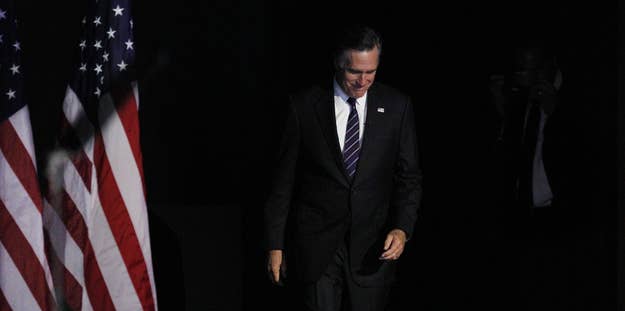 If Mitt Romney really was surprised by his defeat on Election Day, it might have been because he ignored the projections of one of his longest-serving number-crunchers.
Countless campaign post-mortems in the press since Nov. 6 have depicted the candidate and his top advisers as genuinely shocked that they lost the election. The campaign's internal polling — first reported by CNN's Peter Hamby, and detailed today by The New Republic's Noam Scheiber — showed Romney winning in virtually every key battleground state.
But Romney lost them all, save North Carolina.
"I'm not sure what the answer is," puzzled Romney pollster Neil Newhouse told Scheiber, who went on to explain how the campaign had been too reliant on voters' self-reported enthusiasm and inaccurately predicted the demographic composition of the electorate.
This narrative of Republican surprise serves elements of the post-election agenda of Romney's circle — it underscores their argument that they weren't deceiving the press and donors — but it leaves out an important fact: A longtime Romney adviser was circulating a second, rival set of numbers that showed President Obama winning with "over 300" electoral votes, one person who saw them told BuzzFeed.
Alex Gage, the Republican targeting expert who compiled the projections, was not working directly for the campaign. But he was hardly an outsider: Gage began advising Romney in 2002, and his wife, Katie Packer Gage, was Romney's deputy campaign manager in 2012. Prominent Republicans close to the campaign circulated his numbers, though a top aide denied having seen them.
And on the afternoon of Election Day, Gage e-mailed a "best case" scenario map that had Romney winning by just two electoral votes— but losing Colorado, Iowa, and a slew of other battleground states, many of which the Romney team swore to the bitter end that they were going to win.
A source forwarded Gage's "best case" map to BuzzFeed. Gage did not respond to requests for comment.
An adviser's "best case" scenario for Romney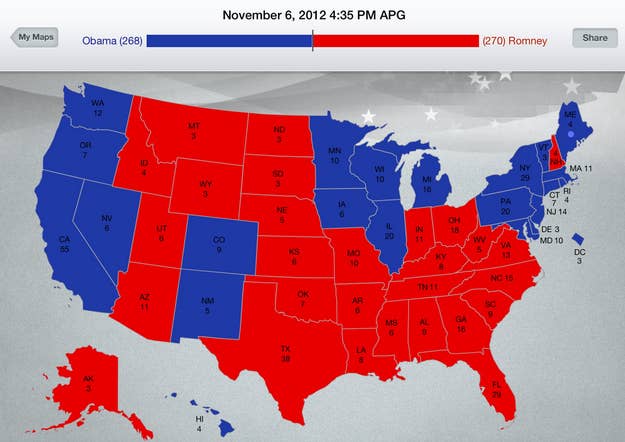 Gage gained fame in GOP circles for his data savvy in 2004, when he helped George W. Bush win reelection by applying private-sector marketing techniques to campaign micro-targeting. But he had already helped Romney become governor of Massachusetts with a similarly sophisticated approach, earning the admiration of the venture-capitalists-turned-politicos running Romney's campaign. When Romney threw his hat in the ring in 2007, Gage was quick to sign on.
He wasn't on the Romney campaign's payroll this time around, and a senior campaign strategist told BuzzFeed he had "never seen [Gage's numbers] or heard any reference to it."
But outside Republicans who saw Gage's projections marveled at the campaign's insistence that they had no idea what was coming, and one shared the charts with BuzzFeed on the condition of anonymity as a challenge to what has become the post-election conventional wisdom.