The Newly Charmed Life Of Tim Pawlenty
Rich, relaxed, and hanging out in Aspen, the new T-Paw is loving life. He also really wants to know how much money I make.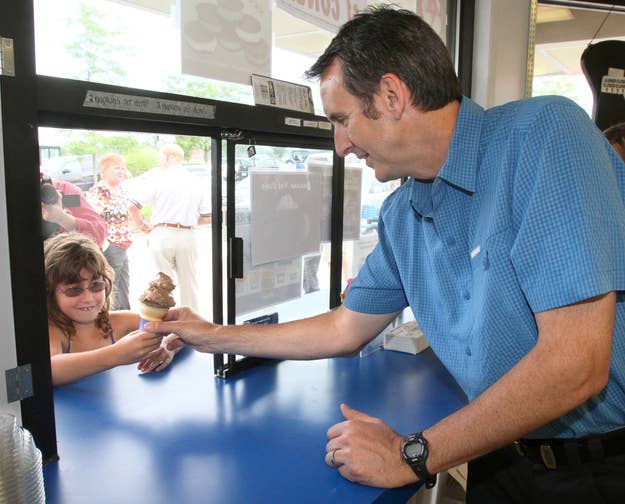 ASPEN, Colo. — Tim Pawlenty doesn't care anymore if you want to have a beer with him.
The former Minnesota governor and fleeting Republican presidential candidate surfaced last week in the Rocky Mountains, looking tanned and prosperous, for the Aspen Ideas Festival, an annual summer camp for the socially-conscious rich and the Thought Leaders flown in to entertain them. He looked at ease in this setting — as a well-paid bank lobbyist and a speaker on panels like "The Politics of the Possible," he could now comfortably identify with both groups — and he seemed to relish the opportunity to dip his toe back into the pool of the political without returning to 2011 levels of immersion.
"Life has been pretty good," he told me when we met on a cafe patio on the Aspen Institute campus. After a brief stint as chairman of Mitt Romney's campaign, Pawlenty took a job last October as CEO of a trade association called The Financial Services Roundtable. "It's a good gig. I get to stay involved in public policy, which I love and have a lot of passion for... I get to do it at a leadership level, and the pay's pretty good. So it's all good. I'm upright, I'm taking nourishment, and it's summer so I'm happy."
There was a time when Pawlenty might have worried that jauntily mingling with Aspen's elite and banking big checks from Wall Street would clash with the midwestern, up-by-the-bootstraps brand he meticulously maintained throughout his gubernatorial career and presidential campaign.
But T-Paw, as he was nicknamed during the GOP primaries, doesn't have to worry anymore about projecting the image of an everyman — flying coach, feasting on fast food, occasionally slipping into an unearned southern drawl on the stump. He promised his presidential ambitions were over: "I'm not running a second time." And so, he's enjoying the spoils of political celebrity, unencumbered by the demands of a Republican base that want folksiness, approachability, and doctrinaire adherence to conservative orthodoxy.
Pawlenty, untethered, is free to dispense vacation advice for Aspen-goers, heap praise upon Nate Silver, a boogeyman blogger to most of the right, and even urge his party to moderate its approach to same-sex marriage.
"When you have a vast majority of people under 40 supporting gay rights and gay marriage, that's a pretty good predictor of what future laws are going to look like," he told me. (When I pressed him on whether his own personal position had evolved, he said, "I have been a supporter of traditional marriage.")
Pawlenty's signature down-to-earth modesty still managed to sneak out during our conversation. Referring to the Aspen scene, he chuckled, "I mean, my dad was a truck driver, I'm the youngest of five kids and the first one to go to college, and I used to play hockey and swear and drink beer, so this isn't my natural state." And at one point, a woman approached the table to tell him she was a big supporter of his.
"Well, I only had five supporters... As supporter Number Three, I appreciate that. Thank you Number Three for stopping by," he cracked.
But other moments played against his campaign-trail persona. For example, when he found out I had recently reached a deal to write a book about the future of the Republican Party, he smiled mischievously and asked, "Did you get a good advance?"
When I demurred, he kept it up: "How much?"
"I'm not going to tell you..."
"Come on! How much?"
Finally, I offerred, "I'm sure it pales in comparison to any book advance you've ever gotten."