The Last Temptation Of Mitt
How Romney got from 11 nos to maybe on the question of 2016 — and what he has to decide before he takes the plunge. "Can you imagine what Ted Cruz is going to do to Jeb Bush?" one Romney insider tells BuzzFeed News.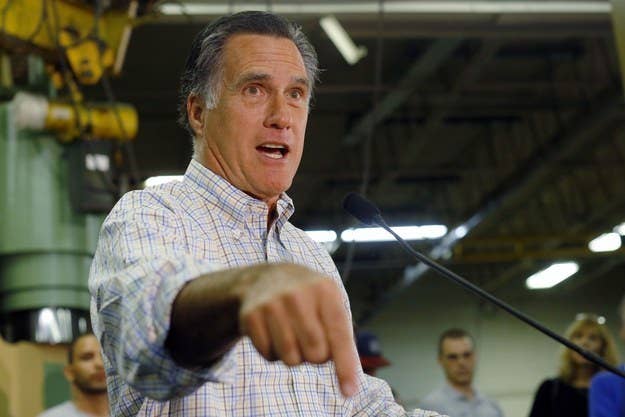 It wasn't long after Mitt Romney tottered off the national stage in November, 2012, bringing an end — it seemed — to the long, tragic story of his political career, when Spencer Zwick started getting phone calls from conservative millionaires who were clamoring for one last sequel.
Zwick, the square-jawed finance wunderkind who masterminded the candidate's phenomenally successful fundraising operation in 2012, had returned after the election to the private equity firm he co-founded with Romney's son, Tagg — but Mitt's network of GOP money men wouldn't stop hounding him. Inside Solamere Capital's pristine, white-walled offices on Boston's trendy Newbury Street, Zwick often found himself on the phone with major Republican fundraisers, bundlers, and donors putting the same questions to him.
"I got calls from people every day asking, 'Do you think he'll do it? How can we convince him to do it?'" Zwick said in an interview with BuzzFeed News.
With Friday's news that Romney told a group of donors he was now actively considering a third presidential bid in 2016, it appears the boosters have gotten through. "Everybody in here can go tell your friends that I'm considering a run," the former candidate told the gathering in midtown Manhattan, according to Politico. But insiders who spoke to BuzzFeed News about Romney's evolution on the 2016 question said he only began to entertain the possibility recently, and that he still needs to weigh a number of factors — including Jeb Bush's electability — before he decides to take the plunge.
Zwick didn't need donors to convince him that the ex-nominee should run again; as a longtime loyalist who had worked closely with Romney from the Salt Lake City Olympics to the Massachusetts governor's office and beyond, he said he repeatedly urged his mentor to keep his options open after the 2012 election.
"My argument was that 60 million people already voted for this guy," Zwick said. "He has the experience, he has the background, he has the skill set. My view is if we're going to beat Hillary Clinton or Elizabeth Warren or whoever they nominate, we have to find somebody who can not only get through the primary, but who knows he can do the job. I don't see somebody in the [Republican] field who has the skill set he does. My view is he has to do this."
But despite all the cheerleading, Zwick said Romney was genuinely averse to the idea of a third run all through 2013 and much of 2014 — a sentiment that often came through whenever reporters asked him about his political future. For example, when a New York Times reporter interviewed him a year ago after the Sundance Film Festival screening of the documentary, Mitt — a sympathetic portrayal that did much to rehabilitate his image, at least in the political class — she asked whether he would run again. His response: "Oh no, no, no. No, no, no, no, no. No, no, no."
Most political observers counted the nos (there were 11) and took the emphatic denial at face value.
"I truly think that it was never a thought that he would ever do it again," Zwick said.
But then, the midterm elections kicked into gear and Romney — who became an in-demand surrogate and fundraiser, stumping in races across the country — caught the campaign bug again.
"Through the 2014 elections, he spent a lot of time on the road talking to voters," Zwick said. "He was reminded once again being on the trail that there are a lot of really important issues facing the country and he has the skill set to solve them, and that has weighed heavily on him."
The midterms also corresponded with a wave of stories in the political press about a possible Romney 2016 bid, many of which originated with supporters who wanted to fertilize the speculation. It worked; the stories ensured that hopeful donors would keep calling Zwick and other people they believed to have Romney's ear, making the media predictions a self-fulfilling prophecy. Zwick said he couldn't point to one day or event that changed the ex-candidate's mind, but he eventually began to see more willingness on Romney's part to engage the idea.
Another former campaign adviser said Romney has been troubled by the Obama administration's foreign policy, and what he sees as the disastrous consequences of the United States shrinking from its role as international leader.
"Mitt has been waking up every morning watching what's happening to the world, and he's incredibly distressed," said the adviser, who requested anonymity to speak without Romney's permission. He added that the former candidate believes his widely mocked 2012 warnings about Russia being "our number one geopolitical foe" — along with other hawkish campaign rhetoric — has been vindicated by world events. "Mitt predicted everything."
As he weighs his choices in the coming weeks, Romney won't be deterred by which candidates enter the primary, or by any displays of fundraising muscle-flexing, Zwick said. Earlier on Friday, Bloomberg Politics reported that Bush's team set a fundraising goal of $100 million for the first three months of this year in an effort to scare off prospective primary opponents. (Bush's spokesperson said the goal came from donors, and that their actual target is "far more modest.")
But Zwick said fundraising is the least of their concerns.
"It's a primary," he said. "You go back, there's always been multiple candidates in the race that could raise money…. And he has actually already won a primary before."
According to one former adviser, the biggest political question Romney will be considering as he makes his decision is whether Bush will be able to make it to the general election.
"Look, Jeb's a good guy. I think the governor likes Jeb," the adviser said. "But Jeb is Common Core, Jeb is immigration, Jeb has been talking about raising taxes recently. Can you imagine Jeb trying to get through a Republican primary? Can you imagine what Ted Cruz is going to do to Jeb Bush? I mean, that's going to be ugly."
The adviser added that aside from Bush, Romney doesn't believe any of the Republicans in the field are ready to take on Hillary Clinton in the general election.
"He's not going to be intimidated by Bill Clinton sitting in the front row of a debate, looking at him," the adviser said of Romney. "His dad has run for president. He's run before."