The Jeb Bush Hatchet Man Who Might Accidentally Elect Donald Trump
Over decades in politics, strategist Mike Murphy has developed a certain reputation: delivering Republican success in blue states, charming the press with his wit, and spending and making lots and lots and lots of money. This time, he's led Jeb Bush's PAC's multi-million dollar assault on Marco Rubio — while Donald Trump is poised to win Iowa and New Hampshire.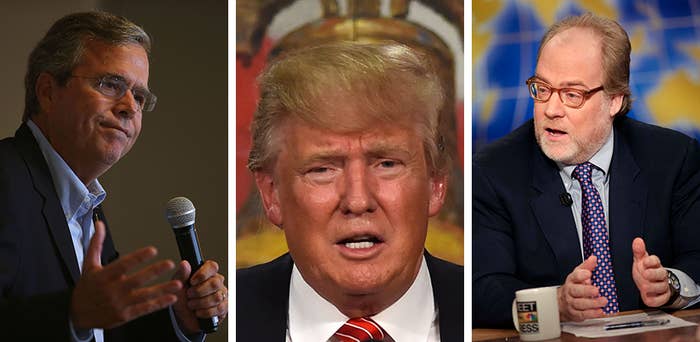 If Donald Trump ends up on stage this July formally accepting the GOP presidential nomination, don't be surprised if everyone from Washington Republicans to Twitter conservatives gathers outside the convention arena in Cleveland to burn Mike Murphy in effigy.
The famed 53-year-old political consultant runs the Right to Rise super PAC, where he has spent the past year on a mission to mow down every viable Republican candidate standing between Jeb Bush and the White House. The campaign waged by Murphy has been, by turns, vicious, strange, and comically ineffectual — but always expensive. With Jeb flatlining in national polls, the group has blown through at least 60% of its $118 million — and developed, along the way, a blooper reel of widely mocked stunts. In New Hampshire, they mailed small video players to voters with a 15-minute Jeb! documentary pre-downloaded. In Iowa, they splashed messages across digital billboards so head-scratching that even Bush himself reportedly asked, "What the hell is that?" when he drove by one.
Perhaps unsurprisingly, some disgruntled donors have struggled to keep their displeasure with Murphy to themselves. As one nameless Bush backer grumbled to Politico during the latest round of venting in the media, "You might as well light all this money on fire."
But it isn't just wealthy Bush loyalists whining about squandered contributions. In recent weeks, a widening cast of critics across the GOP has accused Murphy of cynically pursuing a scorched-earth 2016 strategy that will leave Jeb's legacy in tatters, wreak havoc on the national party — and make him millions of dollars.
The critics argue that Murphy recklessly enabled Trump's rise last year by cavalierly dismissing him as a "zombie frontrunner" and stubbornly refusing to use the vast war chest at his disposal to take the billionaire down. ("Trump is, frankly, other people's problem," he said when asked about it in August.) Meanwhile, the super PAC went on to spend approximately $30 million on attack ads targeting Marco Rubio — a candidate many (including Bush donors) believe to be the party's last best hope to stop The Donald. In spite of it all, Murphy shows no signs of letting up: in the final sprint to Iowa, Right to Rise has reportedly spent nearly $1 million per day hammering Rubio on everything from his immigration record to his insufficiently masculine boots.
"I have a lot of respect for Mike Murphy, but I have no idea what the hell he is doing right now."
Now, with the spectre of the Trumpocalypse looming over the GOP on the eve of the Iowa caucuses, rivals, critics, and even some admirers are questioning Murphy's motives.
"The real question of this campaign is whether Mike Murphy wants to spend down to the last dollar just to destroy Marco Rubio," said Rick Wilson, a Republican strategist based in Florida. Suggesting that Murphy's unwavering commitment to the failed ad blitz might be infusing Bush with false hope, Wilson added, "Maybe I'd be a lot richer if I just always told my clients the ads were working when they weren't."
"I have a lot of respect for Mike Murphy, but I have no idea what the hell he is doing right now," said another strategist.
A third GOP operative who is neutral in the 2016 race even floated a far-fetched theory that Murphy is holding his fire on Trump because he wants the billionaire's future business. (In fact, Right to Rise did eventually end up running some anti-Trump ads, though the $5.5 million behind the effort is a pittance compared to the group's seemingly bottomless kill-Marco fund.)
Paul Lindsay, a spokesman for Right to Rise, dismissed the criticism of Murphy as jealous carping by competitors.
"Under Mike's leadership, everyone at Right to Rise is focused on promoting one person: Jeb Bush. We have neither the time nor the inclination to pay attention to anonymous sources in the Republican political consultant class who are largely driven by green-eyed personal animus," Lindsay said.
But Charlie Spies, who serves as treasurer and chief counsel to the super PAC, acknowledged the perception in certain Washington circles that Murphy is making a killing at Right to Rise.
"Since we first started the super PAC, I've heard people cracking that, 'Oh, Murphy's going to retire off this,'" Spies said in an interview. But in fact, he said, the organization has taken extraordinary measures to ensure that "no one's burning down the store for personal profit."
Among the safeguards he cited: an unpaid, independent governance committee that oversees the budget, and a "global" compensation cap that limits how much money each employee can make.
Spies, a veteran election lawyer, declined to provide specifics on Murphy's compensation at Right to Rise, but said, "I think I know the market better than anybody and ... Mike is getting paid the lowest rate I have seen anyone in a similar situation for a similar organization get paid." (Lindsay also declined to specify how many digits are contained in the number of dollars Murphy stands to make.)
Political consulting is, in the end, a business for mercenaries, and Murphy — an acid-tongued ad man who once famously sported a "GO NEG" vanity plate on his car — is one of the best in the GOP. Murphy's defenders say his only obligation in 2016 should be to help his client win, not to police the party for existential threats. And of course it remains possible that Bush, who's shown recent glimmers of momentum in New Hampshire polls, will ultimately vindicate Murphy's slashing strategy at Right to Rise with a last-minute surge in the Granite State.
But Murphy has demonstrated over the course of a long and lucrative career that he sees himself as more than just a hired gun. Over the past 35 years, he has been a cutthroat operative in campaign war rooms, a prophet of big-tent conservatism in cable news green rooms, and an aspiring filmmaker in TV writers' rooms. Along the way, he has elected a slew of high-profile Republican governors like Mitt Romney and Arnold Schwarzenegger, and made enough money to buy himself a house in the Hollywood Hills, apartments in Manhattan and Miami, 38 square miles of land in Nova Scotia, and an array of pricey toys, from a Mercedes-Benz to a private Piper Meridian plane that used to shepherd him back and forth from Sacramento. Today, a bearded and stylishly bespectacled Murphy lives in Los Angeles with his wife and their two-year-old, where he continues to dabble in Hollywood. (Sniggered one rival strategist, "He's a screenwriter like all the Uber drivers in Santa Monica are screenwriters.")
But according to a review of his Murphy's career and interviews with more than a dozen people who have worked for, with, and against him over the years, at least one thing has followed him throughout his various reinventions: a reputation for aggressively hoovering every last nickel from his clients' campaigns — regardless of whether he delivers a win.
"I don't know any consultant that isn't in business to make money," said Rob Stutzman, who worked with Murphy on the 2003 Schwarzenegger campaign, and rejected the thesis that his old colleague was only looking out for a payday at Right to Rise. "People can be and maybe should be very cynical about our profession of political consulting," Stutzman continued. "But that doesn't mean we aren't patriots to what we think is important to the country often."
"It's not about money," Mike Murphy assured Jeb Bush. "I've got money."

It was late in the summer of 1999, and the 37-year-old strategist was explaining to his friend and trophy client why he had decided to sign on full-time with John McCain's fledgling presidential campaign. Just a year earlier, Murphy had played a key role in getting Jeb elected as governor of Florida — a marquee win for the hotshot consultant that had helped to solidify the Bush family's status as an American political dynasty. Now, however, he was preparing to spend the primaries locked in hand-to-hand combat with Dubya and his aides.
"Look, I'm going to have to fire you," Bush reportedly told him. "It's my brother, Mike. What the hell can I do?"
Jeb was more than a little miffed by his consultant's fickle sense of loyalty and the tight spot it was putting him in. ("Look, I'm going to have to fire you," Bush reportedly told him. "It's my brother, Mike. What the hell can I do?") Still, Murphy insisted his decision wasn't rooted in anything so crass as money or careerism.
"I've got one more of these left in me before I get old and bald and married," he reasoned. He simply wanted to enjoy it.
But for Murphy, the failed McCain bid was hardly a last hurrah: it was a launching pad. Aboard the campaign bus — famously nicknamed the "Straight Talk Express" — the gregarious consultant put his quick wit and subversive sense of humor to work, cementing his reputation among reporters as a reliable dispenser of colorful quotes.
Dan Schnur, McCain's communications director, described Murphy's indefatigable motor-mouth as an asset on the Straight Talk Express, allowing him to tag out McCain and keep reporters entertained while the candidate rested. "Normally when the candidate disappears behind the closed doors, the reporters wander off to find other things to think about," Schnur said. "Mike was able to maintain their attention. Playing the second-half of a tag team in the back of a bus allowed McCain to maintain that straight talk persona for much longer periods of time."
"To the Irish, talk is a dance, and that's Mike Murphy," said Alex Castellanos, a former partner and longtime friend of Murphy's.
The Straight Talk Express may have failed to carry McCain to the White House in 2000, but Murphy rode it all the way to the bank. By the time his candidate dropped out, he had inked a multi-million-dollar deal to sell his consulting business (concluded in February, smack in the middle of the primary season); planted his name in every TV booker's rolodex as the GOP talking head with the barbed one-liners; and greased the Washington Post with enough unauthorized leaks and exclusives to fill a 6,000-word campaign postmortem.
When the Post story came out three days after McCain exited the race, some of Murphy's colleagues felt betrayed, viewing it as an egregious act of self-promotion. Based on two dozen interviews he did over six months with reporter Howard Kurtz, the feature cast Murphy, not McCain, as the chief protagonist of the race, and did much to mythologize the consultant, describing him as the "long-haired," "subversive," "shrewd," "flamboyant" "emotional heart" of the upstart campaign.
"He was everywhere," Kurtz wrote breathlessly, "mapping strategy, developing ads, polishing speeches, coaching the candidate and always, endlessly, spinning the press."
"Nobody knew that he had been leaking to Kurtz for six months," campaign manager Rick Davis told the New York Observer months later. "I think people were disappointed that they weren't told about that." (Davis declined to comment for this story, saying in an email, "You'll find plenty of people who will want to take shots at Mike and he probably deserves it. I'm not one to pile on.")
Murphy's tumultuous year continued on Rick Lazio's New York Senate campaign against Hillary Clinton. Facing a sitting first lady was a challenge in itself, one made more formidable by Lazio's late entry into the race, but, according to a source familiar with the campaign, Lazio believed these problems were further exacerbated by Murphy.
In the end, the campaign spent $40 million, a record for a losing Senate bid at the time.
In the final months of the campaign, Lazio had an invitation to appear on Jay Leno's show, brokered by Murphy, who was Leno's friend. But Lazio didn't want to pause his campaign in New York to go to the West coast and preferred to go on The Late Show with David Letterman. The source says that, while Murphy told Lazio that he couldn't get a commitment from Letterman, Lazio discovered after the election that there was "a long-standing request" for him to go on the show. The source concluded that Murphy had placed his relationship with Leno above the candidate. (Lazio's campaign manager, Bill dal Col, disputes this account, arguing that, though there was a disagreement about Leno, he believes somebody else on the campaign would have found out about any offer from Letterman.) Lazio ultimately did not appear on either show.
The campaign also stands as an example of the argument that Murphy-run campaigns waste money. The source, who called Murphy a "swashbuckler," recalls Lazio erupting over fruit baskets being sent to his hotel rooms at night. Despite the campaign's prolific fundraising, the source says, the candidate worried about the impact of such luxuries on the culture of his campaign. Dal Col, for his part, vehemently denies the fruit basket allegation, saying that gratuitous treats were provided by hotels and contending that "Mike wouldn't even know how to order a fruit basket, to tell you the truth."
In the end, the campaign spent $40 million, a record for a losing Senate bid at the time.
Murphy returned to success on Mitt Romney's 2002 campaign for governor of Massachusetts and then, in 2003, on Arnold Schwarzenegger's gubernatorial campaign in California, further establishing his status as a Republican with a talent for winning in blue states. With Schwarzenegger, a political novice, Murphy was able to display his talent as a "candidate-whisperer," as another Schwarzenegger operative, Rob Stutzman told BuzzFeed News. (This is a skill rendered irrelevant during this cycle by his placement at the super PAC.)
Stutzman and pollster John McLaughlin recalled how Murphy fed lines to Schwarzenegger to be used in a debate against Arianna Huffington. At Murphy's suggestion, Schwarzenegger put down Huffington with zingers like, "Arianna, a little more decaf" and ''I have a perfect part for you in Terminator 4." Stutzman added that Murphy helped Schwarzenegger through a series of allegations that he had groped women, with the consultant advising the Hollywood star to express some remorse "without validating the specifics of some of the allegations."
"Yes, I have behaved badly sometimes," was Schwarzenegger's line. "Yes, it is true that I was on rowdy movie sets and I have done things I thought were playful that now I recognize that I have offended people."
Murphy soon faced allegations of a minor scandal of his own, when a Boston Globe investigation found that his consulting company, DC Navigators, was holding funds from the sponsors of a fundraiser the firm threw for Romney during the 2004 Republican National Convention in New York. It was never explained why the money, which was supposed to cover excess catering costs, was not sent to the event's caterer.
With his attention turning to Hollywood and his blossoming career as a media commentator, Murphy remained neutral in the 2008 primaries, which featured his former clients Romney and McCain. He didn't work for McCain during the general election either, choosing to retain his pundit's perch and deliver a regular stream of call-em-like-I-see-em commentary on the candidacy of his one-time boss. His unfiltered horserace analysis struck many in the candidate's orbit as unnecessarily harsh, and his excoriation of the campaign, including for its decision to tap Sarah Palin as the venerable senator's running mate, was enough to make McCain stop talking to him, according to the The New York Times.
When Murphy returned to politics for the 2010 California governor's race, his Hollywood aspirations and political work became inauspiciously intertwined. The consultant had been courted heavily by prospective candidate Steve Poizner, and Murphy appeared ready to sign on — but at the last minute he bailed, explaining that he was "tired of politics." Two days after breaking the news to the Poizner campaign over email, Murphy's production company received a $1 million investment from former eBay CEO Meg Whitman, who was preparing to self-finance her own gubernatorial bid. Murphy rediscovered his passion for politics and signed on with her campaign, which would go on to spend an astronomical $178 million — the most costly non-presidential race in United States history. Whitman ended up losing by 13 points in the general, and her campaign is often cited as a textbook case of consultant class grifters.
After Obama's election in 2008, Murphy began aggressively preaching a gospel of big-tent Republicanism — escalating his war on Palin in the 2010 midterms, slamming Romney's stance on immigration in the 2012 primaries, grimly warning that a political "ice age" was about to hit the party, and voicing an anxiety that in 2016 Republicans would nominate a conservative version of George McGovern, the ultra-liberal Democrat who suffered a landslide defeat against Richard Nixon in 1972. In these forecasts, Murphy cast his present client and chief target, Jeb Bush and Marco Rubio, on the same side, as Clintonian figures with the potential to modernize the GOP. The person he chose for the role of McGovern was the newly elected senator from Texas, Ted Cruz.
"We would re-set the clock to zero," Murphy said in 2013 of the disaster scenario of a Cruz nomination, before adding, thoughtfully, "which might be what we need."
This post has been updated to reflect recent FEC disclosures.
CORRECTION
Right to Rise sent mailers that play a short film, though an exact number of how many they sent is not known. An earlier version of this story misstated how many were sent, and an earlier version of this correction said that the mailers included DVDs, which they did not.