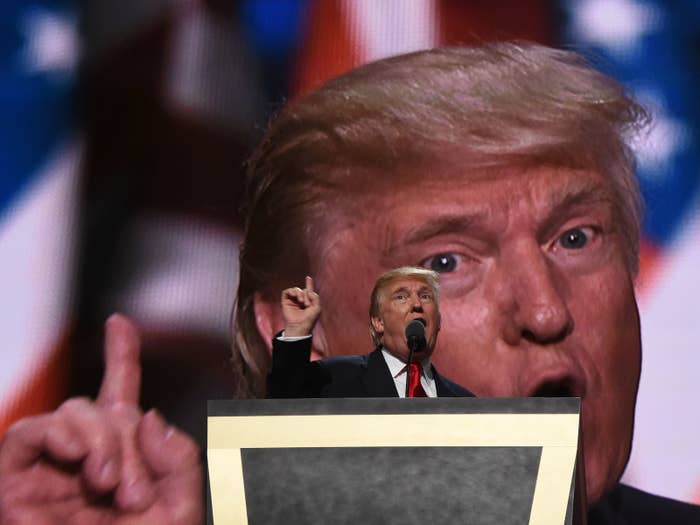 CLEVELAND — "Our convention occurs at a moment of crisis for our nation," Donald Trump declared Thursday night as he accepted the Republican presidential nomination. "The attacks on our police, and the terrorism in our cities, threaten our very way of life."
If you didn't believe that before, the GOP did everything it could to convince you this week.
Trump's acceptance speech — a forceful appeal to a frightened electorate that described a country spiraling into dystopian mayhem — capped a four-day Republican convention in which murder and violence often seemed like an inescapable theme. While terrorism and crime have long been central to Trump's campaign message, the onslaught of grisly, tragic stories featured in the convention's programming marked a radical departure from recent precedent.

On Monday night alone, six of the convention speakers were relatives of people who had been killed by undocumented immigrants or foreign terrorists — and each one shared a heart-wrenching story studded with grim details.

Jamiel Shaw, a black Trump supporter, recounted how his teenage son had been shot execution-style by a Latino immigrant in 2008: "I saw the hole in his head and blood everywhere ... The coroner testified while Jazz was on his back, bleeding from a stomach wound, his hands were up and a second bullet went through his hand and into his head."
Mary Ann Mendoza said her son had been taken by a man "who was three times the legal limit drunk, was high on meth, and drove for over 35 miles the wrong way on four different freeways. And he had no business being in this country."
Relating the story of her border patrol brother's murder in 2010, Kelly Terry-Willis said his last words were, "I'm hit. I cannot feel my legs. I think I'm paralyzed." She added, "That will haunt me until the day I take my last breath."
Pat Smith delivered an emotional speech about losing her son in Benghazi. "The last time I talked to Sean, the night before the terrorist attack, he told me, 'Mom, I am going to die.' All security had been pulled from the embassy ... I blame Hillary Clinton personally for the death of my son. Personally!"
Several other speakers gave similar talks Monday — all touching on the night's theme, "Make America Safe Again" — and while some were more partisan than others, they all had powerful stories to tell. But the cumulative result of the back-to-back speeches was a markedly darker tone in Cleveland than at other past nominating conventions. Typically, political parties try to use these events to celebrate, and humanize, their chosen standard-bearer, and to cast their agenda in upbeat, patriotic terms.
But rather than seek to calm the country's nerves, Trump used this week's convention to lean into the electorate's fear and anxiety — sentiments that have been inflamed by recent terror attacks and police-killings. This was arguably the one constant in a convention that was widely criticized for its lack of discipline and organization.
In Tuesday's program, which was supposed to be focused on the economy, Sen. Ron Johnson spoke of a "young Yazidi woman I met, who was captured and brutalized by ISIS barbarians, the joy of life hauntingly absent in her eyes."

Following Johnson, NRA executive director Chris Cox launched into a defense of gun rights by laying out a harrowing hypothetical: "Imagine a young mother at home with her baby, when a violent predator kicks the door in. He's a three-time loser who was released from prison early because some politician wanted to show their compassion. What's she going to do? She'll dial 911 and pray."
On Wednesday night, Newt Gingrich devoted much of his primetime speech to cataloguing grisly atrocities recently committed by terrorists around the world.
"Last month, a radical Islamist in Paris stalked a French police officer to his home, where he murdered the officer and tortured his wife to death in front of their three-year-old son, while streaming it all on social media," Gingrich said. "He was pondering whether to kill the three-year-old when the was killed by police."
Trump himself told a story in his acceptance speech Thursday night about a 21-year-old woman in Nebraska who was murdered by a "border crosser" who has since become a fugitive.
"To this administration," Trump said, "their amazing daughter was just one more American life that wasn't worth protecting. ... One more child to sacrifice on the order and on the altar of open borders."