That Time Ted Cruz Wrote A 16-Page Love Letter To George W. Bush
The former president made known his dislike for the Texas senator this week. But back in 2004, Cruz contributed a chapter to a long-forgotten book titled Thank You, President Bush. "Today President George W. Bush carries the mantle of Lincoln..."
Ted Cruz's abiding love for George W. Bush may be unrequited, but it is certainly not undocumented.
When the former president announced his distaste for the Texas senator to a roomful of Republican donors Sunday — reportedly telling the crowd, "I just don't like the guy" — Cruz responded by saying he had "great respect" for Bush and had "no intention of reciprocating" the attack. "I met my wife Heidi working on [Bush's} campaign," Cruz told Politico, "and so I will always be grateful."

This pronouncement of gratitude was no mere act of calculated politeness. In fact, Cruz was once so filled with admiration for the 43rd president that he was moved to pen a 16-page chapter for a 2004 book titled Thank You, President Bush.
The long-forgotten, and little-read, tome was published during Bush's re-election bid, and featured essays by an array of high-profile Republicans heaping praise on the embattled incumbent and vigorously defending his legacy. Today, the out-of-print book serves as a quaint relic from culture wars of yore. For example, according to its abandoned Amazon page, its small conservative publisher — which was soon after acquired by the fringe right-wing website WorldNetDaily — "offered to exchange copies of Michael Moore's Fahrenheit 9/11 for Thank You, President Bush in an effort to counter Moore's fabrications."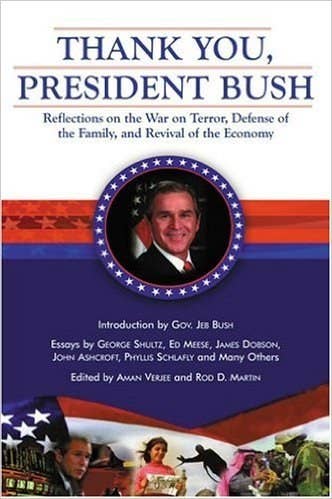 The book's promotional material promised an "all-star cast of contributors," and indeed, the various co-authors represented some of the era's leading voices on the right, from Phyllis Schlafly, to James Dobson, to Art Laffer. Mike Huckabee, then governor of Arkansas, contributes a chapter, and Bush's brother, Jeb, writes the foreword. Cruz, by comparison, seems out of place in the book. At the time of its publication he was in his thirties and serving as Texas solicitor general — universally acknowledged by careful court-watchers as a skilled appellate litigator, but certainly not a well-known figure in the conservative movement.
Sure enough, Cruz's contribution to the book at the time rankled many of his former colleagues in the Bush administration, according to two sources familiar with the situation. They felt he was straining to suggest a proximity and importance to the president that he never had. Unlike his wife — who ascended to an important post in the National Security Council directly under Condoleezza Rice, and who also contributed a chapter to the book — Ted Cruz never really thrived in the administration, shuffling between various low-profile jobs before finally fleeing Washington, leaving a trail of unfavorable impressions in his wake. And yet somehow he maneuvered his way into a book alongside GOP pre-eminences.
Cruz's campaign declined to comment when asked about the episode, but one of the candidate's aides requested anonymity to say, "It's no surprise that anonymous Bush supporters are finding ways to criticize Cruz, one of Jeb's main competitors."
(One of the sources who related the story to BuzzFeed News is a supporter of Jeb Bush's 2016 candidacy; the other is not.)
Cruz's contribution toThank You, President Bush is titled "The Rise of Opportunity Conservatism," and it's notable both for the intensity and focus of its lionization of Bush. Over the course of the chapter, Cruz defends against conservative criticism of the president's fiscal policy; heralds him as an "outspoken defender" of school choice while lauding his education reforms; and compares Bush's presidential legacy to those of Ronald Reagan and Abraham Lincoln.
In some cases, Cruz's praise in the book stands in direct contradiction with his more recent criticism of the Bush administration.
For example, Cruz has repeatedly condemned Bush's lack of fiscal restraint, recently telling National Journal, "I think a great many of us ... were disappointed at the end of the day that the administration lost sight of some of the principles on which we campaigned to begin with. It's not a good thing for a Republican president to grow the national debt from $5 trillion to $10 trillion. ... It is go­ing to take lead­ers willing to stand up to the Washington cartel, to the career politi­cians in both parties, to rein in the out-of-con­trol spend­ing and stop bank­rupt­ing our kids and grandkids."
In 2004, however, Cruz brought that same zeal and rhetorical flare to the task of defending Bush's fiscal record against recriminations from deficit hawks. He seems committed in Thank You, President Bush to reciting the Republican campaign talking points widely dispensed by the "Washington cartel" at the time:
To be sure, some fiscal conservatives have criticized President Bush because government spending has continued to grow over the past four years. But those concerns are often overstated—not giving proper weight, for example, to the enormous additional military and homeland security spending required by September 11. Domestic discretionary spending unrelated to defense or homeland security grew 15 percent in the last year of the Clinton administration; in the first three years of the Bush administration, that number dropped to 6 percent, then 5 percent, then 3 percent.

Nevertheless, there is much to be said for the lament that government continues to grow too fast. But a president cannot stop it alone. With a congress seemingly addicted to spending … rather than tilt at windmills the president has focused instead on articulating and advancing the opportunity conservative message.
While Cruz's political brand today is built around ideological purity, in 2004 he commended Bush for eschewing rigid small-government politics in favor of a more appealing brand of conservatism:

Of course, reducing the size and reach of government is important … making that argument, however, has a green eyeshade character to it. Abstract political theory has a bit less salience in an era of reality TV. As President Bush put it in the 2000 campaign, when voters hear "Abolish the Department of Education," a lot of voters just hear "Abolish education" and back away.
Cruz has routinely called for shuttering the Department of Education, in addition to several other federal agencies.
Asked about these apparent discrepancies in rhetoric, the Cruz aide said the book was published "in the middle of Bush's tenure. No one had the retrospective then that we do today regarding the administration's record."
Not everything in Cruz's 2004 tribute to Bush has changed. Then, as now, he enthusiastically supported the president's efforts to overhaul social security by creating private accounts. In the book, he touts Bush's "courage" to "grab the 'third rail' of politics," and recounts a heroic story from the campaign trail:
I'll never forget sitting with President Bush and a number of other advisors early in the campaign, in the summer of 1999, and discussing Social Security reform. Many of the advisors counseled caution, or even suggested avoiding the issue altogether. It was too politically dangerous, they said. With a steel look in his eye, Governor Bush literally pounded the table and said "I'm running for a reason. It's the right thing to do, and I'm going to fight for it."

That is the passion of the opportunity conservative.
The chapter concludes with a Cruzian flourish of dramatic rhetoric, placing the political fights of 2004 in a sweeping historical context, as though the fate of the republic hinged on the outcome of the election. In this context, Bush is described not just a lesser-than-two-evils "career politician," but as a hero and savior:
It is only fitting that the party of Abraham Lincoln — who heralded our nation, "conceived in Liberty, and dedicated to the proposition that all men are created equal" — would champion opportunity, and defend increased choice and freedom for all Americans.

Today President George W. Bush carries the mantle of Lincoln as an opportunity conservative, defending the promise of the Declaration and the vision of our great nation. And the future of the Grand Old Party depends upon ensuring that that vision comes to pass, that the policies we espouse facilitate the ability of every man, woman, and child to hope for and be able to realize the American dream.