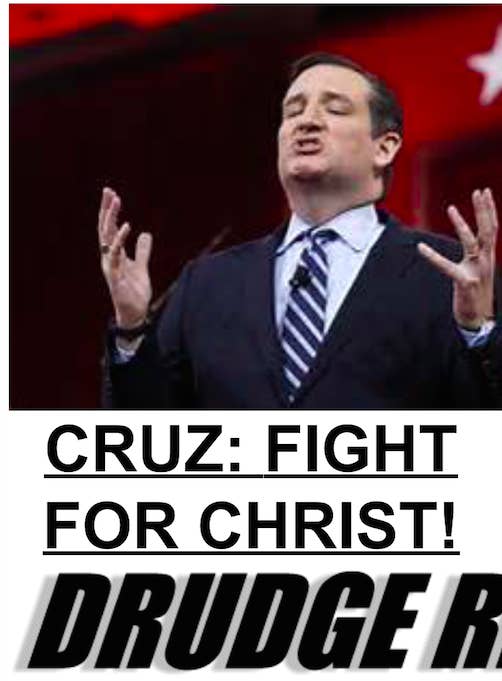 With Ted Cruz clinging to a narrow lead in the fast-approaching Iowa caucuses, an increasingly vocal chorus of evangelical leaders and campaign rivals is questioning the authenticity of the candidate's vaunted Christian faith by pointing to his reportedly meager record of charitable giving.
In a series of interviews this week, political opponents and pastors alike suggested Cruz — an avowed Baptist who is aggressively courting evangelical voters — has flouted the Biblical commandment of tithing in his personal life.
It's a line of attack that may seem esoteric to nonbelievers, but at least some of Cruz's critics are betting that it could stick in Iowa: a newly formed political group, Americans United for Values, will launch a radio ad Friday that directly goes after the candidate for his tithes, and brands him a "phony."

According to personal tax returns released during his 2012 Senate bid, Cruz contributed less than 1% of his income to charity between 2006 and 2010 — a far cry from the 10% most evangelical leaders believe the Bible demands.
With a crowded field of Republican candidates competing for Iowa's evangelical vote, a public debate over tithing in the heated final days of the race could easily devolve into an unsavory contest of spiritual one-upsmanship. But two of Cruz's rivals Wednesday told BuzzFeed News the issue was one Christian voters should seriously consider.
"I just think it's hard to say God is first in your life if he's last in your budget," Mike Huckabee said in an interview when asked about Cruz's tithing. "If I can't trust God with a dime out of each dollar that I earn, then I'm not sure how I can tell him that I trust him with my whole life... To me, it's a validation of a person's stewardship and whether they put God first in their life, not just in their political endeavors."
Huckabee, a former Baptist minister who won the Iowa caucuses in 2008, added that he and his wife have tithed at least 10% every year since they were broke, young newlyweds. Asked if there was any public record of his charitable giving, he offered to forward an email from his accountant. (He did: the email stated that Huckabee had donated 11.05% of his taxable income in 2014, and 11.82% in 2013.)
"It's a matter of authenticity," said Huckabee, who was careful not to call out Cruz by name. "If I say I'm a vegan but you look at me eating hamburgers and ribeye every night you're going to say, 'I don't think this guy's really a vegan.'"
Ben Carson, another candidate who has invested heavily in appealing to religious voters, declined to comment directly on Cruz's tithing but highlighted his own giving — without providing specifics — in a statement to BuzzFeed News.
"Since tithing is a personal commitment between oneself and God, I wouldn't begin to speculate on someone else's faith or devotion," Carson said. "I know that tithing and charity are deeply important to me, and I have always been committed to giving back to the Lord and to the community. Every voter will have to decide for themselves what they are looking for in a leader. But I hope that they will see in me a man who has always led by example, and always stayed true to his commitment to God."
A spokesman for Cruz did not respond to multiple requests for comment Wednesday.
There is reason to doubt the political potency of the tithing issue. Within evangelical Christianity, there are various interpretations of what the Bible actually teaches when it comes to tithes and offerings. Does it include only donations to churches, or do contributions to all charities count? Should it be paid on pre-tax income or will net suffice? But by virtually any measure, research suggests that very few evangelicals contribute a full one-tenth of their income — a reality that might complicate any effort to stoke outrage over Cruz's supposed shortcomings on this front.
"I've never heard the tithing question broached in the context of the election. I wish it were a bigger issue," said Frank Page, the former head of the Southern Baptist Convention. "I think what [a candidate] does in regards to their possessions indicates their caring for people and sensitivity to the commands and dictates of the Lord. But unfortunately, those who do tithe are in the distinct minority, and because of that most people don't bring it up."
What's more, Cruz is hardly the first presidential candidate to have skimped on charitable donations before entering the national political stage. Professor Barack Obama reportedly donated just around 1% of his annual income when he was at the University of Chicago in the early 2000s. During Jeb Bush's semi-retirement in 2012 and 2013 he gave less than 2% of his earnings to charity. And among the members of America's billionaires club, Donald Trump has long had a reputation for relative stinginess (though his opaque personal finances and penchant for hyperbole make it hard to tell for sure.)
But for Cruz, who has already faced suspicions from some quarters of the religious right over private comments he made to donors about same-sex marriage, the questions about his tithing history could pack a special punch.

As I report in my book, The Wilderness, some who worked closely with Cruz earlier in his career have been puzzled by his recent transformation into a culture warrior. "He was never particularly religious as far as I knew," said one aide who worked for him in the Texas solicitor general's office. "I'm not even sure he went to church."

So far in the 2016 primary race, speculation about the genuineness of Cruz's devotion has been confined to church-pew chatter and political-class snark. But some wonder how well the candidate's base — which is made up largely of evangelical support — will fare when he's faced with a barrage of attack ads questioning his beliefs, and an emboldened cast of opponents eager to show off their Christian bonafides.
One GOP consultant involved with the new anti-Cruz radio ads airing in Iowa promised there would be more to follow, possibly including on TV.
"There are multiple groups deeply bothered by Cruz and his senior team of operatives' phony exploitation of faith for political gain," the consultant said. "This is the first but not the last time this issue will be brought to the attention of Iowa caucus-goers before February 1st."

"This is the kind of thing that moves the needle for a committed Christian," said a politically active Southern Baptist church leader in South Carolina, who requested anonymity because he is neutral in the primary race.
Dr. Wendell Estep, another South Carolina-based pastor who is not affiliated with any of the candidates, tried to avoid criticizing Cruz directly while arguing that tithing was an indication of a Christian's "spiritual maturity."
"I'm interested in a candidate's commitment to the Lord," said Estep, who has met with many of the Republican contenders, including Cruz.
Asked what he thought of Cruz's reported tithing, he hesitated. Finally, he offered, "He is not a member of my church... That's something for him to take up with his pastor."
Incidentally, the website for Houston's First Baptist Church, which Cruz and his family attend, includes a "generosity calculator" that places different levels of tithing into categories that range from "extravagant" (12% - 15%) down to "intentional" (3% - 8%).
Even if Cruz failed to meet his church's lowest standard for tithing, it didn't lose him the endorsement of his pastor Gregg Matte. In a statement touted by the campaign last month, Matte said he was supporting the candidate "because of what I have seen of Ted Cruz, as a father, a husband, and a Christian, both in and out of the political arena."
Similarly, Cruz's father Rafael, a pulpit-pounding minister, has preached fervently to evangelical crowds about the blessings God will rain down on those who tithe mightily. And though his son may not have fully heeded this call, Rafael has never wavered in his zealous support for the candidate.
For other pastors, however, Cruz's commitment to tithing — or lack thereof — is serious enough to be a deal-breaker.

Brad Sherman, a pastor at Solid Rock Christian Church in Coralville, Iowa, sat down with Cruz and his wife last July. He described the meeting as "cordial" but he ended up endorsing Huckabee instead. He said he didn't know at the time about Cruz's record of tithing, but once he found out he felt his decision had been validated.
"Character matters," Sherman said. "And tithing is one of the big issues that points to a person's character. The Bible has a lot to say about how we handle money. You know, you can't serve God and mammon... I wouldn't judge a candidate's salvation based on that, but I would certainly judge their priorities."
Since Cruz's surge to first place in Iowa, Sherman has spoken with a number of the candidate's Christian supporters, and he said they are often shocked to find out about his tithing history.
"I think it's an issue a lot of evangelicals who are supporting him are unaware of," Sherman said.