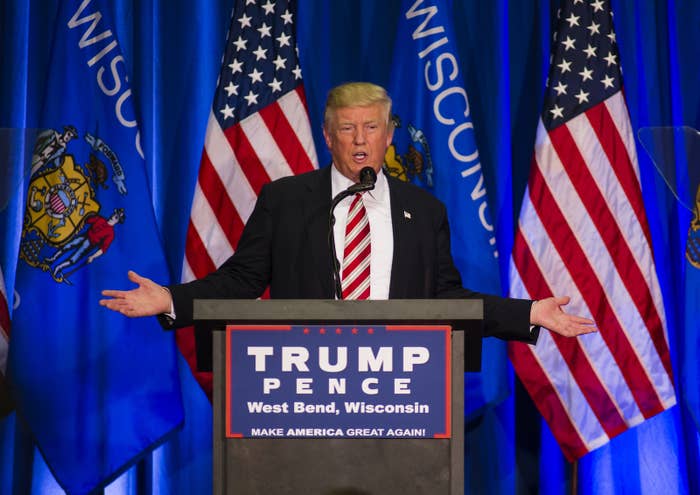 Breitbart News chairman Steve Bannon's ascent to the top of Donald Trump's campaign Wednesday caps a long, cozy, and mutually beneficial relationship between the candidate and the right-wing news outlet.
While Breitbart's militant Trump-championing has been widely observable in its coverage for years, the site's behind-the-scenes entanglements with the campaign have only become more conspicuous in recent months. And those ties will only become more obvious in the coming days and weeks, said sources close to the site and to Trump.
According to one Republican who works closely with the Trump campaign, more Breitbart staffers could soon be "transitioning" to the candidate's team. The source, who requested anonymity to describe his firsthand knowledge of the talks between the two camps, stressed that the situation is fluid and that plans could change. But he "a few" Breitbart employees have shown interest in joining the campaign, and Bannon may bring them with him.
Early this year, Breitbart editor-at-large Joel Pollak reached out to a former Trump aide to inquire about a potential speechwriting job on the campaign. Pollak did not respond to requests for comment for this story, but he told BuzzFeed News in March that he had considered "returning to speechwriting" and reached out to several campaigns at the time. According to two sources who know Pollak, he is the most likely Breitbart staffer to join the campaign.
"Joel is not someone who's particularly known as a traffic-getter, so shifting him over to the Trump campaign where he can put on his ... policy wonk that would be more suitable to him," said one former co-worker.
According to two sources, Bannon told people earlier this summer that he helped write Trump's speech about Hillary Clinton in June. The speech referenced Peter Schweizer's book Clinton Cash, which was released by the Government Accountability Institute, which Bannon co-founded and leads as executive chairman, though a spokesperson for the group said he is stepping down from the position temporarily and will return after the election. The book, and its corresponding movie, has been a centerpiece of Trump's and Breitbart's attacks on Clinton this cycle — and Bannon has heavily promoted the book on the website and on his radio show. Bannon did not respond to a request for comment.
The Breitbart staff has at times demonstrated an unusual amount of comfort with the Trump campaign. According to a source who heard him talking about it, Breitbart reporter Matthew Boyle boasted that Trump was paying for the Breitbart staff's rooms at the Ritz-Carlton in Cleveland during the convention. There is no indication that Trump did pay for the hotel rooms, and a Trump spokesperson did not respond to a query about it. Boyle, who declined to comment for this story, has reportedly also boasted in the past that he could be White House press secretary in a Trump administration.
Trump's campaign also paid $8,000 last year for consulting to a Breitbart national security editor, Sebastian Gorka. Gorka, a professor at Marine Corps University and is the chairman of Threat Knowledge Group, a national security consulting group, has repeatedly been identified as an editor on Breitbart's website, and frequently appears as a commentator on Fox News. The amount was listed in a Federal Election Commission report as payment for "policy consulting."
Breitbart's coziness with Trump has been a matter of debate and controversy within the site's editorial ranks since at least 2014, when multiple staffers speculated that Trump had provided undisclosed financial backing to the company in exchange for favorable coverage. Bannon strongly denied this to BuzzFeed News.
The internal tension between pro-Trump and anti-Trump factions of the site continued to fester, however.
Those tensions came to a head in March, when then-campaign manager Corey Lewandowski grabbed Breitbart reporter Michelle Fields after a campaign event in Florida. During the ensuing fallout, the site's reporters were instructed by management not to publicly defend Fields.
Fields and editor-at-large Ben Shapiro resigned in protest, and a number of other staffers followed.
In a statement announcing his resignation in March, Shapiro wrote, "In my opinion, Steve Bannon is a bully and ... has shaped the company into Trump's personal Pravda."
Trump's campaign spokesperson did not respond to a request for comment.
UPDATE
This post has been updated to reflect the fact that Bannon is temporarily stepping aside from the Government Accountability Institute.