South Carolina State Senator Brought "Atheism" Rumor To Governor
South Carolina Gov. Nikki Haley is in a fight on Facebook about the religious faith of an appointee.
Republican South Carolina Gov. Nikki Haley and a state senator from her own party are in an argument on Facebook — over whether or not a state appointee is an atheist, something the state senator confirms she once raised with the governor.
The Facebook argument began with hearings over the state's Department of Social Services, which has come under fire in recent months after repeated reports of child abuse and neglect, some of which resulted in high-profile deaths.
The agency's director, Lillian Koller, testified before the state legislature Wednesday amid calls for Koller's resignation. Haley appointed Koller in 2011.
Some of the governor's allies argue that the hearings are being used as a weapon to damage Haley politically in an election year. Still, Haley has stood by Koller.
Here's how the Facebook argument started: After the hearing Wednesday, Haley took to Facebook to applaud Koller's testimony, saying she has "improved the agency" in the face of "political games."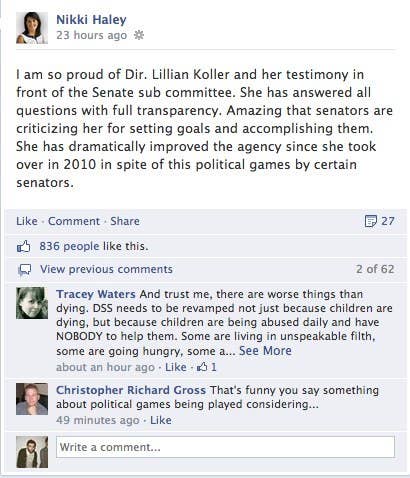 A Facebook user named Kim Rogers commented on Haley's status, calling Koller an "outspoken atheist" who is "not fit for our state."

Haley responded by saying that Koller is Jewish — and then called out State Sen. Katrina Shealy for spreading the false rumor.

Shealy was not happy about the unprompted reprimand, and she made her feelings known on Haley's Facebook page.

Still upset, Shealy posted a long status update on her own Facebook page that begins, "I am so angry!!!!!" She goes on to say she never spread any rumors about Koller's faith: "I would worry if [Koller] were an atheist but I was told she wasn't."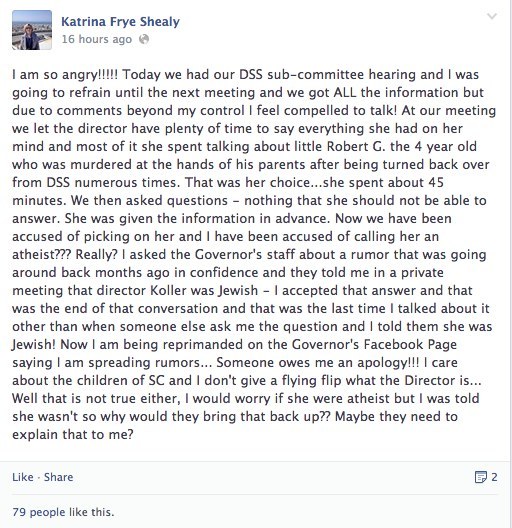 Then Shealy posted a few more comments about the incident.



Reached by BuzzFeed, Shealy called the governor's comment "immature and childish."
The state senator said that in a meeting with Haley's staff, she had simply asked the staffers about a rumor she'd heard about Koller being an atheist. When she was told that Koller was Jewish, Shealy said, she dropped it.
"This is not a witch hunt on Director Koller," she said. "I only wish the best for her ... Do I think what was said on Facebook was immature and childish? Yes."
Shealy suggested Haley's Facebook comment was a ploy to garner sympathy for her embattled appointee.
But Shealy didn't totally dismiss the rumor: "She is Jewish from what I've been told. I can't verify that one way or another."
Haley's office did not respond to BuzzFeed's request for comment.