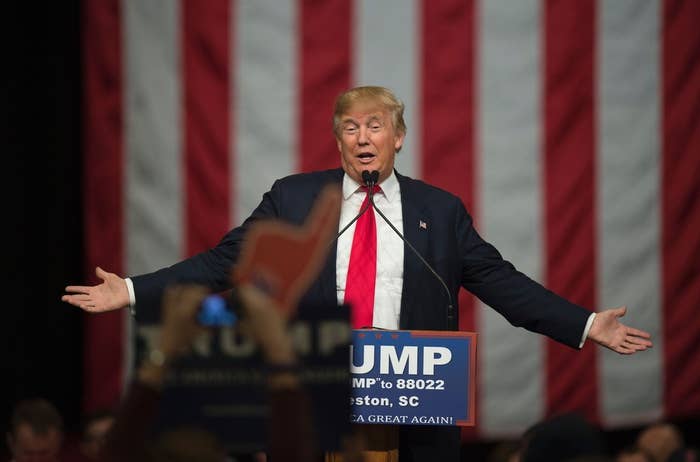 CLEMSON, S.C. — A new robocall going out to South Carolina voters on the eve of the state's Republican primary blasts Donald Trump as a culture war appeaser in the battle between gay rights and religious freedom — and urges listeners to support Ted Cruz "before it's too late."
The recorded message — which was obtained by BuzzFeed News after an earlier report cited a source in Columbia, S.C. who heard it Friday night — begins with a narrator saying, "Check out how Trump answers this."
The message then cuts to a recording of an interview with NECN reporter Sue O'Connell, who asks Trump if he would, as president, advocate for the expansion of gay and lesbian rights.
"I'm a lesbian," O'Connell tells Trump. "We've had some great progress for the gay and lesbian community through politics, through all sorts of judicial actions and elected actions over the past 20 years. When President Trump is in office, can we look for more forward motion for equality for gays and lesbians?"
Trump responds, "Well, you can. And look, that's your thing, and other people have their thing. We have to bring all people together."
At this point, the narrator's voice, now taking on an incredulous tone, interjects: "Stop. What does she mean by 'forward motion'? What's he agreeing to?"
"It's not about tolerance anymore," the narrator continues. "It's about mandatory celebration. It's about forcing people to bake cakes and photograph gay weddings. Forcing clergy to officiate. It's about transgender bathrooms in your child's school. It's about tearing down our Judeo-Christian values. It's about tearing down our America."
The recording ends with an ominous sign-off from the narrator: "Ted Cruz for president — now, before it's too late."
The recording was paid for by the Courageous Conservative Political Action Committee, the same pro-Cruz group that launched another eleventh-hour robocall this week attacking Trump for praising the removal of the Confederate Flag from the South Carolina statehouse.
The Palmetto State's political scene has a sordid history of last-minute mudslinging and whisper campaign — and election-eve robocalls are frequently part of that tradition.
A spokeswoman for Cruz told the Post and Courier newspaper Friday that the campaign did not condone the Confederate flag call. But she did not respond to requests for comment from BuzzFeed News Friday night about the new robocall, except to say that the campaign wasn't associated with it.
This story has been updated to include more detail about the robocall as well as the full audio.