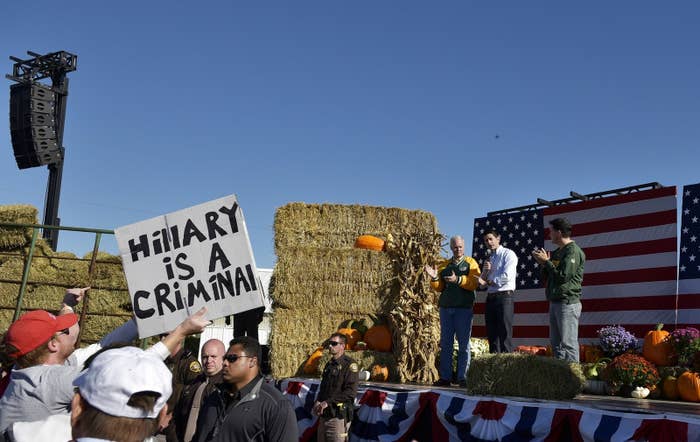 ELKHORN, Wisconsin — In a jarring illustration of the chaos now engulfing the Republican Party, supporters of Donald Trump clashed bitterly with GOP leaders at a rally here Saturday — booing elected officials, heckling Paul Ryan, and angrily demanding greater establishment support for their beleaguered presidential nominee.
The confrontations took place at Fall Fest, an annual party fundraising event held in Ryan's Wisconsin congressional district. Trump had been scheduled to appear at the event in a show of GOP unity, but Ryan abruptly disinvited him Friday night after the Washington Post published a leaked 11-year-old video of the businessman lewdly bragging about groping women. Over the next 24 hours, a parade of high-profile Republicans condemned Trump, and several retracted their endorsements altogether, calling on the candidate to drop out of the race.

As the program proceeded Saturday afternoon with politicians giving pro forma pep talks about the importance of voting in November, the audience in attendance — split between mainstream Republicans and rowdy Trump fans — shouted at the stage, and at each other.
When, early in the event's program, Wisconsin Attorney General Brad Schimel tried to address the recently leaked video that has sent Trump's campaign into a tailspin, the crowd erupted in angry protest.

"Get over it!" one heckler yelled.

"Trump! Trump! Trump!" others chanted.
Appearing taken aback by the reaction, Schimel made a brief nod toward support for the nominee — "Donald Trump will appoint judges that will defend our Constitution" — and then quickly changed the subject.
Other elected officials became more combative with the audience. When Rep. Jim Sensenbrenner talked about how voters had been coming to the Fall Fest for years to support Ryan and other local Republicans, hecklers shouted, "Not anymore!" and, "I'm for Donald Trump!"
"Why don't you listen to what I have to say instead of interrupting me?" Sensenbrenner snapped. Soon, the 73-year-old congressman was in a shouting match with the Trump supporters in the crowd. "Listen to me, please," he kept repeating, before ordering the audience to "clean up your act."
By the time it was Ryan's turn to speak, the mood had grown indisputably hostile. He took the stage to scattered boos, and shouts of, "What about Donald Trump?" and, "Shame on you!"
"Look, let me just start out by saying: There's a bit of an elephant in the room," Ryan told the crowd. "And it's a troubling situation ... but that is not what we are here to talk about today. You know what we do here at Fall Fest? We talk about our ideas, we talk about our solutions, we talk about our conservative principles."
Trump supporters greeted the message with a chorus of boos and abuse.
"Trump for president!"
"Mention Trump!"

"You turned your back on him!"
Ryan soldiered on with a spiel about the need to repeal Obamacare, but the audience seemed largely uninterested. "This is just a bunch of bullshit," one Trump supporter grumbled. Elsewhere, a woman carrying a Paul Ryan sign chided a young pro-Trump heckler who was proudly showing reporters his t-shirt — a parody of the famous Obama campaign poster that displayed Bill Clinton's visage above the word, "RAPE."

When Ryan finished his speech and invited the other Republican officeholders to join him on stage, a Trump supporter shouted, "See ya Paul — jackass!"
After the event, the man told BuzzFeed News his name was Tim Ellis. He wore sunglasses and a black sweatshirt with the message "Fuck off. We're full." appearing beneath a map of the United States. His wife, Rhonda, sported a red hoodie declaring herself a "Deplorable for Trump." The couple had traveled here from Illinois to see Trump, and didn't learn until this morning that his invitation had been rescinded.
They were upset with Ryan for depriving them of the chance to see their candidate, but Tim said their anger at the GOP establishment ran much deeper than that.
"They're very repressive of support for the person who's going to run our country, and I think that's sad," he said. "Thanks a lot Paul for taking [Trump] away from us."