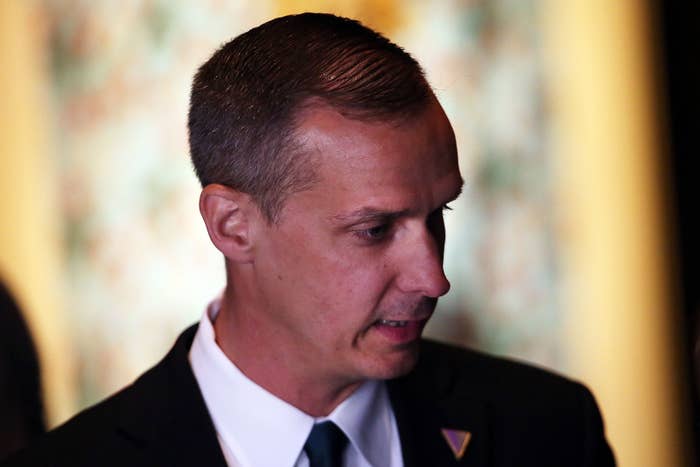 The ouster of Donald Trump's polarizing campaign manager, Corey Lewandowski, was greeted with no small amount of schadenfreude Monday among his many detractors in the political class. But perhaps no one is more tempted to gloat than Sam Nunberg.

Nunberg, a New York-based political strategist, knows better than most what it's like to be on the receiving end of the Donald's reality TV catchphrase. Trump fired him once in 2014, after he helped arrange access for a BuzzFeed News profile that displeased the billionaire. He was eventually rehired to help run Trump's 2016 campaign, only to be fired again last year.
Nunberg firmly believes that he was the victim of a behind-the-scenes power play by Lewandowski, and has spent much of the past year trying to destroy the campaign manager as retribution. Nunberg reiterated this point in a GQ story released just this week:
Meanwhile, Lewandowski was consolidating power. Racist Facebook posts Nunberg had made beginning in 2007 surfaced and prompted his firing. (He trashed everyone from Al Sharpton to Marxist Muslims to Louis Farrakhan.) Nunberg believes it was [Hope] Hicks and Lewandowski who petitioned Trump for his ouster and drafted a brutal statement that characterized him as a "low-level part-time consultant." ...


Nunberg maintains no feelings of warmth for Lewandowski. "I literally will suck the fucking blood out of his skull by the time I'm done with him," he said like a screwball gangster.
Reached Monday afternoon for comment on Lewandowski's firing, Nunberg said he had been fending off calls from reporters looking for quotes, not wanting to go on the record. With a little encouragement, he relented and gave BuzzFeed News the world exclusive.
"It's a sad day. Nobody likes to see anybody in the industry get fired," Nunberg said. "Oh wait, Corey called 20 reporters the day I got fired."

He declined to comment further.