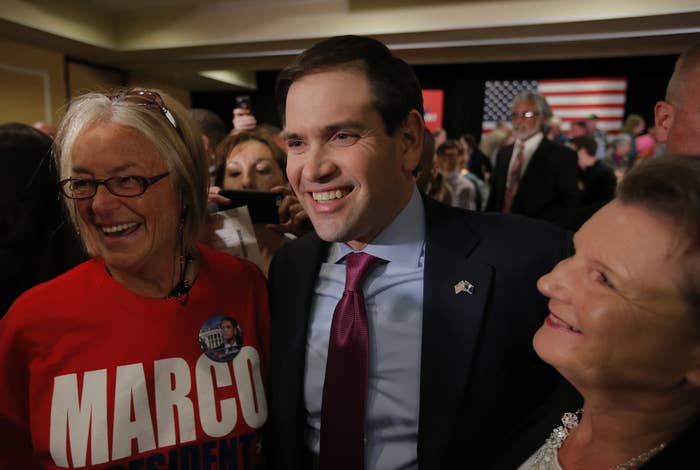 GREENVILLE, S.C. — Forty-five minutes after Marco Rubio was scheduled to take the stage at a conservative confab here Thursday night, organizers got word from the candidate's aides that he was canceling his appearance — a perceived snub that set off a late-night war of words between the candidate's campaign and right-wing rivals accusing him of cowardice.
Rubio was one of three presidential candidates who had accepted invitations to speak at the inaugural Conservative Review Convention — an event hosted by talk radio star Mark Levin and commentator Michelle Malkin.

But the crowd that gathered Thursday at the Bon Secours Wellness Arena — just 36 hours before polls were set to open in South Carolina's high-stakes GOP primary — was overwhelmingly composed of Cruz supporters, while a smaller portion of the audience cheered on Ben Carson.
The contingent of Rubio fans in attendance was virtually invisible.
After the event got underway, a Rubio aide informed organizers that the candidate was running late and would likely have to skip the event. According to an organizer who spoke to BuzzFeed News of anonymity, the event's hosts tried to salvage Rubio's appearance — initially informing the audience only that he was late due to an unforeseen "issue," while they worked behind the scenes to reshuffle the speaking schedule for him.

But even as organizers repeatedly offered to accommodate Rubio's tardiness, the campaign demurred. Instead, according to two sources in the Rubio camp, they said they wanted to give their allotted 20-minute speaking slot to their surrogates who were already backstage at the event: Sen. Tim Scott, Rep. Trey Gowdy, and Bobby Jindal.

Organizers refused.
"It was a legal thing," said one organizer, explaining that they had already declined a request from Jeb Bush's campaign to give stage time to surrogates. If they made an exception for Rubio, he said, it might be seen as an illegal contribution.

The Rubio campaign, riled by the organizers' refusal to let Republican lawmakers speak to a conservative audience in their own home state, finally pulled the plug on the whole event. While Cruz paced the stage preaching fervently to a vast crowd of adoring fans, Rubio's surrogates quietly slipped away from the conference.
Meanwhile, Cruz's team sensed an opportunity. Within minutes, Cruz adviser Jason Miller was at the designated media section in the arena, eagerly informing reporters that Rubio would be a no-show.
And by the time Malkin, who was acting as the evening's emcee, told the audience Rubio wouldn't make it — drawing loud boos from some in attendance — Cruz's campaign was already drafting a statement that they would soon blast out to the press.
"This is a final admission that Marco Rubio isn't even going to try to compete for the votes of conservatives in South Carolina or anywhere else," said Cruz spokesman Rick Tyler. "And who can blame him? Rubio isn't a conservative. Instead Rubio and his campaign would rather hide behind their deceptive campaign tactics and liberal record on amnesty for illegals and voting to nominate John Kerry."
Asked for a response, Rubio spokesman Alex Conant fired back in an email to BuzzFeed News.
"Did the Cruz campaign really take a break from photoshopping pictures and recording false robocalls to send out this false press release?" Conant wrote. "This ridiculous attack is just the latest example of Ted Cruz's willingness to do or say anything in this campaign."
The fight continued late into the night on Twitter, as conservatives in both camps hurled accusations and insults at each other with the sort of frenzied intensity that often defines critical moments in the campaign calendar.
While many Cruz supporters called Rubio spineless for refusing to address a potentially less-than-friendly crowd, Cruz's own social media director declared victory more subtly:
Rubio's vocal Twitter cheering section, meanwhile, argued vigorously that the Conservative Review — a relatively new website that organized Thursday's event — has demonstrated a blatant bias against their candidate. While other conservative organizations like Heritage Action and the American Conservative Union have given Rubio's voting record in the Senate near-perfect marks, the candidate receives only a 79% (or a "C" grade) in the site's own "Liberty Score."

What's more, Levin and Malkin, who both serve as senior editors for the site, have been outspoken critics of Rubio. The Conservative Review also employs Amanda Carpenter, a former Cruz spokeswoman who now regularly goes to bat for her former boss as a commentator on CNN.
Pushing back against accusations of bias, an editor at the site said each campaign was given "hundreds of tickets" to disperse to their supporters, and the fact that Cruz was able to pack the arena while Rubio's fans didn't turn out should be viewed as an indictment of the latter's campaign organization — not proof of a malicious editorial agenda by the Conservative Review.
A Rubio adviser told BuzzFeed News the whole episode was simply the result of a campaign that's still working out logistical kinks after adding South Carolina Gov. Nikki Haley to their traveling operation.
But back at the arena, Levin was in no mood to hear Rubio's excuses.
Speaking to reporters immediately after the event, Levin joked that maybe Rubio bowed out because he had a meeting with La Raza, or the League of United Latin-American Citizens.
"If the conservative convention isn't good enough for Marco Rubio, it isn't good enough for his surrogates. Cruz didn't send a surrogate in here. Carson didn't send a surrogate in here," Levin said, before concluding, "It was pretty damn rude of Rubio, quite frankly."