Romney's Super Tuesday Tagline: "More Jobs, Less Debt, Smaller Government"
Says his rivals don't understand the private sector "in their bones." Simplicity will be key in the next week.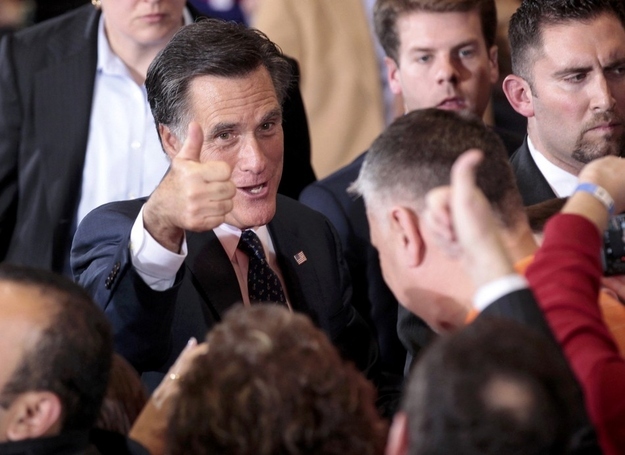 TOLDEO, Ohio — Addressing a crowd of 100 at a fence post manufacturing warehouse here, Mitt Romney echoed a line he rolled out in his Michigan victory speech Tuesday—and one that he'll probably repeat dozens of times times between now and Super Tuesday.
"More jobs! Less Debt! Smaller government!" he shouted over a cheering audience at the end of his address.
The line isn't exactly stirring rhetoric — consisting entirely of three boilerplate conservative bullet points — but right now, simplicity is what Romney needs.
As his campaign crisscrosses the country in an attempt to reach as many voters as possible in the 10 states that hold primaries next Tuesday, Romney is hoping to hammer home the message that he's the "jobs guy"— especially to voters who are only now beginning to pay attention. There's not a lot of time for detail and nuance.
To accomplish this, Romney also hinted at the line of attack he plans to employ against Rick Santorum and Newt Gingrich, telling voters here, "you're going to have a choice to make here in Ohio."
"There are a couple of guys who spent their careers in Washington, and you can vote for them," he said. "I don't think we're going to beat Barack Obama and get our country back on track if we have guys whose resume look like his resume, who've never really run anything, who don't understand how the private sector works fundamentally in their bones, having worked in it."