Romney's Anxious CPAC Pander
The shaken frontrunner isn't thinking about the general election anymore. He's "severely conservative," and he's not afraid to say it!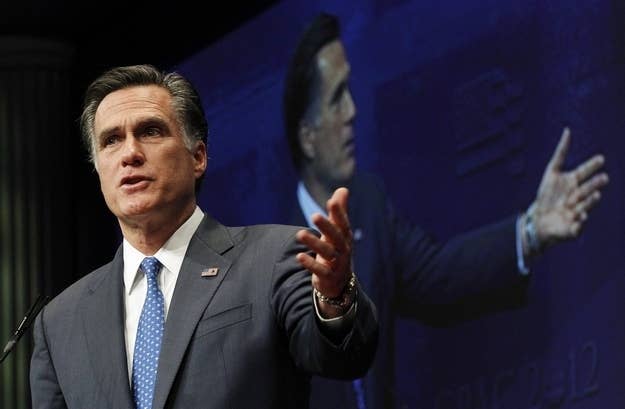 WASHINGTON, D.C. — Speaking to a crowd of hungry conservative activists Friday, Mitt Romney abandoned his measured rhetoric for a heaping helping of red meat, declaring his gubernatorial record "severely conservative."
The message was loud and clear: Mitt Romney isn't taking a single conservative vote for granted — even if it means he'll have some explaining to do if he gets to the general election.
Within one 25-minute speech, Romney positioned himself as a crusader against gay marriage, promised to end President Obama's "assault" on religious liberty, and pledged — to loud applause — that he would end funding for Planned Parenthood.
Immediately after the speech, the Romney campaign blasted out an e-mail "fact sheet" to press, that summarized how the candidate "fought for conservative values in a deep blue state."
Notably, the e-mail led with a section headlined "SOCIAL CONSERVATIVE VALUES," focusing on his opposition to stem cell research and gay marriage. Only after a litany of socially conservative talking points did the e-mail get around to what has so far been Romney's key issue set: "Fiscal conservative values."
Indeed, Romney's full-fledged march into the culture war was apparent in his CPAC speech, where he embraced the wedge issues that he has traditionally tried to avoid — or use to prove his independent appeal — this cycle.
For example, Romney has repeatedly said during nationally televised debates that, while he opposes gay marriage, he doesn't support other policies that promote "discrimination based on someone's sexual orientation." It's a winning line among swing voters, but the conciliatory rhetoric was nowhere to be found in his Friday CPAC speech.
In perhaps his most memorable line, he boasted that he "prevented Massachusetts from becoming the Las Vegas of gay marriage," by prohibiting biding marriages for out-of-state same-sex couples.
That boast may not play well with voters in the suburbs of Philadelphia during the general election. But after suffering through a last-minute South Carolina surge by Newt Gingrich, and a Rick Santorum's three-state sweep earlier this week, Team Romney isn't taking any chances with the Republican base. The strategy appears to be, once again: win the primary, then worry about the general.