Romney's Answer To Off-Message Right Wing: Silence
An Ohio town hall highlights the candidate's struggle to find his voice in fights with the right wing. A sign of insecurity with the base.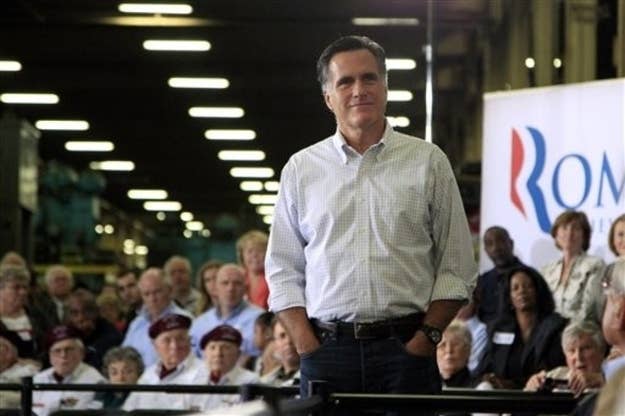 When conservatives go off-message, Mitt Romney goes silent.
That's been the pattern of the general election so far, with the latest example unfolding Monday afternoon at a town hall in Ohio. After a woman told Romney she believed President Obama "should be tried for treason," the candidate failed to condemn or even address the remark in his response. (He expressed disagreement later at the rope line, when reporters asked him about it.)
It wasn't the first time Romney with silence when a fellow conservative went off-message in his presence. In fact, earlier at the same event, State Auditor Dave Yost made Twitter waves when he suggested that Obama taking credit for killing Osama bin Laden was akin to "giving Ronald McDonald credit for the Big Mac you ate for lunch." Though Romney has credited the president in the past for overseeing the operation, he didn't address Yost's comments after taking the stage. (A campaign aide told BuzzFeed it didn't represent Romney's position.)
And in the most high-profile example yet, Romney stayed out of the fray last month when conservative Christians began attacking the campaign's gay foreign policy spokesman — a controversy that ultimately contributed to the aide's departure. (The campaign later said they made every effort to dissuade him from quitting.)
Liberals are quick to characterize these episodes as examples of moral cowardice, while Romney apologists contend that he's not obliged to respond to every crazy thing said in his presence.
Last year, Obama found himself in a similar situation after he failed to condemn a teamster who, while introducing the president, said Democrats were going to "take these [Republican] sons of bitches out." At the time, an aide dismissed the ensuing controversy, calling it "a parlor game in Washington," and arguing that Obama shouldn't have to serve as the "speech police."
But these speed bumps in Romney's return to the center are clear signs that the nominee doesn't feel secure in the support of his party's base. They come days before the candidate is scheduled to speak at the commencement ceremony for Liberty University — a conservative Christian college where he is expected to court the ever elusive religious right.
Meanwhile, Romney is facing harsh comparisons to Sen. John McCain, who won plaudits in 2008 for pushing back against a town hall voter who labeled Obama an untrustworthy "Arab."
"No ma'am," McCain famously responded, taking the mic away from the woman. "He's a decent family man, citizen that I just happen to have disagreements with on fundamental issues and that's what this campaign is about."
But even as Romney's critics decry him for not taking a similar stand, many forget to mention that McCain's moment of courage didn't come until mid-October, less than a month before election day. Romney has signalled in the past that he's willing to push back against the more extreme elements of his party: At the Value Voters Summit last year, he condemned Fischer's rhetoric (though not by name).
"Our values ennoble the citizen, and they strengthen the nation," he said. "We should remember that decency and civility are values too. One of the speakers who will follow me today, has crossed that line I think. Poisonous language does not advance our cause. It has never softened a single heart nor changed a single mind.
Romney still has plenty of time to find his voice in these intra-party campaign debates — and, indeed, his advisers likely sees the political benefit of standing up to the right wing.
But first he may need his equivalent of Sarah Palin. And that would come with its own political risks.