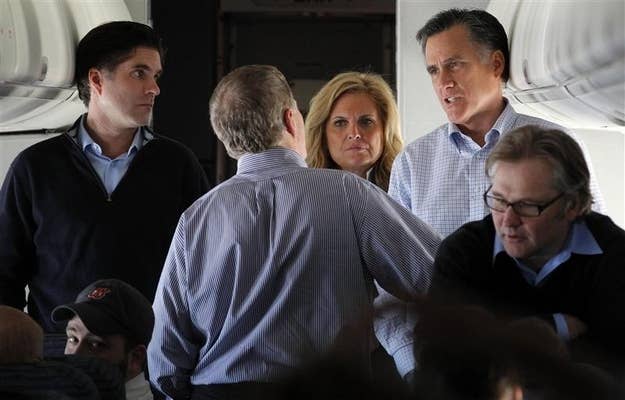 All five of Mitt Romney's sons want their dad to become president — but only one is spending 38 of the last 40 days of the election working to make that happen on the campaign trail.
It's Tagg.
In the blur of well-heeled good looks and generic charisma that defines the public perception of the Romney brood, it's easy for outside observers to miss the increasingly active role being seized by the candidate's eldest son. But over the past two months, Tagg has emerged not only as his father's most motivated surrogate, but also as his most trusted ally and key political adviser.
"Second only to his mother, Tagg is probably the most trusted individual in Mitt's life on political matters," said Kirk Jowers, a longtime friend of Mitt Romney's, and director of the University of Utah's Hinckley Institute of Politics. "Tagg really devoted himself in 2007 and '8, and has stayed engaged all the way through until now."
If Romney wins the presidency, his five successful, well-educated sons could provide the necessary building blocks for a political dynasty — and no one is more valuable to that future than Tagg, according to advisers, family friends, and campaign insiders. Already, his advice to his father is beginning to supersede what's coming out of the Boston campaign headquarters — and many believe his influence will only grow going forward.
"He's very protective of his dad, both behind his back and in front of him," said one person close to the campaign. "He's always been sensitive to it, but he's become very assertive recently in making sure people aren't doing his father harm, or not living up to their responsibilities to him."
One adviser added, "If he ever did want to go into politics, he'd make a fabulous candidate."
More than any of his brothers, Tagg modeled his life after his father's — and demonstrated a unique willingness to put that life on hold to aide in Mitt's ascent to power.
Like his dad, Tagg graduated from Brigham Young University, and went on to Harvard Business School. And after stints at Reebok and the Los Angeles Dodgers, he settled into his father's chosen field, private equity, and co-founded Solamere Capital with a reported $10 million in seed money from Mitt and Ann.
As he made his millions, Tagg demonstrated a similar commitment to his Mormon faith, faithfully following in his dad's footsteps as he spent several hours a week on volunteer church work. Like his dad, he served a Mormon mission in France, and speaks the country's language fluently. Later, while living in California, he was charged with mentoring the teenage boys in his ward, and responded by regularly driving them to church activities, taking them to Dodgers Stadium, and helping them make decisions about college and serving Mormon missions. Even now, years later, he's kept in touch with every one of the boys in his group.
"In a lot of ways he takes after his dad, in his commitment to his family, his church and his country," said Robert O'Brien, a friend of Tagg's and a foreign policy adviser to the campaign. "That's just how the Romneys live."
But Tagg's most fervently expressed loyalty over the years may have been to his dad's own political rise. In 2002, Tagg put his career on hold to help his father's favored running mate, Kerry Healy, make it through the Massachusetts primary for Lieutenant Governor. In 2008, he quit his job to work full-time on his dad's presidential campaign. And in 2012, he was the only one of his brothers adamantly calling on his dad to run again. When it happened, Tagg and his wife decided to home-school their 16-year-old daughter for the year so she could join them on the campaign trail as often as possible.
"My impression is that Tagg has probably been on the campaign trail as much or more than any of his brothers," said O'Brien. "No one, other than the Governor and Ann and Congressman Ryan, of course, is doing more than him on the road."
But amid all the out-of-the-way stump speeches and fundraising pitches consigned to a surrogate-son, people started to realize something about Tagg: He was actually something of a natural to politics.
"There is something innate he has that most people don't have," said Jowers, who helped found Romney's first presidential political action committee in 2005 and remains one of the campaign's top fundraisers. "Tagg's ability to tap into the mood of people in the country, I think, is partly the Malcolm Gladwell effect, where he really has spent thousands of hours now studying his dad's campaigns. But I've also always been impressed with his general empathy toward people."
And Jowers, who has often been identified as a potential gubernatorial candidate in Utah, would be more than willing to put this praise into practice.
"If I ever decided to run for office, the first person I would call after my wife is Tagg Romney," said Jowers. "I trust him implicitly, and he really has become a brilliant political mind. He just seems to have a second sense for what's happening."
Among those close to the campaign and the Romney family, opinions vary as to what role Tagg would play in a Romney White House. Multiple sources insisted, unprovoked, that he wouldn't be a Bobby Kennedy figure.
"He's very good with people, and I am sure that if a President Romney wanted to use him, Tagg would represent us well at certain events overseas — the way other past Presidents have used their sons in such roles," said O'Brien.
But O'Brien said he didn't believe Tagg would insert himself into the policy fights and strategy talks that would would ultimately shape a Romney presidency.
"I don't believe Tagg has any interest in moving down to Washington and hanging out at the White House," he said. "He is happy at the company he co-founded in Boston. He takes a lot of satisfaction in that endeavor. The family really enjoys living in Boston and, I know for Tagg, being close to Fenway Park is important."
Others aren't so sure. One campaign insider, requesting anonymity to candidly discuss the scion's future, predicted that Tagg would, in fact, "hang out a lot at the White House" — primarily to shield his dad from disloyal or misguided advisers.
"I think he has always played that role, maybe more passively until recently," the source said.
Tagg's transformation from polite, smiley surrogate to vocal, hard-charging adviser has taken years to unfold, but it was accelerated over the summer when, aides said, he was one of the leading voices in Romney's circle arguing in favor of tapping Paul Ryan as the running mate. He and his mother had developed a personal rapport with the Ryan clan, but more importantly, they saw that Mitt and Paul had become buddies.
While many of Romney's strategists in Boston argued for a safer pick — Tim Pawlenty, perhaps, or Rob Portman — Tagg wanted what his dad to get what he wanted. So, he teamed up with Mrs. Romney, and they actively lobbied Mitt to "go with his gut," as one person familiar with the situation put it. The push worked — and from there, Tagg's influence grew.
The next chance for him to wield his newfound power came in the weeks leading up to the first presidential debate in Denver.
"Of course, the opportunity arose because it was this great, tight race, and then all of a sudden the bottom started falling out," said one family friend, describing the bleak post-convention landscape Romney faced. "Tagg was no longer going to state his opinion and just let things take their course. He was going to really speak up."
Tagg led a family "intervention" in the run-up to the debate urging the candidate to "be himself" — meaning, showcase a Massachusetts gubernatorial record that he's genuinely proud of, and stop trying to win over movement conservatives.
"And it turned out he was right. It worked," said the family friend. "I think that will really empower him and he will continue to play that role."
(Romney adviser Kevin Madden disputed that version of events, first reported at Politico and confirmed by a source for BuzzFeed, calling it "a bunch of nonsense.")
Tagg's allies make haste to note that his advice isn't motivated by a particular political ideology, nor does he have a his own driving theory of the election. After all, one month he was using his influence to add a deeply conservative GOP crusader to the ticket, and the next he was telling his dad to tack to the middle in a nationally-televised debate. What's guided him, said two people close to him, is a recognition that his father performs best when he's following a plan based on his own instincts.
Tagg, then, sees his task as keeping the endless drone of advisers and pundits from drowning out his father's own better angels.
But for all his unwavering faith in his dad, Tagg's own political future remains murky. His newly-revealed assertiveness in the political arena, friends say, is mainly rooted in his loyalty to his father — and it's unclear whether he would show the same fight for his own candidacy.
Asked whether Tagg would make a good candidate, Jowers hesitated.
"I think he would make a great officeholder," he said. "Tagg is the most honest, sincere person I have ever met. I would like to believe he would be a great candidate. But it's a cynical age, and I hope the population would be ready for that candidate."
To put it another way: "He's not the guy to send in with the short knives," Jowers said.